Help the NHS avoid a cat-astrophe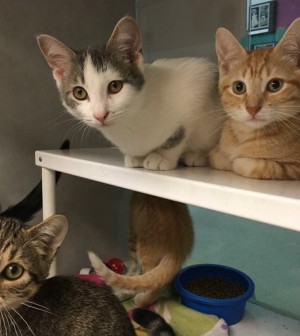 The Nebraska Humane Society has a large capacity for cats. But in times like this when the shelter, its foster homes, and the continuing intake is maxxed-out, the public is needed to relieve some of the burden. When there are too many cats and not enough demand, the shelter has few choices. Please read this news from the NHS and adopt if you can.
Summer brings in so many cats that we are running out of cat space!  Beginning right now all cats 6 months and up are Free Adoptions.  Kittens are two for one at $75.  All cats and kittens are spayed/neutered, microchipped, feline leukemia tested, and have first shots. This is a deal!
We have 75 cats/kittens in adoption with more cats ready and waiting in the wings
 We have 60 cats at area PetSmarts
Currently we have more than 100 kittens out in foster care who will need kennels as they are ready for adoption.
Because we are so close to capacity we are encouraging people who have been considering a cat to make the commitment now–when we really need to free up kennels for incoming cats. And we are encouraging people who need to relinquish their cat to find a friend, family member, or other person to take the cat–or keep it until a time that we are not so full.
Adoption Hours:  Weekdays:  Noon-7pm /    Weekends: 10am to 5pm
Remember that when you adopt you save two lives–the cat you adopt, and one that can take its place in the kennels!