No Roof Left Behind Program from McKinnis provides new, free roof to persons in need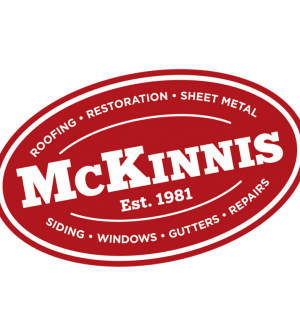 Do you have a friend or family member that has found themselves in a tough spot in their life? Maybe a job was lost or medical bills are adding up. Whatever the case is, surely you would give whatever you could to help them – especially if what's needed is a new roof. As we all know, exterior renovations or updates are very expensive to pay for out of pocket. Therefore nearly impossible when a hardship occurs. 
Our Pet Partner, McKinnis Inc., is excited to announce that they will be giving away a free roof to a deserving person/family through the No Roof Left Behind Program.
McKinnis is wanting to utilize its resources to give back to the communities in which its customers live and work, including the counties of Douglas, Washington, Dodge, Saunders, Sarpy, Cass, and Lancaster.
If you know a deserving person or family who could use a new roof, see the information below and nominate that person. You've got until August 13, 2018 to nominate, but don't delay! The image below provides more detail on the program and this link takes you to a page where you can fill out the nomination form.
If you have any questions about the program, please contact Traci Matthew at traci.matthew@mckinnisinc.com or you can call 402-426-2644 to get more information.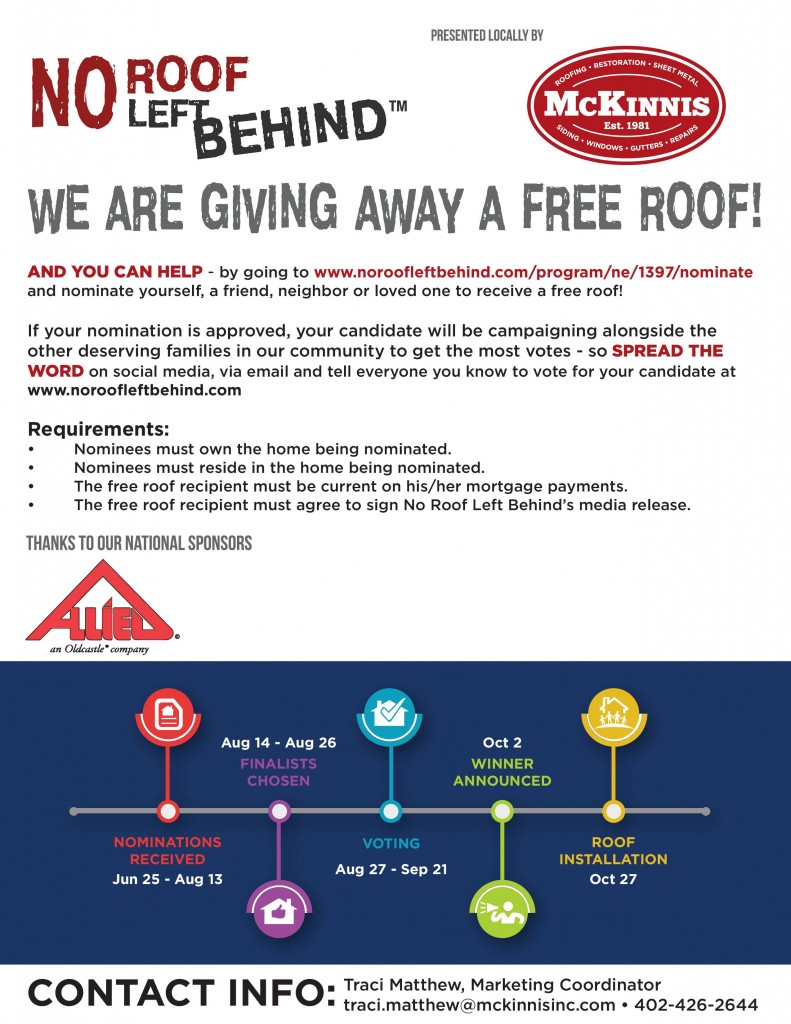 Time and weather can do a number on your most valuable asset- your home. Whether its wear and tear from years of Nebraska weather or a natural disaster, McKinnis is a company that should be at the top of your list for help.
In any event, McKinnis can handle whatever your needs are- commercial or residential, roofing or restoration. Call anytime to get started- 402.426.2644.
Since 1981, McKinnis, Inc. has been here for Omahans and others in Nebraska and Iowa for those important maintenance and/or replacement projects your home needs done- and done right. Complete roof replacement, gutters, siding, interior restoration after fire or water damage- all these jobs need a trusted contractor with long, successful relationships within the insurance and other partners in the home industry. McKinnis has what your home needs, all year round.
Among McKinnis Inc.'s awards and accolades over the years are:
an A+ rating with the Better Business Bureau
2017 Winner of Omaha Magazine's "Best of Omaha" for Residential Roofing
Featured in the Top 100 Roofing Contractors nationally
nearly 40 years as a local and family-owned business
For more on McKinnis, Inc.'s range of products and services, find details on roofing, exteriors, restoration, and more at www.mckinnisinc.com. And if you'd like to know more about McKinnis Inc.'s origins, team, partners, or career opportunities, find its About page here.