Omaha Gives and Lusco Donkeys Get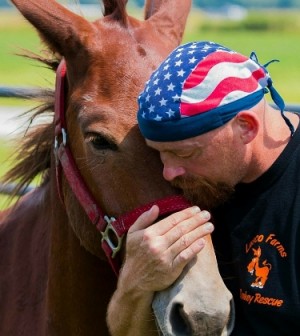 Isn't it great at the end of a long day to relax in your favorite easy chair, enjoy the beverage of your choice, get involved in a good book and have your favorite pet donkey curled up at your feet? Well, maybe donkeys don't actually curl up at your feet like that, but they are great companion animals, according to Scott Shehan, who runs Lusco Farms, the only rescue organization in the region specializing in only donkeys and mules. It's also one of the many animal welfare organizations in our area that will benefit from the fourth annual Omaha Gives! charitable fundraising event scheduled for May 25.
"We found our first rescue donkey about five years ago," Scott said. "It was a skinny, underfed miniature donkey we named Nestor. We bought him at a sale barn in Wahoo, nursed him back to health and found him a new home. It felt great to do that…my wife, Lura, and I knew then that we wanted to do more." And they have. Thanks to the Shehans, some 150 donkeys have been placed in new homes over the past five years. Some were abused, some were neglected, some became homeless through the death or other difficult circumstances of their previous owners. In all cases, the animals were given food, shelter, medical treatment and some TLC by the Shehans at Lusco Farms in Malvern, Iowa.
This is the second year the Shehan rescue operation has been a part of Omaha Gives! and like many other area groups, the shot in the budget arm does a lot of good. For the uninitiated, Omaha Gives! is a 24-hour online giving event organized by the Omaha Community Foundation to grow philanthropy in Douglas, Sarpy, and Pottawattamie counties.
The goal is to inspire the community to come together for 24 hours to give as much as possible to support the work of public 501c3 nonprofits in the metro area. The minimum donation is $10 and there is no maximum. Bonus dollars and prizes amplify charitable donations to make each dollar go further. Last year, the effort raised nearly $9 million dollars for the benefit of 704 non-profits in a SINGLE day. Those organizations support community needs for everything from performing arts to childrens' health needs to food pantries and much more, including about 40 groups dedicated to helping animals of all types.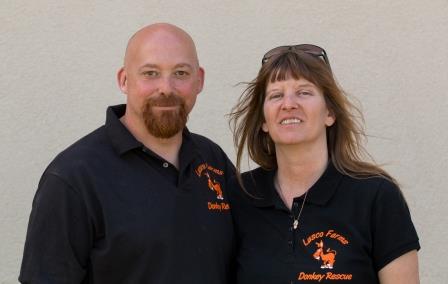 Those include well-known organizations such as the Nebraska Humane Society and Pottawattamie Animal Shelter, and many other animal welfare groups in the area…including Lusco Farms Donkey Rescue. "It costs hundreds of dollars to get a donkey ready for adoption," said Shehan. "There are various initial expenses…medical costs, for example…and monthly expenses for each donkey of $75 to $80. When you consider that we usually care for 10 donkeys at a time, the costs adds up quickly. Donations help a lot, and a lot of our funding comes out of our own pocket, so we're very grateful for the support generated by Omaha Gives! There are a lot of deserving animal care groups in the area, and we all depend on volunteers and contributions to serve our animals and our communities."
People may sometimes question the rationale for donating money to animal care when there's a considerable need for human care and support. Part of the answer for that may rest in any number of studies that have found a strong link between human welfare and pet ownership. Those studies suggest that people benefit emotionally, physically and psychologically from their relationships with animals, so it may be that contributing to animal welfare is just one more way we contribute to our own well-being.
You can find out more about Omaha Gives! and the animal welfare and other groups supported by this effort, at https://www.omahagives24.org/nonprofits. There are also detailed instructions about how to donate to your favorite organization, and you may even find one or two more that move you to make additional donations that help make our communities better places to live.
Photo credit: Rescue Photoz