How Omahans Can Help Animals Effected by Hurricane Harvey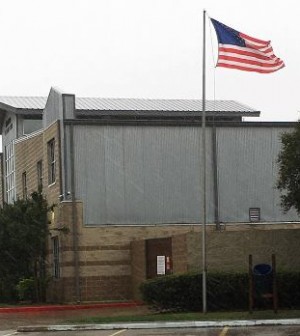 Houston and much of south Texas is under an unbelievable amount of rainwater and duress. Hurricane Harvey has dumped feet of rain, flooding and destroying people's livelihoods, homes, and memories. Some have even lost their lives as a result of this powerful storm.
We know our pet community always has animals on the top of its mind and the recent emergency has us all hoping all who are displaced, animals and people, can repair, rebuild, and return to a place like the home they had only days ago.
There are so many ways to help, luckily. Even though we're here in Omaha, we can reach those effected through charity and relief funds. Big organizations like The Red Cross and The Salvation Army are deployed to help people effected; Click here to see a list of places you can donate a few bucks. Note that these organizations have people on the ground in effected areas and the majority of your donations will go straight to helping victims.
For those in search of places where you can send aid for animals, shelters, and the people who are carrying out humane efforts, you're in luck. Below, you'll find much information about Austin Pets Alive!, a group doing much work for area animals. Also, the Houston Humane Society (which operates much like Omaha's Nebraska Humane Society through adoption, animal control, etc.) is surely in much need. Click here to read about Houston's Humane Society and donate if you are able. 
Muddy Paws Second Chance Rescue in Omaha is teaming up with Bailing Out Benji's Texas chapter to collect needed supplies that will be distributed among the humane organizations that are in the greatest need. Shelters and rescues that are taking in animals displaced by Hurricane Harvey have a giant job to do. With your help, we can aid them in caring for all the new animals under their care. Here's a list of supplies the rescue is collecting:
Food (dog, cat, puppy and kitten)
Kitten and puppy formula (powdered)
Crates (all sizes)
Cat litter
Cat litter pans
Collars & harnesses (all sizes)
Leashes
Blankets
Towels
Frontline (all dosages)
Metal food/water bowls
All Petsmart locations, Come Sit Stay (7001 S 181st St, Omaha, NE), and Woof (2019 P Street, Lincoln, NE) are dropoff locations that are accepting supplies to be sent to shelters and rescues.
Many are donating to various campaigns that will help shelters and rescues with displaced animals stemming from Hurricane Harvey. Not all animals in need are separated from their owners, however.
If someone in Texas wants to bring an animal along to a shelter for people, the animal must be in a crate. If you've got a crate you'd like to donate (any size), the Nebraska Humane Society​ is collecting them at its Center for Humane Education (89th and Fort).
Alley Cat Allies (ACA) is an organization that works all over the world and especially where the need is greatest. There's no greater need at the moment and ACA says, on its website, "Hurricane Harvey is causing historic flooding across parts of Texas and there are cats at risk of drowning as the waters continue to rise. Please make your donation right now to save cats lives, and provide relief and shelter as part of our disaster relief efforts."
Click here to donate to ACA and help cats specifically. 
From the  initial link listed above:
Austin Pets Alive!, an animal shelter and no-kill pet advocacy group seeking assistance to help with pets, has created a page on its website specific to Hurricane Harvey-related needs.
"Austin Pets Alive! has been helping shelters in the direct line of Hurricane Harvey. We've been working with these shelters to transport as many pets as possible to APA! and as of Saturday morning, we've transported over 235 animals to our shelter," a statement on the website says. "Because of the incredible, humbling support we've received from the community thus far, we have been able to remove some items from our needs list completely."
If you are able to help, please see the below list of items currently needed at APA!. And though we know Omahans can't simply do all these things, there are easy ways to send dollars to Texas so others can fill out the needs.
1. Funding. Thanks to the overwhelming amount of in-kind donations over the past few days, we have had so many donations brought to us that we are running out of room to store them. However, we know that we will continue to need more and more supplies as we care for animals over the next few weeks. By providing a financial donation, you will allow us to ensure that we can purchase the supplies that we need, when we need them. It will also help us provide the best possible care for the new animals that we are taking in, as the intake process alone will cost over $20,000.
The care for these animals doesn't stop once the hurricane is over, and we are in dire need of financial support to continue care for our new pups and cats. Donating through this link below will help us save as many lives as possible.
2. Fosters. Again, thanks to an overwhelming response, we have changing foster needs! We are currently only looking for fosters able to keep animals through adoption.
Unfortunately, we are no longer able to accept short-term fosters as we will need to find space for those animals once the short-term fostering ends.  As a foster through to adoption, you can expect to have an animal from 2-4 weeks for dogs and 4-6 weeks for cats and will be asked to meet with potential adopters, help take photos of the animal, etc. Due to the outpouring of donations we will be able to provide you with crates, beds, food and medical care while supplies last.
Dogs:
Homes with no cat/no children/no additional dogs (for current TLAC dogs)

UPDATE: We no longer have any small dogs or puppies, and we are nearly out of dog-friendly dogs! If your household can accept a large dog that needs to be an only pup at home, please e-mail foster@austinpetsalive.org.
Cats:
Cats with ringworm (especially as our ringworm ward is prone to flooding, so we need to get them into homes!)

FelV cats – these sweeties require pretty easy care, but no other cats in the household. Other animals are completely fine.
We expect to need some medical fosters for both cats and dogs over the coming week.
If you aren't already a foster, please fill out the quick dog foster application or cat foster application and our foster teams will be in touch. We will continue to need fosters as we bring in more and more animals. For cat fosters, please wait until you receive an approval email before coming to the Cattery at our main location.
We appreciate your support and please be patient as we work these applications! If our current list of animals who need fostering do not fit your home/personal situation, please check back in a week or two – because of the number of short-term fosters we've had, many animals will need to find other homes in a couple of weeks.
3. In-Kind Donations. If possible, we deeply appreciate any financial donations at this time. Thanks to the amazing outpouring of donations we've received over the past few days we are running out of room to store new donations. However, we know that we will continue to need supplies as we rescue more animals affected by the storm. A financial donation allows us to continue to buy more supplies as we need them, and best serve the animals.
To support the significant intake in new animals, below is our UPDATED list of current needs! Please bring donations to TLAC during shelter hours, if possible.
Top Current Needs:
Cat Litter – Clumping preferred, but non-clumping needed, as well.
Martingale Collars (medium)
Tarps
Other important needs include: 
Dog Treats* – Chew Toys/Rawhides, Treat Logs, Peanut Butter and Milk Bones for Kongs for all of our stressed and crated pups!
Paper or Styrafoam Bowls* – For feeding cats.
Kitten and Puppy Formula
Flea + Tick Prevention
Canned Wet Food and Tuna – Now only needed for cats!
Litter Boxes – 12×10″ or smaller
Large Metal Dog Bowls
Large Trash Bags
Updated Cleaning Supplies List – Bleach, paper towels, general purpose cleaner, latex gloves, dish soap, sponges.
*Most urgent need
Due to Friday's incredible response, we no longer have the personnel or space capacity to accept the below items. To help us focus on the animals and areas of greatest need through the weekend, we will not be able to accept additional donations of: 
Crates: thanks to all of you, we officially have all the crates that we need, of all sizes! Due to space concerns, we cannot accept any more at this time.
Clorox Wipes
No more dog food – canned or any dry food, please – we are running out of food storage space!
4. Volunteers. There are two ways you can help – sign up as a regular, long term volunteer or donate your time as an emergency, short term volunteer.  Short term volunteers must be 18+ years of age and will not be able to handle animals. Please do not come to the shelter without already being a registered volunteer, as we will not be able to accept your help. 
5. Adoptions. With nearly every pet rescued from the hurricane in short-term foster, we will very quickly need to shift our focus to adoptions. If you or someone you know has been looking to add a furry family member, now is the perfect time. All available cats and dogs are listed on our website.
Lastly, there are thousands of people who are raising money online, through Facebook, and through other means. Listen for opportunities, scroll through your social media news feeds to find funds you can donate to, and share links to places others can help. Omaha is far away from the flood, but we can impact those in need through the above organizations. Please help if you can.