Omaha's first cat cafe coming soon, aims to promote adoption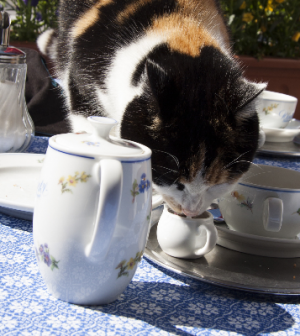 When a new business or non-profit is started, its founders surely do so for many reasons. In part, new ventures like Omaha's first cat cafe, Felius, which will be located at 24th and Howard, are started to solve a problem. In this case, there are two problems Felius hopes to help solve in town.
For one, Omaha is, as stated above, without a cat cafe. Popular in places like Japan for years, the cafes have sprouted up in more progressive places in the States more recently. Typically, cat cafes are places one can enjoy light lunches or a cup of coffee while in the company of kitties. Omaha's cafe will serve locally-sourced coffee drinks and tea in an environment full of cats waiting for adoption. Initially, these cats will come from Wags to Riches, an Omaha rescue organization.
The cats are key to helping to solve the second problem: there are tens of thousands of feral and stray cats in Omaha at any given time. In a recent interview, Felius Cafe founder Bre Phelan states the feral cat population in Omaha in 60,000. Pair that with the number of cats that are euthanized here each year by animal control (nearly 2,500 cats in 2017) and it's easy to see there are more cats than people who want to adopt them. Phelan wants to reduce that number and change the way- or at least add an option for adopters- people meet kitties searching for forever homes. Education on programs like trap-neuter-release (TNR) that are used to manage feral populations is also a goal.
The cafe is scheduled to open on Sept. 18, 2018, and will initially house 8-10 cats from Wags to Riches. The cats will live at the cafe while waiting for adoption.
If you are wanting to enjoy the new cat cafe, here are some tips from Felius' website:
We recommend booking in advance as we limit the number of guests in our space to ensure the health, safety, and comfort of our cats. We can accommodate a max of 10 guests at a time in the cat cuddle room.
*Entrance to the cat cuddle room is restricted to ages 6+ and visitors under the age of 18 must be accompanied by an adult at all times.
Please arrive at least five minutes prior to your appointment. This will allow time to sign our waiver and order a delicious cup of coffee or tea.
The entry fee ($7 per half-hour, $12 per hour, other pricing info is available on Felius' site) goes toward cat care and ensuring the best possible experience for you and our feline friends. All reservations are non-cancellable and non-refundable.
If you would like to reserve the room for an entire day or for a party, contact Felius via email at reservations@felius.org.