One Company Offers "Fur-ternity" Leave for Employees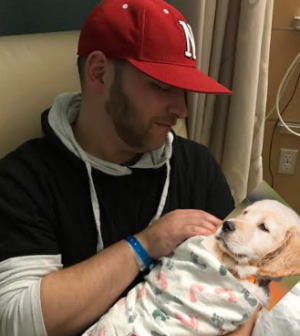 If you went to your boss and said, "I'd like to adjust my schedule in order to spend more time at home; I just got a new dog," what would your her reaction be?
Your answer could be many things, but we're guessing none would be much better what employees of a Minnesota digital marketing company have received. Recently, multiple employees of the company expressed interest in staying home more often to work so they could be nearby for their new pups. Instead of rolling eyes or commenting on generational differences we see swaying towards pets, policymakers at the company realized a need employees have to care for their animals. A new policy of "fur-ternity" leave was put in place, allowing new pet parents to stay home to work on work stuff AND work on building a solid foundation for new animals.
Interestingly, this thinking isn't far off the idea of traditional time folks take for leave when a baby arrives. If employees feel the need to stay home with human babies, why wouldn't they feel the same need for pets? In a recent US News article, one higher-up in the aforementioned company says this:
"It's about providing flexibility to people — however they define their family — even if it's not a formal parental leave."
It's true: pets are family to most. And, it's also true that some folks think of pets as their children. And if these things are true, it's quite smart for employers to embrace these truths.
We're unsure of the details on this "fur-ternity" allowance, but it sounds great for employees who are enjoying it. We'll be watching for other examples like this, noting always that this is the way the world seems to be spinning.