Participate in Giving Tuesday and show animals support!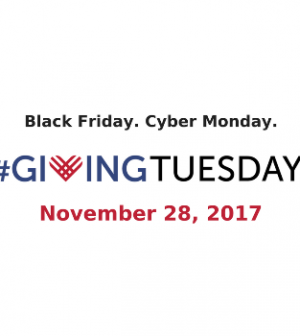 The last Thursday in November is Thanksgiving. The day after, Black Friday, gets a lot of attention as it's the official start of the holiday shopping season. The following Monday has become known as Cyber Monday, a day when online shoppers can find the best deals on their favorite retail sites. It's all become a giant spendfest.
Another to mark on your calendars: GivingTuesday.
#Giving Tuesday is a global day of giving fueled by the power of social media and collaboration, says the movement's official website.
The event kicks off the charitable season when many focus on their holiday and end-of-year giving. It's always a great time to give, but the holidays seem to remind us that we're lucky to have what we do and others who may not be so lucky can benefit from a little gift. There's also (at least at the writing of this post) the available tax deductions that are allowed pertaining to donations of monetary and non-monetary gifts. Whatever the reason, giving is important now and always.
One of the best ways to get involved is in your own community. Giving Tuesday's website features a directory to help you find organizations, charities, events and more in your own community. Click here to search your local opportunities.
Whether you want to give a dollar to a rescue in need, another buck to a shelter keeping animals safe and warm, or more to the people who help the animals, we encourage you to give if you're able. We're all in this together, after all.