New Paw Spa location updates, answers from owner- Kevin Irish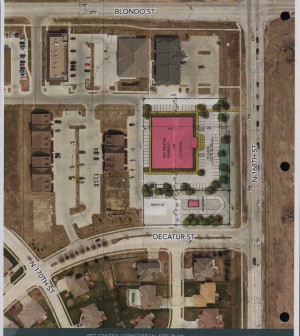 The Paw Spa has become one of Omaha's premier grooming and boarding destinations. And along with it's west/central Omaha location, Kevin Irish and his team is ready to bring another location to northwest Omaha.
The second location is in the midst of planning and opening. At 168th and Blondo, on the southwest corner, the new location will sit on approximately two acres. A Scooters Coffee will also be on site.
Irish and friends are setting up shop at 1804 N. 168th Street in Omaha, to be exact.
Currently, the building permit is in the works and those typically take 4-6 weeks to get processed. The approval will happen as soon as this week. Upon receiving the permit, work will begin. What this means: minimal grading, sitework like footings and blockwork. As neighbors will want to know about construction expectations, Irish says this: "Expect a normal construction site, but know the traffic pattern in and out of the area shouldn't change."
"We will increase traffic," he says, "but that should be expected as the site being zoned is commercial and would have had development on it at some point whether it was us developing or someone else." Expected traffic increases are not going to be heavy, he says, but 100 to 200 cars per day are going to be expected in the area.
Neighbors will also wonder about noise. "Noise shouldn't be an issue," Irish says, "as most work is internal/inside a building.
The area has a heavy dog population and I would think, Irish says, "we would be top of mind when someone travels, needs daycare due to work, remodeling on their home, their house is on the market, or pets need to leave for a while with grooming and other events."
"Our goal is to provide pet care with panache," Irish says, which means several things:
The Paw Spa aims to be as close to odor free as possible. Air exhanges in the facility will happen four times an hour. Surround sound music will be played for a calming effect and will mirror home sounds. Also available at the Paw Spa: a water park to accommodate all sizes of pups, large suites (54 square feet on average), a free cup of coffee with every daycare dog through the neighboring Scooters –their "thanks a latte" program. There are real-time cameras, year-round indoor play options, special turf, active play programs, and more.
"We have the cleanest environment (bar none) and active play at an all-inclusive price," Irish says. "This means everything is included such as medication-administration, special requests being met, play times and more. We ask owners to bring food for their animals as to avoid tummy issues while dogs stay with us."
The new location offers more hours to drop off and pick up than any facility in the area. Also, the new location will provide the largest indoor  play area in Omaha.
Have more questions about The Paw Spa? Know this: The Paw Spa has been the Omaha Magazine winner of Best of Omaha in the Pet Boarding category every year since it has been open.
For more on The Paw Spa, check out  thepawspapetresort.com or call  402-516-8888.