Pet Partner Spotlight: Three Dog Bakery & Spaw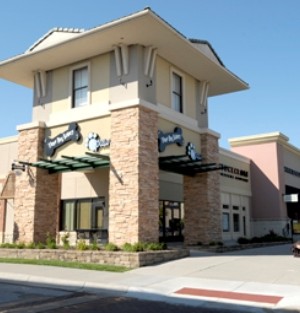 Our latest Pet Partner Spotlight brings you the skinny on Omaha's Three Dog Bakery. Three Dog Bakery and Spaw believes in feeding dogs like we feed our family. The gourmet bakery personally tests every product on their own pets before they offer it to their customers- how's that for research and quality checks? The bakery offers natural Fresh Bakery Treats, Gourmet Dog Foods, wholesome Packaged Treats and products for healthy living for your dogs and cats. The "Spaw" part of the bakery's name is their grooming salon. At its "Spaw," each dog is groomed one at a time with the same groomer, start to finish. There is no "kennel drying" and "all of our groomers personally consult with the owner of the dog before beginning the grooming process," says Krystal Talha, owner of Three Dog Bakery & Spaw.
Three Dog Bakery and Spaw has two locations: One is located at the Village Pointe Shopping Center (168 & Dodge); the other is situated in the heart of the city at Midtown Crossing at Turner Park (32 & Farnam). Whether you live downtown, out west or in the middle of the city, there's a Three Dog location relatively close to you.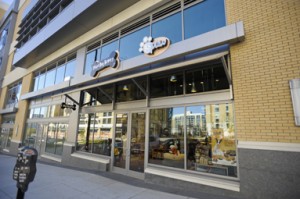 "Day-to-day business for us included baking fresh bakery treats and birthday cakes," Talha says. "Every item on the menu is made from scratch with all-natural ingredients and a lot of love to please even the most discerning dog palate!" These gourmet treats are made with care and will surely please your pets.
Talha says, "We're also constantly researching the best products, supplements, foods, toys, and more that the dog market has to offer. Tuesday through Saturday, we have grooming at our Village Pointe location and there's grooming at the Midtown Crossing Monday through Friday." Stop in any day for fresh treats and pick a day and time for your pet to be groomed in their convenient appointment schedule.
The first Three Dog Bakery in Omaha opened in June 2007 at Village Pointe. Talha, founded the bakery. As a small, local business that's expanded by size and its services offered, since opening, Talha says, "I've cultivated a great team of managers and team members who continually allow our business to be the best it can be by offering quality products to Omaha's pet owners."
Kendra Blessie, the manager at the Village Pointe location, is Talha's "dog food guru." Kendra knows many of the makers of dog food brands personally from going to trade shows. Her passion is dogs and dog rescue and she does an amazing job making sure all of the employees are trained and up-to-date on products. This keeping up with the trends in food and pet care is what sets Three Dog Bakery apart, Talha says. She got "a team of dedicated workers" which is "always improving."
Although many of the dog-related businesses around town are always doing stuff for pet rescue, Three Dog is proud to be corporate sponsors of the Nebraska Humane Society. "We try to have an event at least once a month that raises funds for NHS or some other local rescue," Talha says. "Events that we contribute to or host that donate to NHS that set us apart from others include our Growl-O-Ween, Easter Begg Hunt and Dog's Night Out get-togethers." You've seen all of these events posted on Pets in Omaha's events page and more will surely be on the way.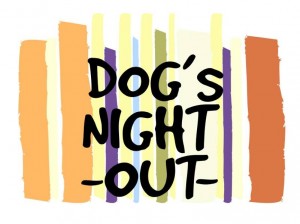 Talha says that on countless occasions, "we've had people come in with dogs they've adopted who have been abused." One example was a dog named "Winnie." Winnie is a little Jack Russell-type mix- a very cute dog. She wasn't eating because she was a stray and possibly abused and she was losing weight drastically. Winnie's hair was even falling out, probably due to stress. Through tireless dedication of working with some of her employees and Winnie's owner, Talha found a food regimen that's worked for the pup. "It was like Winnie was a new dog!"
"But I think the most touching part of my business is also the hardest," Talha says. "Our treats sometimes play a very special role in dog owners' lives. That is; when a dog is old or sick and has to be put down. Often times we're an owners last stop before heading to the vet so that their four-legged family member can enjoy, for one last time, their favorite gourmet doggie treat. Whenever someone comes in to get a treat for this reason, I can't help but cry with the owner, but I am so glad every time that I'm able to be here for them on such a hard day."
Who would have thought? A dog treat bakery playing such a big role in the lives of dogs and owners during their last days together. Very touching.
If you are looking for a special place to get all-natural pet treats, pamper your pup or just to meet other pet lovers like yourself, check out Three Dog Bakery and Spaw at either of their Omaha locations. The bakery is a big part of our local pet community and should definitely be on your radar as a place to shop, socialize and help the animals through fundraising efforts.
If you'd like to get to know the bakery, stop by or follow them on social media using the links below.
Facebook: Three Dog Bakery & Spaw Village Pointe; Three Dog Bakery & Spaw Midtown Crossing; Spaw Salon
Twitter: Three Dog Omaha
Pinterest: Three Dog Omaha
Also, check out all the latest Three Dog photos on Instagram and check out the bakery and PinPoint, rewards on Foursquare.
You can also reach the bakeries by phone: 402-614-3647 (Village Pointe) 402-715-4500 (Midtown Crossing)
Click the images below to see the facilities, their logo and some products!