Pet Partner Spotlight: Dog Guard Fencing of Nebraska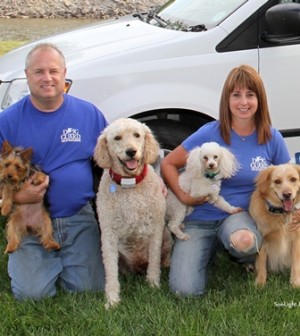 Many people live in subdivisions and most homes within these neighborhoods have fences. It's relatively inexpensive to get a quality fence installed, but there's upkeep, repairs and other headaches that come along with having one. Others live on acreages, on pieces of land which aren't conducive to having traditional fences or in places where a fence would obstruct a beautiful view. Luckily for the latter folks, there's a great solution- Dog Guard Out-of-Sight Fencing. The company serves 19 counties in Nebraska including the Lincoln and Omaha areas. Dog Guard also serves Western Iowa.
What's the difference between constructing a traditional fence and having one installed from Dog Guard? You know about traditional fences. They require posts, panels, upkeep and are obviously visible. Dog Guard's fences, however, are electronic, underground pet fencing systems that are a great alternative. Dog Guard's pet fences are less expensive and require no maintenance. These are invisible fences that set barriers your dogs can sense.
"We install many systems for homes on acreages, lakes, golf courses and for pet owners who don't want the hassle of a traditional fence," the owners of Dog Guard, John and Lesley Price, say. The electronic fencing systems are just as effective at keeping pets on your land as traditional fences.
Dog Guard Out-of-Sight fencing is a family based business out of Troy, NY, and has been doing business for 25 years. There are 170 dealerships across the U.S. and over 1 million systems have been successfully installed. "One thing that makes us unique is that we are a family, not a franchise. We are a husband and wife team," the owners say. "We don't send out a team to do your installation. We do everything ourselves including setting appointments, providing estimates, completing installations, doing dog training, making service calls and providing any necessary follow up support."
The electronic pet fencing products are made in the USA and have a true lifetime warranty on hardware. When Dog Guard installs a system, it is made to last decades. "If you have a problem with a receiver 5 years down the road," the Prices say, "we will replace it at no cost to you. Our competitors' hardware is made in China and they will tell you that they have a lifetime warranty, but it will cost you if you need to replace something." Dog Guard also supplies the best wire in the industry and lays it 5 to 11 inches in the ground to avoid any problems with yard work like lawn aeration. "We replace a lot of wire that has been buried by our competitors because the wire was only 1 to 2 inches in the ground and has been hit," John and Lesley say. "Customer service is our No. 1 priority. If your dog and system aren't successful, we are not successful. We have never had a dog we couldn't keep contained."
We at Pets in Omaha like to tell a success story about the happenings at each business we cover. We love to tell of a client or animal story which really touched business owners' hearts and made them glad to be doing what they are doing, so here's a good one from the Prices:
"We got a call from a lady one morning who was disabled and had just adopted a rescue dog who was in urgent need of a home. She had a competitor's electronic underground fence but hadn't used it for a couple of years. When she plugged it in, it didn't work and she had tried for weeks to get someone out to repair it. We were able to stop by and repair it for her that afternoon. She was on a limited budget and we decided not to charge her for the service call. We keep in touch with her and the dog is doing great in her yard. We love solving problems for clients!" Great service, big hearts and wonderfully reliable products. That's Dog Guard Out-of-Sight Fencing.
If you are interested in Dog Guard and their services, visit the Pets in Omaha directory and hop on over to www.dogguardnebraska.com. John and Lesley have pictures of clients and comments from them on Facebook – Dog Guard Nebraska. Also, know that Dog Guard is always at the home and lawn shows in Omaha and Lincoln, so next time you're attending one, stop and see them to say hello and learn about their services.
Thanks to Dog Guard Out-of-Sight pet fencing for partnering with us here at Pets in Omaha. We stand behind their products and people, so check them out today.