Pet Partner Spotlight: The Paw Spa Pet Resort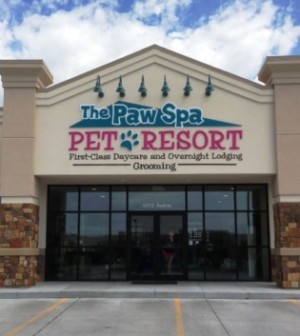 The Paw Spa Pet Resort, located at 16912 Audrey Street in Omaha and on the web at thepawspapetresort.com, is truly a one-of-a-kind operation in town. With a movement towards more pampering of pets, pets needing care outside the home while owners are at work or out of town, and "luxury" or discretionary dollars increasing for animals, The Paw Spa meets the demand for this kind of pet service.
"We strive to give our 'guests' the attention, nutrition, and love that we do our with our own pets while we are away," says Kevin Irish, co-owner and founder of the Paw Spa. "Our slogan is 'First class daycare, overnight lodging and grooming.'"
On a day to day basis, The Paw Spa has a large number of daycare pets and overnight guests. Grooming is provided during the hours they are open. Day care is available on a drop in basis once customers and pets are in their system. The day care services include grooming. Overnight lodging requiring reservations for both new and returning customers.
Irish, along with Sheila Kusmierski, founded the business on Dec. 10, 2012. Matt Mosley was charged with managing the resort. The trio has and continues to work hard to provide a valuable, unique and specialized service for Omahans and their pets.
"What sets our business apart is that we started from scratch and we traveled to different cities to view similar operations before opening. We were able to take best practices and designs from others and incorporate them into our design," says Irish. "These include the air handling system which provides additional protection from Bordetella (airborne pathogen responsible for kennel cough), plus a constant 70 degrees and as odor free as you can get." The "pet suites" design includes TVs for comfort (just like home) to go with one of the most well-trained staffs in the area. The Paw Spa is also the only pet facility with a swimming pool. The campus also have indoor and outdoor "petcams" available at all times. Staff and owners can keep an eye on animals wherever they are at the Paw Spa.

In 2013, The Paw Spa was voted "Best Pet Boarding Facility" in Omaha by Omaha Magazine. The award marked the first time a new business had broken through in an established category to win first place. "Even in the short time we have been open," Irish says, "it's been fun to see what were little puppies when they first came to us to adult dogs now and the bond we form with these pets. They can't wait to get out of the car, into our facility and in some cases need to be persuaded that it's time to go home. They truly are our extended family."
The Resort often uses the phrase "Pet Care with Panache" and it rings true. The fabulous and luxurious setting really speaks to the spa's clientele and pets are truly pampered when there. "When a potential customer tours our facility, we offer to book their stay which happens the majority of the time. If they want to shop around, we strongly encourage that and a high percentage of the time we get the call to reserve a spot. We almost prefer a customer tours other facilities first," says Irish. He and his customers are very proud and happy to provide such a specialized and customized experience.
During initial visits, Irish says, the staff will take the customer back where pets stay and play. Most facilities don't allow that, but he wants to take the mystery out of where pets will be. This allows the spa to showcase how clean it is and gives potential clients a chance to meet caregivers. Once customers use the resort, the team uses its in-house check-in system which provides additional offers like discounts on grooms, daycare and boarding.
"One of our main advantages is everything is inclusive with us. Whether it is daycare or boarding, you have one price (plus tax) which includes all playtimes, medication giving, feeding and any special requests. There are no hidden charges or add ons," Irish says. "Additionally we are open 7 days a week for pick up and drop off unlike many of our competitors."
The resort also has the largest outdoor play area in the city. The outdoor area is complete with the aforementioned petcams and a unique drainage system for pet waste. The play area is available year round.
"We take pet care very seriously and like to think we take it to the next level," Irish says. "Come tour anytime we are open (no reservations required) and we'll be confident you'll see the difference."
Irish and company also have a sister company, a mobile pet spa that will bring the grooming service right to you. "Dog grooming in the convenience of your driveway," he says. That company started 4 years ago and has done over 8,000 grooms. The mobile spa is a fully equipped van complete with water and electricity.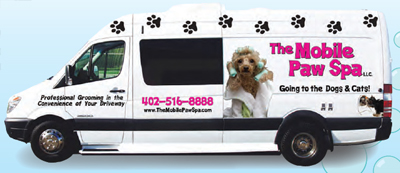 The Paw Spa Pet Resort is very active on Facebook and posts fun pictures daily along with captions. "We have so many photo opportunities and we love to 'catch' our guests in tug of war, swimming, and outdoor playground antics that it is never ending. Posting these super cute pictures could almost be a full time job," Irish says.
To follow the Paw Spa on Facebook, click here. If you'd like to drop by the facility, as Irish says, just come on by anytime during business hours. Also, be sure to visit their Web site or call for any additional information about the resort at (402) 516-8888.