Pet Partner Spotlight: Pets Earth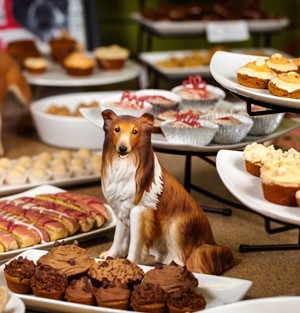 Pets Earth is an all natural dog and cat food store including baked treats, professional grooming, self-serve pet washes, a wide selection of pet accessories, toys and pet photography. All of the store's products and services are researched, crafted and provided "Naturally, Paw Approved."
As one of Pets in Omaha's original Pet Partners, we're excited to tell readers about this wonderful store offering a number of great and necessary services for pets and pet owners.
Pets Earth is a locally owned family business. What originally started as a business plan for a college course by Andrew Bishoff later became a reality when the rest of the his family jumped on board. "We saw a great need for a place in Papillion for dog and cat owners to have a healthy and wholesome environment for their loved ones to be fed, washed and groomed," says Nicki Thomas, Managing Partner at Pets Earth. Pretty quickly, the whole family got involved with researching, designing and building what would become Pets Earth. Pets Earth opened its doors in July 2012. The Bishoff family is heavily involved in the business activities and Pets Earth currently has a wonderful staff of 11.
Every day, the staff at Pets Earth helps pet owners find great natural foods for a healthy animal diet. None of its food products contain any corn or byproducts. Pets Earth's groomers focus on one-on-one appointments as Pets Earth tries not to ever kennel. Fresh baked goods for your pets are also available. "We have an in-house baker who comes in several times a week to bake specialty treats that are designed seasonally for birthdays, special events or just because your dog is special," Thomas says. "Our customers love our three self serve animal washing stations. You bring your pet and we provide the rest including shampoo, conditioner, ear cleaner, towels, aprons and drying stations. And the best part – we do the clean up afterwards."
The wonderful and knowledgeable staff is ready to help answer questions when you arrive at Pets Earth, so there's no waiting around or wasted time. Attention to detail, the cleanliness of the store and the care of the Pets Earth staff is a what Thomas says sets her store apart. "We love what we do. We become heavily invested in our customers. They bring a loved family member to us and we do our best to care for their family member in return."

For the effort and success Pets Earth has enjoyed in the last three years, it was just voted Sarpy County's People's Choice Award for both Pet Store and Pet Grooming. This community honor is the result of the Pets Earth staff working closely with people from each part of the pet community. "We work closely with our distributors, local farms and the companies we get products from," Thomas says. "It has always been a mission of ours to truly research and provide natural and organic products that meet a high standard. Nutrition and love is important!"
Pets Earth also works with a number of dog and cat rescues in the area. "We invite many of them to our store on a regular basis to showcase the adorable fur babies in need of a home. We support these organizations because of the care and help they bring to the community."
A community advocate, a dedicated family and a store with the mission of providing the greatest pet care and service it can means Pets Earth is a great company to be a part of.
If you are interested in finding out more about Pets Earth and its services, check them out on the web and social media!
Website: PetsEarth.com
Facebook: https://www.facebook.com/petsearth?ref=ts&fref=ts
Twitter: https://twitter.com/petsearth

Here are some notes on what's coming up at Pets Earth:
The store has a Christmas event coming in December where holiday treat specials and Christmas photo sessions with Santa will be available. Stay tuned for forthcoming details.
Pets Earth has rescue meet and greets booked almost every Saturday!
Small Business Saturday is November 28th – please come out and support Pets Earth as a local business. They'll have goodie bags and select discounts and specials storewide.
AND see a video from Pets Earth on the Pets in Omaha homepage!