Pet Partner Spotlight: Urgent Pet Care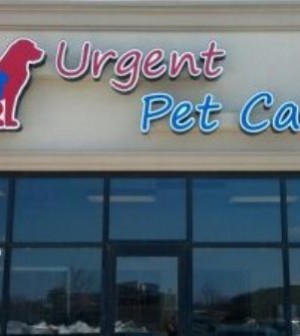 In the past, before hospitals and medical centers occupied nearly every city, town or rural hub, if one got sick, the area doctor was summoned. The doctor would pack his little bag and make the trek to wherever a sick or injured person lay. Medical facilities became commonplace just before the turn of the 20th century in the U.S., so house calls became less routine. When the need presented itself, in the 1910s, hospitals opened emergency care facilities.
Folks don't always get sick between the hours of 9 and 5. Emergency rooms are here for us so that we can receive medical care whenever it is necessary. At the same time, pets don't always cut themselves on a fence during normal veterinary hours. Dog fights don't always happen when veterinarians are typically on duty. Many times, your pets fall ill in the middle of the night.
Knowing this, Dr. Doris Starks and Debbie Newhouse set out to build a place where pets could go when they couldn't immediately see their family veterinarian. Nearly one year ago today, Urgent Pet Care opened, giving Omaha pet owners a safe place to take their animals when malady struck and normal vet offices were closed.
Urgent Pet Care, located at 8419 S. 73rd Plaza in Papillion, provides caring, compassionate and affordable after-hours care seven days a week. Appointments are never necessary.
"We see pets that have an urgent or emergency issue that occurs when their family veterinarian is closed," Newhouse says. "We see everything from lacerations, dog fights, vomiting and diarrhea to more critical cases such as trouble breathing, animals hit by cars and many other issues." Urgent Pet Care is a full service clinic offering laboratory, radiology, surgery, everything else your typical veterinary office provides. Just like the urgent care facilities everyday people use, wait times can vary based on the seriousness and injury of each patient.
Dr. Starks and Newhouse opened Urgent Pet Care on April 15, 2013. At that time, Julie Donham was their only employee. Over the past year, "we have added two more doctors to help Dr Starks," Newhouse says. Dr. Lynn Batenhorst works Tuesday nights and Dr. Kelly Westfall works Wednesdays, Saturdays and Sundays.  Joining Newhouse and Donham as nurses are Sarah Fritz and Angela Bucher- they are licensed veterinary technicians. Tiffany Pickeral, Elaine Starks and Amanda Lyons round out the Urgent Care team and help to provide client and patient care.

Urgent Pet Care isn't your typical vet office and what sets it apart is the fact that it is open nights, weekends and all major holidays. Here are the business hours for Urgent Care:
Monday – Friday 5 pm -1 am
Saturdays 12pm -12 am
Sundays 7am-10pm
"Even though we close every night," Newhouse says, "pets requiring treatment through the night are watched by licensed veterinary technicians and/or doctors until their family veterinarian is available." What a wonderful and necessary service.
The founders of Urgent Pet Care knew their business would provide great results and an outlet for pet owners who needed immediate help, but one success story proved the value of the business right out of the gates.
"It was right after we first opened," Newhouse says. "On May 18, 2013, we met Denise Kellar and her Golden Doodle, Tucker. Tucker was about 8 weeks old and was in acute renal (kidney) failure when his family veterinarian transferred him to us for overnight care. Tucker needed hospitalization, fluid therapy, a feeding tube and medications." For the next two weeks, Tucker and Denise stayed with Urgent Pet Care at night and on the weekends. He was transferred back to his family veterinarian during the day.  Tucker finally went home on May 31, 2013. Today, Tucker is 14 months old and healthy. "Denise and Tucker still come and visit us and Tucker runs to us and greets us every time," Newhouse says. If there was any doubt whether the service would be fruitful and satisfying, it was erased quickly with the experience with Tucker.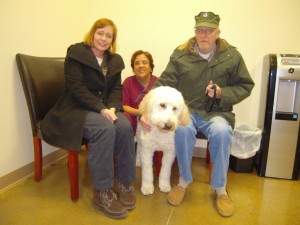 If you didn't know of Urgent Pet Care, now you do. If you've worked with them in the past, we'd love it if you would share this and any other stories you've got about your positive experiences with the doctors, vet techs and caretakers. If you'd like to join Urgent Pet Care in celebrating its one-year anniversary, there's a celebration on Saturday, May 10  from 10 p.m. to 1 p.m.
"People can tour our hospital and visit with area rescue groups and pet business," Newhouse says. "We are also having a raffle for a 39" TV and a Coleman Travel Grill with the proceeds benefiting the Lydia House." Come on out, support the facility and raise money for charity while you are at it.
For the kids, Urgent Pet Care will have a bounce house, face painting and balloon twisting. No party is complete without food, so Urgent Care is offering free popcorn, plus a meal deal that includes hot dogs, chips and soda for only $1.50. It sounds like great fun, so shoot on down there if it is at all possible.
We're proud to partner with Urgent Pet Care and wish them continued success. If you'd like to find out more about the business or are in need of its services, follow it through their Facebook page (Urgent Pet Care) and on its Web site, www.UrgentPetCareOmaha.com.
If you are having an urgent or emergency issue, you can call Urgent Pet Care at 402-597-2911. For non urgent/emergency issues, you can contact Urgent Pet Care by phone, email (urgentpetcare@urgentpetcareomaha.com) through Facebook, or through its Web site.