Pet People: "Dog Treats and Jingle Toys" creator, Aubree Sweeney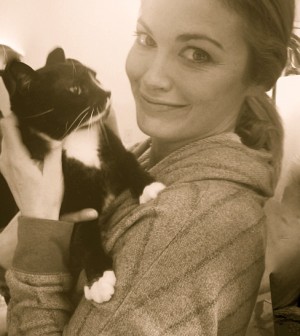 We love pets. If you are here, we know you love them, too. Our "Pet People" features, however, don't just bring you stories of people with dogs or cats- these special folks go the extra mile in order to make a difference in the world we share with animals.
In this feature, we are delighted to tell the very unique story of a hometown girl who has traveled the country for her educational and professional life, and has not only taken her love for animals with her, but she's made a very strong commitment to finding homes for pets that are without one. Her cause is worthy and noble, and the fruits of her efforts are not only heart-warming, but will surely make a difference in the lives of many pets and families.
Born in Omaha, Nebraska, Aubree Sweeney has always loved to spin yarns.  After powering through the entire Goosebumps Series in third grade (some may say, she had a slight addiction), her parents encouraged her to write her own stories. Around the same time, she also got very involved in dance and baton.
A 2001 graduate of Omaha's Burke High School, Aubree received her Bachelors Degree in English and Creative Writing from The University of Arizona where she performed with The University of Arizona Baton Line. Aubree won both State and Regional Championships as an individual performer.
After undergrad, Aubree headed further west to pursue her Masters Degree in Screenwriting at the New York Film Academy (Universal Campus). It was there that she was bitten by the acting bug and began volunteering to appear in student shorts, web content and the like.
Aubree has always loved animals and has said, "If it wasn't for Jake and She-Ra (her adopted pets) I wouldn't be me."  Aubree has combined her three passions: animals, writing and performing to create a web series titled "Dog Treats & Jingle Toys."  She hopes that it will encourage viewers to adopt pets and remind everyone how much love a rescue animal can bring to their family.
Aubree currently resides in Burbank, California and is continuing her education at the Upright Citizens Brigade.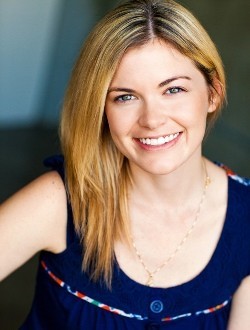 "My love for animals is definitely hereditary. According to my Mom," Aubree says, "a home isn't a home without at least two rescue cats and a dog." Over the Thanksgiving holiday, Aubree had the pleasure of visiting her fur-brothers, Cappy and Mosbey back in Omaha. Cappy is a two-year-old boxer adopted from the Great Plains Boxer Rescue.  Mosbey is a gorgeous nine-year-old Norwegian Forest cat; an owner-surrender adopted by her folks. Aubree lives in Burbank with Jake and She-Ra, a pair she affectionately calls the "Notorious Nappers." Aubree says that her pets have "coerced her into more naps than she'd care to admit." She's definitely not alone there…
Her number one goal for the future- the biggest part of her five-year plan- is to open a non-profit pet shop with anywhere from three to eight "less adopatable pets" like seniors and special needs animals. A place where finding homes is the main objective, but if there's a case scenario where a pet isn't placed, in this type of setting with a low number of animals, he or she would get the amount of love and affection to always feel home.  In short, her vision would create an environment that would serve as a small, fostering-type establishment.
As for her immediate future, Aubree is focused on the aforementioned project, "Dog Treats & Jingle Toys," a documentary-style comedy web series that will air on YouTube this January. The story follows a young woman who has just adopted her first pet from a local shelter. Although she believes that she's the one running the show, it's her new fur-­kid that's guiding her and their friends as they attempt to get a handle on their love lives and careers. That is, when he (Jake) and their roommate's cat (She-Ra) aren't getting into mischief.
Dog Treats & Jingle Toys started as a fun side project where Aubree could "give voice" to her pets. "As I continued working on it, I realized that there was potential for it to do some good," Aubree said. And it came with an added bonus- an excuse to spend even more time with Jake and She-Ra!
"I showed the pilot script around to friends, family and teachers – I was still in my Masters Program at the time and received a really amazing response.  I wrote subsequent episodes, hit the streets for donations, quickly pieced together a cast and crew of animal lovers and we got to work."
Aubree has assembled quite a cast and crew for the production of Dog Treats and Jingle Toys and we would be remissed if we didn't give them some credit here. Take a look at her cohorts below and you'll know she's got a great recipe for success:
Jake Sweeney (Self) Jake is a lovable Lab-Chow mix. Jake's first home was at the Nebraska Humane Society. He was there for approximately nine months before he won the heart of Aubree, his adopted mom.
She-Ra Sweeney: (She-Ra Frank/Self) She-Ra is originally from Omaha, Nebraska and currently resides in Burbank, California. She quickly discovered day one on set that she rather enjoys being on camera and is in practically every shot whether it was intended or not.
Kyle T. Heffner: (Jake's Voice) Veteran actor, Kyle T. Heffner was born in Chicago, Illinois. His film credits include: Young Doctors in Love (1982), Flashdance (1983), Runaway Train (1985), The Woman in Red (1984), When Harry Met Sally (1989), and High Crimes (2002) amongst many, many others. Kyle resides in Los Angeles with his beautiful family that, of course, includes a rescue dog. 
Kimberly Nielsen: (She-Ra's Voice) After spending years on the road consulting for Oracle, she moved to L.A. in 2000 and started Unleashed L.A. Pet Sitting. She enjoys the excitement her clients greet her with. She loves how pets can find joy in the simple things, a walk outside, a tasty treat, a toy or a squirrel. She married an L.A. boy and they have a four-legged child- Peanut, their Cavalier King Charles Spaniel.
Solange Hordatt: (Julia Frank) Solange was born on the beautiful island of Trinidad and Tobago. She received her Bachelors degree from the University of Florida, and she recently earned her Masters of Fine Arts degree in Acting from the New York Film Academy. She has always been a lover of nature and animals.
Sabrine Ferritti: (Trish Stanton) Sabrine is a Brazilian-born actress. She began her American career when she moved to Los Angeles in 2011. She first studied at Beverly Hills Playhouse Acting School, then earned her Masters of Fine Arts in Acting for Film at the New York Film Academy (Universal Studios Campus). Sabrine loves dogs and is passionate about pets.
Ry Higdon: (Collin Reynolds) Hailing from the beautiful state of Kentucky, Ry has been working as an actor, director and editor since 2006. He enjoys photography when he is not out riding his bike. Ry is currently writing a web series and hopes to soon produce and direct it.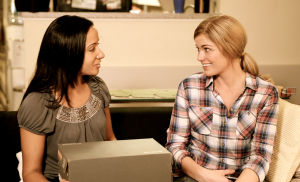 Evan Underwood:(Dr. David Larson) Evan Underwood is an actor as well as a visual effects artist. He is originally from Indiana and moved to Los Angeles in 2009 to pursue a career in animation, when he stumbled into a two-year Meisner Technique program. He instantly fell in love with the craft of acting and has been pursuing the work since. Evan can be seen in the upcoming short film "TICE," which is due out in the spring of 2014.
Brittany Lemmons:(Voice of Jewels and Hair/Make-Up) Brittany Lemmons was named for the well-planned birthing location of Great Britain, which she undoubtedly planned all on her own. Born into a military family, she doesn't have a place to really call home. Those who believe in the cliché, "home is where the heart is", would say Brittany's home is wherever her fur babies are. Currently in beautiful South Bay, California, Brittany works as a massage therapist for Equinox and finds peace cuddling up with her two minions, Isis and Talyn.
Kody Fields: (Self) Born in Colorado Springs, Kody recently moved to Burbank to pursue a career in the film industry. Kody has been featured in an UNO Roboto commercial, two short films, two web-isodes for cracked.com and an episode of Nickelodeon's "Dead Time Stories." He is passionate about animals is a self-proclaimed "dog whisperer."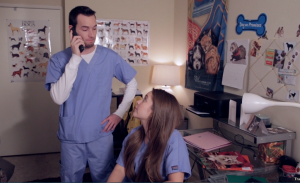 Jewels Pan James: (Jewels Larson/Self) Jewels Pan James, originally from Hawaii, spent a number of years rocking the pageant circuit.  After retiring, she was adopted by Chris Pan James and moved with Chris and her collie cousin Cash to Burbank, California.
Richard Jacob: (Director) Richard Jacob is a producer and owner of Glimpse of Dreams. He was born in Trinidad and Tobago but moved to the states when he was a teenager. He was an active member of the United States Army and National Guard and has just returned from another Iraq tour. He has done Production Assistant work on over 10 commercials and one TV show.
Dana Robinson: (Director of Photography) Upon graduating with a degree in Graphic Design, Dana Robinson landed in Los Angeles pursuing visual effects work in Film, Television and the Web. His film work includes roto, compositing and clean up work on "Jumper," "Push" and "Sunshine Cleaning" with commercial work including spots for Cheetos, Apple, Exxon Mobil and Payless Shoes.
Brian Andries: (Assistant Director/Editor) Brian Andries is an Actor/Musician/Writer born in San Diego, California and raised in Oswego, Illinois. He attended Eastern Illinois University where he was an on-air radio personality on Hit Mix 88.9 FM and a writer/performer for the University's premier sketch comedy troupe, Lunchbox Voodoo. Upon graduation, Brian was commissioned as a Second Lieutenant in the Army and served as a Platoon Leader during a year-long deployment to Baghdad, Iraq. Brian released a self-produced album in November, 2010 under his music stage name, Airport Juliet.
The first four-episode block of Dog Treats and Jingle Toys will launch early this January on the group's YouTube channel. Right now, you can check out a teaser trailer for the series by clicking this link. Search for Dog Treats and Jingle Toys on YouTube to also see promos featuring Jake and She-Ra- and don't forget to subscribe to their channel!

"Our goal is to get into an eight episode Fall/Spring Cycle. If all goes as planned, we'll resume filming early March and have new episodes up no later than June," Aubree said, so you'll want to bookmark the YouTube channel and check back often. Click here to watch all the group's web-isodes and subscribe. Keep and eye out also for "She-Ra's Sagas," a mystery told in weekly installments coming this February on the Dog Treats and Jingle Toys Web site.

In addition to her regular cuties, Jake and She-Ra, each of Aubree's episodes will introduce viewers to one or more adoptable pets currently waiting for their homes at the Nebraska Humane Society. We were lucky enough to visit the NHS recently with Aubree and meet prospective Internet stars and pets. Check out our Weekend Update section under the "More" tab on our homepage to see photos from our visit.
It's Aubree's hope that Dog Treats & Jingle Toys will have two levels of value. The first is to add another venue for people to observe adoptable pets (especially pets that have a tendency to not "show well" at shelters). At a deeper level, it is her hope that by using comedy, potential pet owners will go adopt instead of hesitating because they don't feel qualified to have a pet.
"If Madison (Aubree's character in the series), whose only real talent is her ability to love unconditionally, can be a successful pet parent, there are a great many other potential pet parents out there as well."
"As for goals for the web-series," Aubree says, "we're starting small by showcasing a shelter pet at the end of each episode. I would like to do so, so, so much more than that.  We're hoping for sponsorship in the future so we can do more good for homeless pets. However, at the end of the day, if this series encourages one person to change the life of one shelter pet the Dog Treats & Jingle Toys Team will be dancing on the rooftops."
We at Pets In Omaha will be, too, Aubree.
We wish Aubree and her group much luck and success. We know they've got a great message and constitution, and that will surely lead to more pets finding more homes, creating better pet communities around the country.
Please like Dog Treats and Jingle Toys on Facebook to get updates about the series and group. Also, don't forget to subscribe to their YouTube Channel and visit their Web site. 
Photo credits: Dog Treats and Jingle Toys, via Aubree Sweeney;
(Aubree Shooting) Eric Forrest