Pet People: Fox 42's Sidney Coats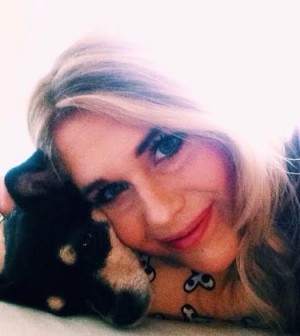 A man once visited Hadleyburg, a town which raised its children and their children's children on the importance of being virtuous. This visitor was wronged in some way; made to feel uncomfortable, unwelcome. He made it his life's mission to somehow expose Hadleyburg and its citizenry. Somehow, some way, he'd show the real face of the town, one hidden behind the guise of false morality and innocence.
"The Man That Corrupted Hadleyburg" is a famous story from America's quintessential author, Mark Twain. What does that have to do with reporter and anchor from Fox 42, Sidney Coats? The story is about honesty, integrity and infallibility; things that the people of the town owned and things that seemed to ooze out of Sidney when she and I talked over breakfast at Paradise Cafe recently. Hadleyburg had good people. Sidney is good people.
Imagine my surprise when I learned that Sidney was in fact NOT from Hadleyburg. Could have fooled me. She's actually a California baby, born in Delmar, famous for its horse track. Today, Omaha is home, but she says Phoenix is "home home." She was preparing to depart for home home before our meeting and recently returned. A six month hiatus was long, especially given that it included an Omaha winter, so a return to AZ surely did some good.
California still lingers, she says, but her constitution is largely Arizonan. "My family is definitely Californian, by Arizona shaped me." Before accepting her current position at KPTM, Sidney spent time in newsrooms around her alma mater, Arizona State. During and after her time at the Walter Cronkite School of Journalism, Sidney learned her craft at CBS 5 KPHO, ABC 15 KNXV and the student-run ASU cable news broadcasts. "I liked writing, my professors encouraged me to pursue broadcasting and I had great teachers," she says. Chuck Emmert, a venerable Phoenix newsman gets much credit from Sidney.
The Cronkite school was new, it was a few blocks from the capitol, had myriad resources and Sidney says she was lucky to have found her way there. After dipping her toes in, and quickly removing them from, the study of biology at ASU, Sidney met eventual mentors, made connections in the Phoenix news circle and set sail on a journey that would eventually lead to the Cornhusker state to cover the news. It's a journey she's traveled with a bit of a chip on her shoulder.
Rewind about seven years. One night in high school, Sidney joined her friends (who were dating) at a drive-in movie. Another friend of the couple came as well. Eventually, the couple brought their mutual friends Sidney and Zak together. The two are now very happily married.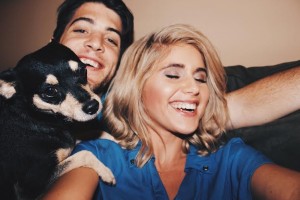 As I know it, the typical path for a new, right-out-of-school newswoman goes like this: find a job (usually in a smallish market- you have to earn your stripes), do well, move on to a bigger market, report and anchor and do anything else in the newsroom to climb the ladder. This rise often comes at the expense of a social and love life. That's the price one pays.
Sidney's mentors and teachers would often remind her that this "was not the traditional path," and that she may struggle trying to balance things. "I've always wanted to prove them wrong," she says. Zak is a medical student at Creighton and has years to go. The two moved here for that purpose, but Sidney was lucky enough that Fox 42 needed someone just like her. Since 2013, Sidney has been an on-air reporter KPTM. The experience has been wonderful, she says.
KPTM is the smallest of the four local broadcast networks, but Sidney would argue it has the "biggest heart." As the youngest reporter, she says veterans have taken her under their wings. "It's a team environment," she says. "Individuals won't survive." By her account, all her colleagues are great people to work with. One benefit from being at a smaller station is that she's been able to learn and work in many areas of the production. These new positions "really push your creativity," she says. "The more you can learn, there more you can do and market yourself, the better. They gave me a chance and I went with it." What a great attitude to have and great advice for young professionals.
Of the tasks she performs at KPTM, human interest stories, heartwarming stories and tales about animals are her favorite to work on. "I like covering good people who have had bad things happen to them, but still remain positive," she says. It's also great when she sees those people get some sort of redemption. Her goal as a reporter is to do justice to these people and stories, all while spreading joy and making an impact. Animal stories allow her to do these things.
Sidney's first story at Fox 42 involved Town & Country Humane Society in Papillion. "A dog ate my script," she says. Animal stories are fun as a lover of all critters, but she also takes something away from being able to provide a voice to those who don't have one. She recently met a long term goal by completing an arduous and revealing investigative piece on puppy mills in Nebraska. From start to finish, stories typically take one day. The puppy mill story occupied her time for three months. She researched, studied and met breeders from Omaha to Lincoln, south and western Nebraska. Three months on that job surely produced an impactful story and we're all glad the issue is one in the spotlight.
As for other goals, Sidney wants to continue reporting. "I love it," she says.  "I want more opportunities to learn and be an advocate for my community and its people," she says. Learning is another passion. Her boss calls her a sponge. She's had the opportunity to learn master control, work with editors and do other things not all reporters are allowed to do and that "want to" goes back to her ambition to make the most of her job. All while making an impact and spreading joy. Most in larger markets like Omaha are nice people and she can be counted as one. It's important to her that she is gracious, giving and helpful. "The cream of the crop rises to the top and snakes stay in the pit," a mentor once told her. She's kept that aphorism in mind and never runs out of smiles.
Long, long term goals include family, Zak and opportunities in the news. "Maybe a morning show," she says wishfully. Zak and Sidney were married on June 1, 2013 and look forward to their lives together. "He's got two more years of school, the 4-7 years of residency remaining," Sidney says. Those years will surely be trying, but given they've been together since high school and she's weathered the storm that many said they couldn't when she took a job while planning to marry, I'm sure it'll be great. If they need any help, Romeo is there for them.
Romeo is "kind of an old man," Sidney says, but "her furbaby." Romeo, or "Romie" as she calls him, is probably about six. When in California, Sidney and her mother spotted lonely Romeo in a park. They chased him down and wanted to care for him, but that night, events were scheduled in preparation for Sidney's wedding. "We couldn't let him go," she says, "and a PetSmart store was nice enough to board him while we were away." They brought the rat-terrier mix back home to Arizona, got him checked out and have loved the dickens out of him since. "He's a little skittish around men," Sidney says, "so we think there's a history there." He took his time warming up to Zak, but the two are best buds now. In her free time, Sidney and Romeo play and walk together. Netflix is a family activity all three enjoy- they're currently watching House of Cards. Sons of Anarchy is a favorite, too. When Zak is studying, Sidney blogs for family back home in her "Newlywed Diaries," and loves social media.
Sidney's on Twitter and you can follow her here. Also, she's active on Instagram under the name @sidneyhambsch. Vimeo is a place she'll share wedding videos and vacation clips; YouTube is used to post stories she's done for the news.
She's a happy wife, a great dog mom, a wonderfully ambitious newswoman and another authentic Pet Person we've been able to share with readers. Omaha should be grateful to have such a hard-working and talented young woman on its television screens- Pets in Omaha surely is.