Pet People: Husker Legend Kent Pavelka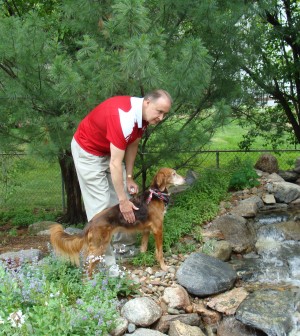 Since 1974, Kent Pavelka's voice has been representative of the University of Nebraska's football and basketball teams, so if you are a Husker fan, there is no doubt that you have heard him on the radio or seen him on television. Recently, we sat down with the local and legendary sports broadcaster to talk about his family, career, and especially his love of animals.
Upon meeting with Kent, we got to meet Lucky. Kent and his wife Lu brought Lucky home from the Nebraska Humane Society in 2006.  When Kent and Lu saw Lucky, the couple said it was "love at first sight." Kent and his wife are not sure what breed of dog Lucky is; she's a mix for sure. And being a mix and a stray, it's difficult to pin Lucky's breed down, but the Golden Retriever and Irish Setter characteristics are apparent when examining their beautiful pup.
On the way home from the Humane Society, the couple threw around some names and decided to name her Lucky because they "were as lucky to have her and she was lucky to have (them)."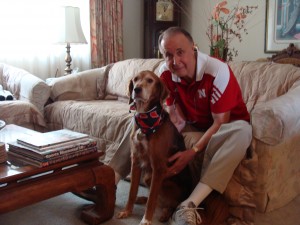 Lucky is a female, but it seems, according to Kent, that everyone who meets her wants to call her a boy. Either way, Kent and Lu feel lucky to have their little Lucky dog.
As well as having the Retriever/Setter mix, the Pavelkas have also cared for birds including a double yellow-headed Amazon Parrot named Molly. Molly is well over 25 years old- as old as Kent and Lu's marriage.
Before Lucky came to the Pavelka household, the couple owned two Boxers. One passed away, and the other, Angel, was left without a playmate. Angel seemed to need a friend, there came Lucky.
Over the 25 years the Pavelka's have been married, being true pet lovers, they have always had animals around. Amongst their previous pets are four cats, a Maltese named Leah, and a Yorkie named Cricket. Kent's love for animals didn't start when Lu entered his life, however. His earliest childhood memories are of Cleo, the family dog. Pet ownership has always been essential to him and Lu and they are a big part of their family's life.
Now, when given the opportunity to sit and talk with such a legendary sports broadcaster, one would be remissed if there was no discussion of sport. We asked Kent which Nebraska football game was his favorite to call during his broadcast years. The 1995 Orange Bowl National Championship game against Miami following the Huskers' undefeated 1994 season was his choice on the football side. That Championship game resulted in a 24-17 over the Hurricanes. It was the first of three Sears Trophies in four years for the Tom Osborne-led Nebraska football team and the program's third of five National Championships to date.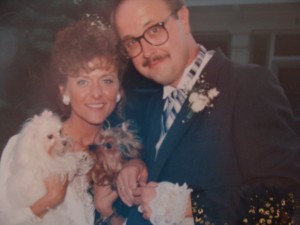 In Kent's opinion, fans are partial to one game and recall it as their favorite– the 1996 Fiesta Bowl. After another undefeated season in 1995, Tommie Frazier led the Huskers to back-to-back Championships through a good ol' whooping of Steve Spurrier's Florida Gators. To Kent, the game is a fan favorite due to Frazier's famous 75-yard touchdown run in which he broke multiple tackles on the way to the end zone and a 62-24 victory.
On the basketball side – Kent said his most memorable broadcast was the 1995-96 NIT Championship game that Nebraska won in Madison Square Garden. Basketball keeps Kent busy from October to March each year, as he broadcasts all home and away games.
When he is not working Husker hoop games, Kent owns and operates Kent Pavelka & Associates Advertising Agency.  Also Kent hosts the "Metro and More" television show, a weekly public affairs program produced by Metropolitan Community College in Omaha.
For fun and relaxation Kent enjoys movies, reading, and his yearly fishing trip to the Ozarks with his brother Dave. You can follow Kent on Twitter @KentPavelka.