Pet People: KETV Newswatch 7's Thor Tripp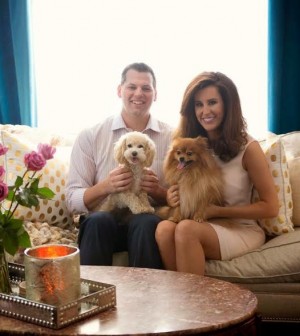 There's a point in the movie Caddyshack when Ty Webb, played by Chevy Chase, provides some zen-like advice to an aspiring young caddy attempting to improve his golf game. Ty tells him to "See the ball, be the ball," and follows it with some strange "na na na na" sounds. This is meant to be funny. It is. Another bit of wisdom from Buddhist practice –one that made me think of our latest Pet Person, Thor Tripp–  is a more universally helpful and appropriate description of KETV's award-winning Weekend Sports Anchor and Reporter:
"The heart of Buddhist practice is to generate our own presence in such a way that we can touch deeply the life that is here and available in every moment. We have to be here for ourselves; we have to be here for the people we love; we have to be here for life with all its wonders. The message of our Buddhist practice," says Thich Nhat Hanh, one of the world's foremost Zen monks, "is simple and clear: 'I am here for you.'"
Thor, the Minnesotan-turned-Nebraskan, is here for you. He's here for his wife, his dogs, his "little brother" and anyone else he can affect. Far from just a former athlete who now reads highlights and follows sports teams around, Thor Tripp is a pretty amazing guy. Enjoy learning a bit about Thor, the way he touches people's lives, how he loves those around him, and how he's dedicated to making a difference, and not just on your TV screen.
***
After dozens of Pet People interviews, I've learned a couple of things for sure. For one, the person you expect to meet rarely shows up as the person you imagined. A smiley, burly sports nut is what one may see in Thor as she views him from the couch. Instead, the real Thor is an award-winning and professional journalist in every sense. He's a dedicated husband and big brother to a young man in town through the Big Brothers Big Sisters program. He's a dog dad, a family-centric man who is concerned with things like visiting his ancestral home, providing time for anyone who needs it from him (he used his day off to talk to me for nearly two hours, then went bowling with his little brother), and working 60+ hours a week without complaining because he loves what he does and because he sees his wife often do that and more. And he's a dancer. Depth is an appropriate word in describing Thor without a doubt.
And that affirms something else I know from listening to other TV personalities I've met. A newswoman once told me that in order to make it in the TV news business, you've got to be nice, genuine, dedicated, driven; a person who can't communicate effectively and be a good teammate just won't do. Thor has made it, even thrived, for these reasons and more.
***
There are a couple of phrases commonly heard and connected to native-Minnesotans like Thor. "Minnesota Nice" is one-  there's simply a different kind of "nice" that Minnesotans show. "It's helped me talk to and understand anyone I meet," he says. An important skill to have as a reporter, Thor's got it. He's used it to tell great stories, getting to know athletes for more than what they show on the field; he's even built a relationship with a security guard he just happened to drum up conversation with. "The Minnesota Goodbye" is another Minn-specific "thing," he says. "After 30 minutes, four hugs, and other pleasantries, we can finally let a friend go," he says. In sum, nice is there and nice has made Thor one of our favorite TV personalities.
A Hastings, MN native, Thor's constitution was developed through a sense of community and sports as part of the town's cultural fabric. It's a common thread that connects everyone in the roughly 20,000 person town bordering Wisconsin.
"Sports were ingrained in all of us early," he says. "Sport was the biggest thing for all of us." Traditions like watching the Twins play each night, playing ALL sports, and family in attendance at games as an expectation were developed. The Twin Cities have many professional teams, but the Twins were always the first out of Thor's mouth when asked about memories. His favorite memory of the Twinkies is from 2009. The Tigers had beaten the Twins late in the season to force a win-or-go-home play-in game and a ticket into the American League playoffs. Thor's dad somehow got tickets to the play-in and Thor joined him to witness what MLB.com calls the sixteenth greatest baseball game of all-time (The Twins won).
Other formative and favorite moments in sports came from his competitive playing days. Thor played numerous sports in high school, but went to Augustana in Sioux Falls to play baseball. As a freshman, he traveled with the team, getting seven at-bats and no hits. An inauspicious start to his collegiate career. As a sophomore, however, his coach gave him an opportunity to start a game. And in his first at-bat of his first game, Thor hit a home run. He smiled his way around the bases until his coach scolded him, telling him to "act like he'd been there before." He was probably just thanking the pitcher for throwing him a cookie. Minnesota nice.
Thor was never all-conference, never the star player, but he loved playing. And Division II baseball isn't for slouches, by the way. He pitched a bit, but mostly caught. He once hit a grand slam off a kid who transferred away from Augustana. Thor's dad scrambled to the outfield to get the ball which sits in his mancave today.
Thor's a Midwestern kid, like many of our local TV personalities, and that's because his ancestors- immigrants from Scandinavia- settled in the upper north and especially Minnesota.Thor recently returned from a trip to his ancestral home in Norway. He visited the church where his third-great-grandfather married. Thor's wife, Kali, joined him on this adventure.
Before coming to KETV, Thor was Sports Director for KSAX in Alexandria, MN. Starting in 2008, Thor worked in Lincoln at KOLN 10/11 News. Kali happened to work at KLKN, another news station in town. Though Kali won't believe Thor, the first time they met was in passing as they both covered a burning house story around Independence Day one summer. Taken with Kali, and relying on that "Minnesota Nice," Thor introduced himself. Lincoln news folks are competitive, but given the small market feel, it's more of a community than a contest. Kali and Thor saw each other here and there and eventually started dating.
Six months into their relationship, Thor started receiving engagement ring suggestions from Kali, though he'd told her they needed to date for at least two years. Kali did wait, but as the two-year period inched closer, Thor knew it would be difficult to surprise her. But remember the depth that is Thor. A sort of scavenger hunt brought Kali back to Minnesota and, alas, she was not expecting a proposal from that particular manner of things. Success. The two were married on April 12, 2014. Kali soon quit her job in Lincoln after and followed Thor to Omaha as he took his current position at KETV.
The job requires long and varying hours, but Thor never complains. Not only does he love what he does, but Kali often surpasses him in terms of time on the job, so there's no sense in keeping score. She raises funds for Alzheimer's research (in record numbers, receiving awards for her efforts). She helps to run the Miss Nebraska Outstanding Teen Pageant. She hosts a weekly show for Gray Television. The two are busy and often don't get time together until the wee hours. Their time is spent trying new restaurants, hosting friends and family, big a "Big Couple" with Big Brothers Big Sisters, and taking Kickboxing classes at Farrell's.
When Thor's on his own, fun includes staying connected as an amateur athlete. He plays in the Omaha Adult Baseball League, the Nebraska Flag Football League, and shoots hoops through Omaha Parks and Rec. Reporting, interviewing, covering press conferences and games are fun, too.
It's one thing to have fun doing your job, but it's another to be as decorated as Thor is as a journalist. In 2008 and 2009, Thor won Associated Press (AP) Awards for Nebraska football coverage. In 2010, he won a Great Plains AP Award which he cites as his proudest moment. The award was for his photojournalism- something he does, naturally, but not as the focus of his sports coverage. Thor bested folks whose job it is to be only photojournalists. There's that depth again! Later, he won awards from the Nebraska Broadcasters Association, more from the Great Plains AP, eventually becoming Nebraska's most decorated AP Award winner. An amazing thing that didn't result in a personal award turned out to be very gratifying for Thor, too. In 2015, Andy Kendeigh, KETV's Sports Director, won Nebraska Sportcaster of the Year. Thor was one of three others nominated. And though he didn't win, he was full of pride as he (and KETV) could boast having two of the top four sportscasters in the state on one station. The other nominees were from outside of Omaha, so there's another point of pride- Kendeigh and Thor being named the top two in the city.  Up next, he says, is maybe that award, an Emmy, or anything else he can win to be further recognized for his talents. Thor's award winning is surely not all behind him if you're asking me or his peers.
Here's a little wrinkle: Thor didn't graduate with a degree in Mass Media or Broadcasting (though he could have had degrees in things like that with another semester or two), but his diploma lists English as his major field of study. It's a long story about why that is, but just know that TV stations, like nearly every other workplace, are more interested in what you've done than your GPA or what your degree says. Thor performed well whenever he was in front of the camera, interned successfully wherever he went, and took advantage of opportunities in broadcasting as they came. The English study, though, provides Thor with a little edge, in my humble opinion, over other sportscasters.
"It's made me a stickler for grammar and precise writing," he says, "so being an English grad is definitely helpful. It allows me to use the video I have and write to the story creatively. TV writing is still writing, it's just a bit different. You have got to be clear and concise."
If Thor wasn't on TV, he says he'd likely be coaching somewhere. "Growing up playing all sports and collegiate baseball has given me what I think is a deeper understanding of the game, so I think I could coach," he says. Regardless of what he's doing for his career, though, one thing is for certain:
Thor loves his pups.
Ole the poodle was Thor's first family dog (both his parent's attended St. Olaf's for college, hence "Ole"). Ole, unfortunately passed away when Thor was only eight. Though young, he was old enough and aware enough to realize dogs were special to him. After Ole died, Thor's dad said another dog would come if and only if Thor's brother achieved a few criteria dad set related to wrestling performance. As if he needed any more motivation, Thor's bro satisfied all the stipulations and the family's second poodle, Rusty, was adopted. From age 12 until Thor was in college, Rusty was a good friend and great companion animal. When Rusty passed, it was tough, just as Ole's passing was. And being in college, Thor knew he couldn't replace Rusty just yet. Luckily, Kali came into his life soon after and had recently rescued Gigi, the couple's first dog, from a backyard breeder.
Kali responded to an ad for Gigi, traveled to a home in Cortland to check her out, and was met with a dog lover's worst nightmare. This breeder had dogs living in filth, getting sick, growing malnourished, on and on. Kali didn't take Gigi home that day. She did however, alert the authorities. Kali came back for Gigi before the law swooped in. No prosecution came for the breeder (at that time), which was unfortunate, but there's a little silver lining in that Gigi made it out. The breeder was later shut down completely.
Gigi, a Pomeranian, took a bit to get healthy and over the trauma that undoubtedly comes with being in a place like she was. "We had to train her to be a dog essentially," Thor says. And Thor, the new boyfriend and protector, quickly became a welcome friend to Gigi. The two developed a great relationship and Thor lovingly calls her their "diva dog."
The diva moniker disappeared later, though. When Nilla the poodle, the couple's second pup joined the pack in 2015, she was just a pup. Gigi became "mama dog" at that point. Nilla came from Papillion's Town and Country Humane Society. The no-kill shelter had a dog that was pregnant, worked with Bellevue veterinarians whom Thor and Kali knew, and eventually the pup became theirs. There wasn't much talk about adopting the pup as Kali one day happened to mention that she was on the way to grab Nilla. Thor didn't object much, though he was a bit surprised at how abruptly it all happened. Kali charged Thor with naming the pup. Nilla she became.
The four live happily and busily in Omaha. Though he didn't say this explicitly, it is apparent that Thor would do anything for Kali and anything for their dogs. Their little family is happy in Omaha and plans to stay for a long time. As the news biz goes, job changes can happen, but Thor says he'd have to find the perfect situation to leave KETV. After all, the sports crew there is tops in town and Thor loves Nebraska, a place he now calls home.
As Thich Nhat Hahn calls them, "positive seeds" had been planted in Thor during his time as a Minnesotan. And while he remains in the Midwest, his job, his family, and his loyal viewers encourage him to keep watering them. You can rely on him for the best sports coverage, but you can also rely on him is ever there's an opportunity when he can help you off screen. Ask Kali, ask his little bro, ask me. He's gracious, talented, and we should all be glad to have him here to keep us abreast of Husker happenings and how he continues to touch the lives of anyone he is able to.