Pet People: KETV's Alex Hoffman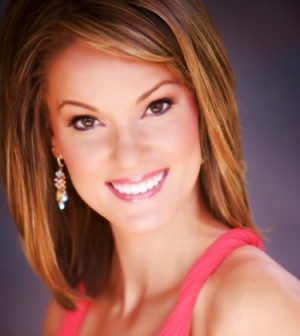 Identity- the fact of being who or what a person is. We've all got one. Maybe you can articulate who or what you are; maybe you can exude personality traits well enough for others to decipher whatever it is that constitutes "you." Maybe you can't. That's ok. Sometimes it takes a while.
At a hip coffee shop decorated with concert flyers, abstract art and chalkboard drink menus, I was made aware of what Alex Hoffman is all about before I could finish my Diet Coke. It's not that she's at all simple, it's that her identity is so rock-solidly clear. Her brown eyes are striking- like they could cut glass- and there's a Midwestern warmness to them that tells her story. We craft our identities by making value judgements. Alex has made the decision to embrace her hometown and family values; values that are wholesome, noble, familiar and essential to her identity. She's authentic, self-aware, ambitious. A dedicated wife, sister, daughter and newswoman. Competitive. Tough. Strong. Strong in every sense of the word. Strong like the cattle her family raised on their South Dakota farm.
Eureka, SD, located just about 15 miles south of the North Dakota border is a rural community that, like many, is shrinking. You've probably never been there, but towns like Eureka are not uncommon. The population numbered 1,000 when Alex resided there- it's in the hundreds now. The townspeople are a tight-knit group. People feel safe there. It's where she learned values like family and faith and community. These are things that define Alex and if you're talking about a solid foundation, Eureka is a nice place to find one.
Alex calls her home and upbringing a sort of "dream childhood." In her graduating class at Eureka High School, there were 23 kids (87 in the entire student body). Unlike larger schools, students had the opportunity to participate in and test the waters of whatever activities they wanted. In fact, some sports and activities needed just about everyone to participate given the student body's size. Alex was not at a loss for things to do (and excel in) while at EHS.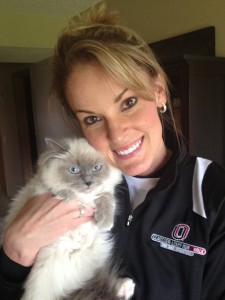 A five-sport athlete, a member of the drama club and a student, Alex spent more time at school than home. She described a typical day like this: Get up and leave for cross country or basketball practice at 6:30 in the morning. Go to class. After school, more athletic practice. Drama club from 7 to 9 p.m. "After all that, I'd get home at 9:30 and get ready to do it all over again."
It kept her busy, to say the least, and it "kept her out of trouble." The rigor of having so many responsibilities wasn't easy, but luckily she's equipped with an innate ability to compete and achieve. She "absolutely" got that ability from her mom, Holly. She and Alex have very similar personalities. So much so that they often "clashed a lot growing up," but as Alex grows older, she can look back at their relationship and see its significance. "I'm becoming more and more like her and we are very close. She taught me to channel my competitive nature towards work. I love competing for stories, getting that exclusive that no one else can get." Between life lessons from her dad, Charles, Holly's drive, the relationship Alex has with her younger sister, Elizabeth, and older brother Austin, Alex knows the positive impact family has had on her life. "Our family is like a rock," she says. "There are good times and bad, but my family is always going to be there for me."
The competitive spirit and support of her family helped Alex become a record-setting swimmer in college. She spent a semester at the University of Minnesota, then transferred to South Dakota State to complete her degree in Broadcasting and Sociology. The initial enrollment in Minnesota was a bit of a shock to Alex. Coming from such a small school in South Dakota, the 20-or-30-thousand students at Minnesota was a lot to deal with. "When you are a swimmer at a Big Ten school, that's all you do," she says. Swimming was important, but she wanted to be much more than that. It was her identity for a time, but things change. "I loved to swim and compete, but I wanted more. I wanted to be able to enjoy my college years and have more balance. South Dakota State provided that for me."
As much as an hour-long interview can, our time together at the hipster coffee shop gave me certainty that Alex has been a beautiful personality all her life. It's clear she's a caring, compassionate person. She's professional, endearing and it's hard not to gravitate towards her genuine smile. It's also hard not to notice that Alex is a beautiful young woman on the outside. She was Miss South Dakota Teen USA. She placed in the top 15 in the Miss America pageant. It's a bit hard to imagine, but that hasn't always been the case, she says. "I was the ugly duckling. A tomboy. I didn't wear makeup," she says. She distinctly remembers an awful haircut in 7th grade. She modestly says she has "blossomed a bit" as she's grown up. Like I said before, some things take a while.
During her junior year in high school, one of Alex's friends entered a beauty pageant and urged Alex to give it a try. She did. In her senior year at Eureka, Alex entered and won a pageant which qualified her for Miss Teen USA. To date, she's only competed in six events, so she was never a "pageant girl," per se. Pageants were a surprising turn in her adolescence, but what's not surprising is her success. Alex wins.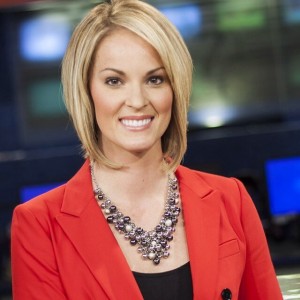 Winning wasn't the most beneficial part of the pageant days, however. Sure, she got awards, acclaim, etc., but her calling was a by-product of her time as Miss Everything. "I think I knew I wanted to be in broadcasting as a result of my time doing pageants. I improved my interviewing skills and I got to see the 'behind-the-scenes' of a TV production. It's really cool to be a part of something, then see the final and edited version of what you did on screen," she says. Alex changed her major a few times in college, visited with advisors and consulted her brother who was studying broadcasting as well. Austin told her he thought she could "be really good at this." Good call, brother. "I started in on broadcasting at SDSU and I've never regretted the decision."
Alex arrived in Omaha at KETV in 2011 as a traffic reporter after interning at KELO-TV in Sioux Falls. Currently, and since 2013, she's been an anchor on First News, Channel 7's morning news. The morning news is one of the best jobs in news, she says. Sure, she wakes up in the middle of the night, she tries to fall asleep at 8 p.m., but she "gets the best of both worlds." From 4:30 a.m. until 7, she and John Oakey are on the air. She reports the news, tells funny stories and emotional ones, too. "I get to be an anchor and a reporter and I love that," she says. The shifts take her out of the traditional nine-to-five world sometimes, but she's ok with that. Driving to our meeting, she noticed the time (about 9 a.m.) and thought, "Hey! This is what the morning looks like for almost everybody else!"
Omaha is somewhat new to Alex, but two other things are not: her husband, John, a dental student at Creighton whom she's been with since 2008 and married since 2013; and her love for animals.
John and Alex met while at South Dakota State. "He's got the most beautiful soul I've ever known," she says. Being married last summer and with John studying to be a dentist, there are no children yet, but Alex's brown eyes snapped open at the thought of them. She can't wait.
For now, the only little one in the family is Chloe the cat. The couple loves Chloe, but the love for animals didn't start there. Growing up with animals on the South Dakota cattle ranch, Alex says she learned very early on that animals were companions. "We have a special bond with them," she says. Sparky, a family dog, was the crux of the companion animal notion for Alex. Sparky was everyone's dog, but we all know how an animal becomes "his" dog or "her" cat… For whatever reason, Sparky was "mine," she says. Alex dreamed of being a veterinarian as a kid, like many, and has continued loving animals since. She would have undoubtedly been a fine vet, but we're glad she went down the news path.
Upon coming to Omaha, the couple decided a pet was a must. They thought about a dog and eventually settled on a cat. Research of eastern Nebraska shelters and rescues produced a picture of Chloe and Alex was hooked. Chloe, being a ragdoll, fit for John, too. Ragdolls aren't as hard on his allergies. Still, John was a bit leery, Alex says, but now the two are best buds. "Chloe is the sweetest cat. She's a constant companion and the most loving spirit," she says. Chloe is now two years old and loving life with Alex and John.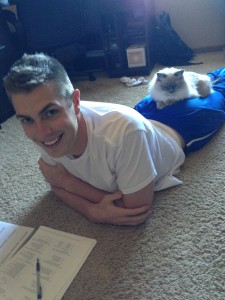 John Oakey, her anchor desk partner, calls Alex the crazy cat lady. The term is endearing and Alex embraces it. She loves to insert pet stories wherever she can and is the "go-to" for animal stories at KETV. Recently, Alex made Oakey spend some time with a stuffed Grumpy Cat. Why? Surely, it was a reminder that crazy cat lady rules.
When she's not working, she's at home enjoying time with Chloe and John. Baking, listening to music, watching movies and reading are her favorite pastimes. Though not a competitive athlete anymore, she still identifies with that aspect of her life. Alex still works out and has run three half-marathons to date. She's currently reading Divergent after seeing the film. My Sister's Keeper is a novel she connected with, Alex says, because of her relationship with her sis.
Everything seems to come back to family for Alex. Connecting the dots between a novel and her sister, a love for animals stemming from her upbringing in rural South Dakota, her competing for stories and success that is a direct result of her mom's personality, on and on. These are her values, this is her identity.
"OOFTA," a Twitter post recently declared. It's a Dakotan colloquialism, if you didn't know. Home will never be far away for Alex. Through the travel for pageants, the long days studying and competing in athletics, the path that furthers her physical distance from Eureka and more, Alex knows who she is. A proud, strong, successful South Dakotan, wife, anchor and reporter. We're so glad she identifies with the things she does and happy she now calls Omaha home.
Want to get to know Alex more? Watch her weekday mornings on KETV's First News from 4:30 to 7, find her on Facebook here, and Twitter here.