Pet People: KMTV's Deanne Brink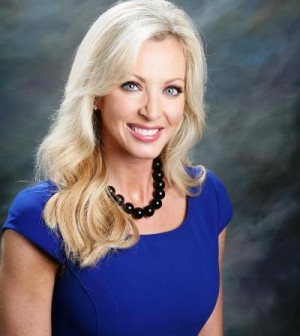 To be able to work at a major television company's network in a market like Omaha's, one must be talented, but more important, one must be relatable, hard-working, dedicated and  team-minded. If a person is any less than all of these things, it's going to be a no-go. Great for KMTV and great for Omaha television viewers is the fact that anchor, reporter and producer Deanne Brink possesses all of these qualities.
The ability of television news personalities to allow viewers to get to know them is another quality that's essential. To enjoy getting to know Deanne on the screen is something KMTV viewers will recommend, but to meet her off screen is a wonderful opportunity I'm happy to have experienced. Apparent to any viewer is her warmth, competency and positivity (those things travel with her when the cameras stop, too). Her most endearing qualities, those which may not be as visible, are her drive to lead young women and the loyalty she has for her family.
Deanne is a Kansas City girl and growing up there with her mom and dad produced a definitive Midwestern personality and constitution. She's grounded, easy-going and has an impeccable work ethic. She recalls home as a "fun place." Baseball games, shopping in the Plaza, enjoying the art community and seeing what a great pet community looks like are a few examples why K.C. is a "special place" to her.
The journey to Omaha, a place not unlike her home (that's why she loves it so), included stops at two colleges, Avila in Kansas City, and Stephens College, one of only three remaining all-women colleges in the country. She gained two degrees and has thoughts of working on a masters through a distance learning program.
Her second degree, Broadcast Journalism, was surely hard work to attain, but Deanne was on the road to being on the screen a long time before. As a child, she recalls, "My mother always joked that my favorite question was 'Why?'" Her first indicator of her future career was in loving that question, but growing up in a home where news and information were important also aided her in the decision to tell the news. "I remember being very young, sitting on my father's lap and reading the paper." Though she didn't understand all the news stories of the day, she knew what she was doing was important. "I had an overwhelming curiosity and loved the news," she says. Deanne is an "input" person and "learner" if Gallup ever defined one.
Through, during and after college, Deanne spent much time behind an anchor desk, hours in the field and time behind the camera producing shows. She worked at KMBC in Kansas City, WDAF as a production assistant, as a host for the former Anheuser-Busch Satellite Network for Sports and "On Main Street," a 60-minute show about real estate and other things, run by a faith-based St. Louis outfit. Before joining the team at Action 3 News, Deanne made one final stop in St. Joseph, MO, at KQTV-ABC. Her past four years have been at KMTV in Omaha.
For at least another year, she'll be in Omaha. Two benefits of occupying this space keep her here and happy. Deanne loves the city/country feel that Omaha and KC provide. There are hundreds of thousands of people in and around the city, but leave it and you're in the plains of the Midwest. That helps meet her need for equine entertainment. Deanne loves riding and showed horses in her youth. Check out her Facebook page and you'll find a big 'ol beautiful horse pic.
The second reason she's happy working here is proximity to home. Deanne's folks are in Missouri- her mom in KC, her dad in Springfield. As they age, and as she's their only child, she feels obligated to (and happy to) stick around and stay close. Her mother is a real estate agent and her dad a retired engineer. Deanne's deeply felt love for her folks was apparent when we spoke about them.
The news in Omaha as a morning anchor and mid-day producer is a grueling gig, but Deanne's upbringing and always-been-packed schedule are enough to keep her moving, even at 2 in the morning. Along with her work and school schedule of past years, Deanne worked as a model (on and off since childhood), starting with television commercial work when she was 14. "I've always loved fashion," she says, "and working with designers, seeing their creative processes was really educational." Modeling was an interesting endeavor for Deanne and after, until 2013, it helped lead her to beauty pageants. She was Ms. Nebraska in 2013. "It's just something I wanted to do. It was fun."
On top of having fun competing in pageants, Deanne credits her pageantry with giving her some learning moments. From the contests, she honed skills like preparation and discipline. She learned to win and lose with grace. Most important, she learned the value of authenticity. "That definitely carries over into news," she says. As viewers, we can definitely see right through fake smiles and laughter- Deanne keeps it real.
We all say we've loved animals FOREVER (!), but I like to find out exactly when the epoch occurred; when exactly my Pet People felt their gravitation towards pets. When Deanne was three, her grandfather told her dad, "If you don't get her a puppy, I will." For her birthday, Deanne got a pup. "Happy," because he was happy and also because that's what a three-year-old girl names a puppy, was Deanne's first dog. Happy was a white Westhighland Terrier- a "westie," and the reason she loves dogs. The breed became special to Deanne and she had a second, Mickey, a third, McDougle, and a fourth, Bogey. The unconditional love for her pup Bogey shined through all the time, but especially when Bogey needed a $5,000 corneal tissue eye graft. "I put myself in debt for that one," she says, "but that's what we do."
Ellie is Deanne's latest pup- a Chinese Crested Powder Puff. She's blonde, like Reese Witherspoon's character in Legally Blonde, and has the same chipper personality. "She likes to go," Deanne says. Ellie is seven years old and came from a Powder Puff Rescue in Kansas City. She's got big eyes and "just the sweetest face" according to her mom.
When Deanne is free — that's only for a couple of hours each day during the week — she likes to train, hang out with Ellie, run with friends and read. Biographies and local authors are her latest reads. Deanne also has a soft spot in her heart for empowering young women. "Anything to help strengthen and rehabilitate those in need is dear to me," she says. Vulnerable and malleable young women she can help give her the greatest joy. She cites the troubling stories she sees and reports in the news as the reason she wants to help. "We all hurt the same way," she says, and recognizing that, Deanne tries to instill confidence and determination in women who she gets a chance to meet from disadvantaged situations.
She'll be at KMTV for at least another year per her contract, but as a newswoman, she's always thinking about where and what is next in her career. Omaha has been great for Deanne and Kansas City is home. The Midwest is where she'll be, but not just because of her success and the relationships she's built from the news biz. "I'll never stray too far from home," she says. As an only child with recently-or-soon-to-be-retired parents, Deanne's mind is constantly focused on her mom and dad in Missouri.
For now, she'll keep plugging away at KMTV, enjoying her time bringing viewers the morning and midday news. It's hard work and the hours are sometimes tough– she puts in 10-12 hours before many of us take a lunch break — but she's happy. "Holy Moly," she says, "the hours are crazy, but I love it."
For more from Deanne Brink, check her out on Twitter and Facebook.