Pet People: KMTV's Morning Blend Host Mary Nelson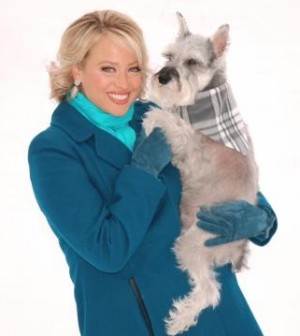 Mary Nelson, co-host of KMTV's Morning Blend, wears many hats. She was also born to have her voice heard and with a love for pets, which makes it very easy for us to tell her story. Whether she's on your television screen, was in your ear during her past radio gigs or when she's just about town, she's happy to meet you and you should be pleased to have met her, too.
Nelson is a southern girl- raised in Greenup, Kentucky. From a small town in the eastern part of the state, she sounds and looks the part. After her academic career concluded and after she'd begun her first broadcasting jobs, she moved to Omaha. She's been all over the countryside, away from the coal mining lands of her home state and eventually to the great Midwest. For more than 10 years, she's been working the news at KMTV.  Prior to landing here, she lived in Huntington, WV, Washington D.C., and Nashville. "In the broadcasting business, if you want to move around, you certainly can, but once I got to know Omaha, I wasn't exactly anxious to leave.  It's a great city full of wonderful people," she says of her current home.
She studied Broadcast News and Political Science at Eastern Kentucky University, and during those years, her first opportunity in broadcasting came at the young age of 19.  A year later, she was hosting a call-in show called "The Trading Post."  "Listeners would call in to advertise items they were interested in buying, selling, trading, or giving away," she explains. This was a down-home version of "telephone Craigslist" that many of our rural readers here in Nebraska will be familiar with. "It was just as entertaining as it sounds," Nelson says. After time in radio, she moved to TV, then back to radio some years later. In 2010, she returned to TV to co-host The Morning Blend with Mike DiGiacomo.  "This show is special because it's fun, upbeat, informative and all local. I enjoy being part of something so positive and being in a position to connect with viewers," she says. Tune into the program next time you've got some morning TV time and you'll be immediately aware that she loves her job.
We love her positivity and personality seen on our TV screens, but we especially love the fact that she's an animal lover. "I was born with a love for animals," she says. "One of my earliest memories of any kind was playing with our beagle, Cindy. We had several dogs throughout my childhood (many of them started out as strays) and they made for the best companions." She grew up on a dirt road in a rural area, and people would often drop off dogs. Some would find their own way to her home;  her family would pick up others and bring them home as well. "They were the most appreciative, loving pets." Charcoal, Stripe, Sue, Ellie, and others we among the members of the Rescue Family. She also had a few cats along the way,  including Max and Sam. "Each Easter, my grandmother, "Memaw", would buy us ducks. After they were grown, we'd turn them loose at my aunt's house (she lived near an inlet). I also had rabbits and other birds." Nelson's childhood would have been vastly different without the presence of animals; that is very clear (and joyous) to us here at Pets in Omaha.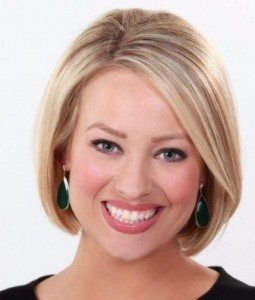 One of her favorite pets was a lizard which she plucked from the side of her grandmother's cellar. He was an eastern fence lizard eventually named Skydog. Though he was wild to start, he mellowed quickly and had a ton of personality, she says. Ducks, dogs, cats, lizards, rabbits and more? Maybe she should have become a zookeeper, but we're very satisfied with her career choice. She loves animals still and provides a cheery and friendly smile to viewers each morning? We'll take that.
Today, she and her husband have one dog. Action, a schnauzer, was adopted from the Nebraska Humane Society in 2008.
"My husband grew up with schnauzers, so he was familiar with the characteristics that make them special.  I wasn't aware, but I was open to adopting one based on his experience."  The couple had diligently checked the Nebraska Humane Society's Web site, looking specifically for a schnauzer.  The day Action's picture was posted, she knew right away that he was "the one."
"He had this curl in his lip, and a fiery look in his eye.  He was so handsome!"
Action was already a year old and wherever he had been before, the couple could tell he hadn't been paid much attention. He was somewhat shy and didn't know what it meant to be picked up or to ride in a car. He became anxious when they picked up newspapers, so Nelson imagines the previous owners had been used to disciplining him via a rolled-up periodical. "It took a few weeks for him to warm up to us, and after a few months, he knew he was king of the castle," she says. Action is loving and loyal.  He is also a trooper.  Action has had some health problems, one of which took a very serious turn a year-and-a-half ago, and Nelson nearly lost him.  Luckily, he was patient, tolerant of treatment and hung in there. "The way he has handled the years of poking, prodding and daily doses of medicine has made us love him more!"
At The Morning Blend, Nelson has been able to bring awareness to several rescue groups and shelters in Nebraska and Iowa. "I know how much Action has enriched my life and I love meeting other people who can relate," she says. She and her husband enjoy attending fundraisers which support animals locally, especially when they can take Action along.
The highly successful Morning Blend is going into its fifth year on the air. Nelson was part of the team that launched the show in 2010. "We knew it would take a lot of hard work to put together a one hour, live, lifestyle show each weekday, but we thought — if we could do it well — Omaha would embrace it." Given its longevity, it seems her assumption was correct, because "that's exactly what happened. Our show is the only one of its kind on the air in Omaha."  Co-hosting with Mike DiGiacomo (who adopted his furry friend, Miley, from the Nebraska Humane Society) she writes the show, does research and works with guests.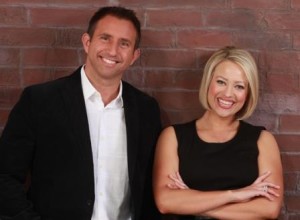 Nelson says the best part of her job is hearing viewers say they love the show. "They'll say they're new to the area, and the show is a great way to learn about what's happening or that they're retired and enjoy the relaxed, informative approach or they're new moms who enjoy the company of adults (not just itty bitty babies!)."  One appreciative email really sticks out for Nelson as she realizes the gratification she gets from doing her show:  A viewer wrote to tell her and Mike that she was recently divorced and the process had taken its toll on her sunny disposition.  She said watching the show reminded her of how many great organizations exist and reignited her love of philanthropy. In a way, the viewer said, she found herself again. Assurance like this is always wanted, but more importantly to many, the satisfaction of being able to touch one's life in such a way is the reason we get up in the morning. We are glad Nelson is capable of making such an impact and are grateful for the effect that she has on people.
When she isn't helping viewers look through a positive lens each morning and setting a cheerful mood for the rest of their days, Nelson loves "Do-It-Yourself" projects. Action isn't a fan of project days because he knows he won't get as much attention, but as she stated previously, he's a trooper. "I'm game for any excuse to break out one of my power tools." Whether it's a molding job, tiling, laying flooring or painting, Nelson is up for any and all home improvement jobs. She also enjoys sewing, a hobby which started when she was about five years old. "My mom and grandmother were highly influential and were both talented crafters," she says.
Nelson's personality has gravity. Her active and busy life is noble and edifying for her and for her viewers. She's a pet mom, a wife and a great asset to our community- on and off the screen.
The Morning Blend airs weekdays, 9-10am on KMTV.  Are you a fan of the show? If so, follow it and Mary on Facebook at Mary Nelson Omaha. Mary is also on Twitter, @MaryNelsonOmaha.  She also manages the show's Pinterest account which can be found at Morning Blend.