Pet People: Pam Wiese of the Nebraska Humane Society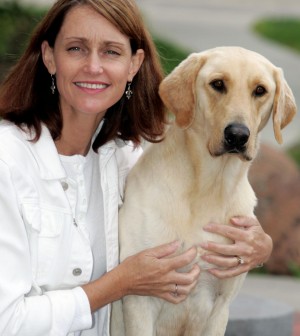 As the Vice President of Public Relations and Marketing at the Nebraska Humane Society, Pam Wiese's job is to carry out the shelter's mission through her actions and through media. Being in her position for nearly twelve years, Wiese has and continues to present that mission through traditional and social media, always wearing many hats and always crediting the shelter's success due to hard work of thousands of animal lovers- many of them seldom seen. We are proud to put Pam and her cohorts in the spotlight as some of Omaha's most important Pet People.
Wiese was born in New Jersey, but calls Colorado "home." From the age of 7 and up to her college years, she lived in Broomfield, CO before studying at Colorado State University. Before becoming a widely-known face on the western slope and eventually on television screens in rural and urban Nebraska living rooms, Wiese was an accomplished swimmer, a broadcast communications major, "of all the nerdy things to do in college" a scholarship debate team member, but most importantly to us, an animal lover.
Her love of animals began as a child. Though she didn't grow up on a farm, for the number of animals she had, she might as well have. "We had a lot of animals. We had guinea pigs, hamsters, gerbils…I grew up with a dog. I didn't have a cat until I was in high school, but when we got one, I was hooked on kitties then, too. My sister had a horse. I grew up with a variety of pets and we had a steady succession of them. I have always had and loved pets."
As a young college student, Wiese's dream was to become a newspaper reporter. She was involved in her high school's newspaper and loved reporting. As her interests developed at Colorado State, however, her collegiate course plan changed a bit when she discovered debate. She enjoyed debate and frequently traveled with her college's team to competitions. As a result, she changed her major from print journalism to broadcast communications. "You know, this is funny- it was actually easier to get out of the communications and speaking classes for broadcast journalism than it was print journalism because I went on debate tournaments. So, I switched majors from print to broadcasting and communications. My degree is in communication. I changed majors and it seemed to work. It was purely for ease of being able to do all of the activities that I wanted to do in college. Lots of foresight there, right? It wasn't because I thought I could get a job doing this, it was just easier! Kind of funny, but it did work out. My life and those incredibly big decisions have been rather whimsical. I said, 'I'll try this,' and it always worked."
Through college, she honed her broadcasting and communication skills. Enough so that after graduation, Wiese landed a job in Grand Junction, CO as a reporter for a local television station. After five years there, she "started her steady flow east" to Kearney, NE. Five more years with KHGI TV there was followed by five more in Omaha at KPTM FOX 42 News. Through her "illustrious broadcasting career," she recalls jokingly, Wiese had many wonderful opportunities as a reporter. "I loved broadcasting. I had a blast. I got to see a bunch of different things; I got to see behind the scenes from events, got to cover a Pope and a couple Presidents. It's not like I was the Washington Press Corps or anything, but still, it was exciting and fun."
After several years in the business and realizing that there was "a shelf life for women in TV," Wiese thought, "Gosh, you know, I want to look around, expand my horizons, leave on my own terms." After five years at KPTM, five more in Kearney and her time in Colorado, she had an opportunity to work for the Nebraska Humane Society- a job that satisfied two of her passions: animals and media. "I always loved animals and said, 'Wow. This could be something different and kind of fun.'"
Near the beginning of her decision to expand her horizons, Wiese received a phone call from the then VP of PR and Marketing at the Nebraska Humane Society, Darcy Beck.
"I was here in Omaha, I had met my future husband and he and I were  going to stay here. It wasn't like I could go and move up by going to a bigger market. That wasn't really an option for me."
The phone call from Beck was another "whimsical" occurrence in Wiese's life.
"It was actually right after I thought about being open to doing something that wasn't in TV." Wiese got the call and listened. Beck was calling for a reference and a little help finding a media person to come on board  at the shelter. Here's a little rundown of the funny and very productive conversation:
Beck: "Do you know anybody that might want to do PR for the shelter?"
Wiese: "Well, what are you going to do?"
Beck had been at the Humane Society for years. Upon deciding that she was more interested in print, layout, design and the more creative, artistic aspects of Marketing, she decided to locate a person to concentrate on public relations.
Beck: "I want someone who has a journalism background, who can talk to the media, who can give them the story, who can explain it, can figure out what they want in video or pictures, how to package what we have and sell it to the media whenever we want them to come here."
Wiese thought she knew media pretty well and responded, "You know, I might know someone."
Beck: "Who?"
Wiese: "Me!"
Beck: "Really?"
     Wiese was apparently not on Beck's radar  for the position, but we're pretty sure things have worked out. "I had known about the shelter, I had done stories on the shelter, I was really in line with what they were doing and how they were doing it," Wiese says. "Knowing their mission, I felt that it was a pretty progressive place and that it wasn't a place that I would go and not move with the times, advance, or progress. I was dead-on right."
                The Nebraska Humane Society, under the leadership of President and CEO Judy Varner, is truly visionary. Always looking for ways to improve, the shelter stays ahead of the game and continues to serve the animals the best it can. "I appreciate that," Wiese says. "I think our mission is so strong and everybody has it in mind. At the end of the day, we can lean on our mission and say, 'We can do this. We are always asking what we can do that is going to be best for the animals."
The mission, which articulates the shelter's intentions, is to provide education, give sanctuary to animals, encourage adoption and promote responsible pet ownership. It is embodied by Wiese and the hundreds who help operate the shelter. By providing animal control services to much of the metro area, the shelter also serves citizens of the community by upholding laws enacted for the protection of people and animals.
"People who get involved here are the backbone of our organization. We have this fantastic volunteer corps. Up to 500 people are active at a time. They recognize that we are not perfect, they recognize that we continue to do the best that we can and that we are open to new ideas and that we are always looking at what we can do better. We always have to have bottom line and resources in our sights, thinking up ideas that don't cost. That's a big part of what the shelter's employees and volunteers help with. We are always saying, 'Let's try this and see what happens.' I think they really appreciate that and can see that. That's why we attract so many volunteers."
In 2013, volunteers gave somewhere between 40,000 and 45,000 hours of their time to the shelter. "This place is so vital and vibrant and changing. We're trying to, at the same time, always stay straight on the mission. I'm trying not to gush, but I really feel strongly about our people and I appreciate every one of them."
Along with the great support of the volunteers and Omaha's pet community, Wiese appreciates the leadership that has continued to push that mission of advocacy for pets and people. "That's why I've stayed. If it was a case where I was thinking, 'I like this place, but I don't think we're doing a service to the animals,' I wouldn't be here. We have some volunteers who are here on a daily basis. Others are here on the weekends or one day a week. They help with adoption and surgeries and clean up and dog walking and cat enrichment- so much. We have so many arenas that we can use volunteers in. There's something about animals that compels people."
There are volunteers who, for whatever reason, can't have pets. Whether it's someone who has a family member with an allergy or someone else who lives in student housing, they come and volunteer to "get their dog and cat fix" as Wiese says. The volunteers appreciate the mission, too, and it is displayed by everyone from the top down.
"Judy's (Varner) philosophy is if there's something you are really passionate about and want at the NHS, you can't change it unless you are here. If you want to see something through, you need to stay and make things happen the way you want them to happen. We've had some goals that have taken a long time. Some things have been in our sights for five, ten years, but we slowly get to them. It's that mission focus that keeps it going. Eventually, you are going to get to where you want to go."
Thanks to Wiese, the employees and volunteers and the Board of Directors, the Humane Society continues to fulfill that mission and provide a necessary and significant service for Omaha.
As the Vice President of Public Relations and Marketing at the Nebraska Humane Society, Wiese has her hands in a myriad of things. "I'm sort of a jack of all trades, master of none," she says. The shelter is a non-profit, so it doesn't have huge marketing dollars to spend. The NHS tries to, whenever possible, spend the shelter's money "in the back of the house" by rehabbing animals. Wiese understands that if they are rehabbing animals, it is also necessary to get them adopted. Managing money, whether in PR and Marketing or otherwise, is a very big job at the Nebraska Humane Society.
"We utilize a whole bunch of different resources- a lot of them donated. For example, we call Pets In Omaha when we have events or things we want publicized. We use a lot of social media. We have our Web site that we try to promote as much as possible through social media so people can get as much information as possible. I oversee that team, but they do the creative work. . I also work to try to get the word out any way I can through traditional media sources. One day I might be doing a "Pet of the Week" on a TV or radio station. At noon, I might be going to speak to civic groups to talk about what we do and how we do it. I also work with the media whenever they have questions about animals. We've really tried to build the NHS as 'Your informational source for pets.'
Wiese gets about 70 emails per day which is usually "over her limit." She receives dozens of phone calls about any number of things also. For example, one recent caller was asking where a member of the community could go to get into training dogs for the blind. "That's something we don't do here, but I will direct them to other resources," Wiese says. Another inquiry was asking about handicap access and therapy dogs. Where can I find info about training? How about a good vet? What about boarding? All these questions people may have along with questions about sheltering take the majority of Wiese's day to answer.
"We get a variety of questions and we try to give people information we have and then also send them to other resources so they can get the most information they can to provide the best environment for their pets and be able to live with their pets, too. A lot of the questions deal with 'I'm having difficulty with "this" or "that." Then I send them to our behavior resources or behavior helpline, training classes and folks who might have answers for them. I get questions about community things. 'There are feral cats in my backyard and I want to help them. What do I do?' I get questions about wildlife also. 'There's an injured bird in my yard' or 'There's a nest of bunnies and my dog keeps going after it! What do I do?' We have a lot of that information on our Web site." If you have questions like these, Wiese is always willing to help, but your first stop should always be the Nebraska Humane Society's Web site.
Sometimes the questions are more animal control based, so Wiese pushes them over to those experts. "They have a better understanding of the laws and what people need to know. I answer a lot of questions from people about various resources that are available and any type of information that I may have at the tip of my fingers. Sometimes it's, 'You've got to call the zoo on that one…that's not my bailiwick.' Wiese tries to give people information all the while promoting the shelter. "Promoting adoptions, promoting the services we provide- it's fun. No two days are the same. I still get to dabble in media, which is my background, so I get to play with TV, radio and print media folks. It's all towards the end of trying to promote the shelter, pet adoption and trying to create any information exchange I can so people can enjoy their pets more."
The Humane Society isn't just Wiese's employer; it's her life in a lot of ways.
                Wiese's husband Jeff is an award winning photographer with the Omaha-World-Herald. Both careers are hectic, but the couple makes it work. "We don't have any children. That helps. We are both pretty active and we have shared interests with a lot of different interests also. Without kids, sometimes we don't see each other as much as we probably should, but we try to get together every evening to watch Modern Family reruns or something we enjoy. He's the cook and I'm the cleaner-upper. Jeff's a great griller and makes great crockpot stuff. I allow him to feed me. Isn't that nice of me?"
The two met on while covering Iowa's Nishnabotna River flood of the late '90s. "Jeff had been covering Iowa for the World Herald so he knew all the back roads. I was muddling around, trying to figure out where the river actually was and then trying to find some flooding. It seemed silly, but he actually helped me. He hinted, 'Go that way…go down there…that's where it's flooding. That's where the story is.' He, as a newspaper reporter, helped a TV lady. There's so much competition among the stations and news outlets that he didn't have to help me, but he helped me."
Jeff and Pam live in Omaha with their dogs. Baxter, who frequently comes to work with Wiese, is a "poorly bred Pomerian," Wiese says affectionately. He's bigger than most and has some weird hair going on." Each year, 30,000 animals come through the NHS. Wiese says, "Each animal has his own story. Some are injured or sick. Some have been the target of abuse or neglect. Some are simply no longer wanted." Baxter was one of the abused dogs who found his way to the shelter. Wiese adopted Baxter, or as she calls him, "Bax" or "B-Man," upon his arrival and rehab. He still deals with some neurological issues, but thanks to the efforts of the Nebraska Humane Society, "B-Man is now thriving and has a great quality of life."
When Pam gets a break from work, she likes to travel, but loves reading. "I'm an avid reader and a news junkie, too. I like newsy stuff and movies that deal with current events. I'm still a news person even though I've been out of the business for twelve years." Wiese hasn't been able to read much since New Year's Day because her dog ate her Kindle. She was in the middle of The Haj which is about the Arab people and culture. It's a historical novel. "It's about all of those places that I guess I missed in history, so it's fascinating." Wiese likes those kinds of books, but for fun, she reads Nebraska-native Alex Kava. "I like the FBI series. I'm obsessed with Maggie O'Dell. I want to be Maggie O'Dell." Wiese loves current events and newsy literature, but also loves Jane Austen. She's a well-read VP of PR and Marketing, indeed.
Also, for the last couple of years, Wiese has been involved with the Press Club show, which is "a real kick in the pants." She was involved in show choir as a child and is trying to get back into things like that. "I love to sing. It's another way to help someone else who is trying to raise money for scholarships, so that's fun and rewarding."
Pam and Jeff also have dogs that compete in competition trials and hunt tests. The couple likes going, participating and observing.  One can also find the couple at dog shows in the area.
"I'm not animal oriented all the time, but it sounds like it doesn't it? I need to get a hobby! I'm kind of boring, you know? I kind of work a lot!" Wiese says.
After meeting her, one will easily be able to see that she in fact is not boring. One will also see quite clearly that she works tirelessly and is a great ambassador for the Nebraska Humane Society. However she arrived there, however "whimsical" her past decisions and events have been, Omaha should be proud to have Pam Wiese as one of the faces of the Society.
Stay tuned for more information about Pam, how she says you can help the Humane Society and a cool article highlighting some of the lesser-known activities that take place in and around the Nebraska Humane Society.