Pet People: Ritch Cassidy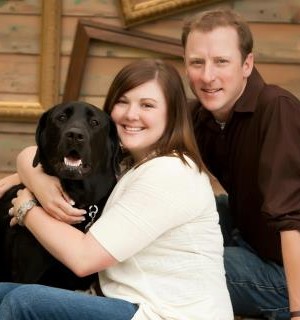 If you are a country radio fan in Omaha, it's likely you know Ritch Cassidy's voice. He's been, among other things, a radio host for Omaha's KAT 103.7.
After receiving his degree in Public Relations from Nebraska Wesleyan in Lincoln ('98), he was a full time radio host until 2011. Since 2012, he's worked as a fill-in on both local radio frequencies and on XM satellite radio.
If you don't know Ritch from the radio and you are in the public relations field, you may have worked with or around him as a campaign fundraiser in the last two years. He's helped raise money for churches, schools and non-profit organizations throughout the Midwest.
Presently, and since May of 2014, he's been the Director of Marketing and Sales for the Ralston Arena and Entertainment Center. To go with his radio and PR accolades, he's also been an independent film actor, a songwriter a husband and very proud pet dad.
Hickree Mocephus (or Hickree Mo) was adopted by Ritch and his wife Cassie in July 2010 at weeks old from a litter of 9 puppies. Word has it that no one wanted him because he was going to be a "larger than normal" black lab, Ritch says. Hickree's father was a pure bred black lab, his mother a golden retriever. Hickree has the demeanor of a 5 pound lap dog. He loves to sit on laps, snuggle, play and sleep by your side. Rarely does he bark, but when he does, it's out of mere curiosity. Ritch says Hickree has frightened people away from the door just by saying "Hello."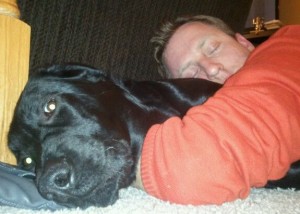 Hickree has had great successes this year. At 3 years old, he tipped the scale at 135 lbs., so his mom and dad put him on a strict diet of smaller portions and green beans throughout the summer of 2014. "We're happy to report that he has lost an amazing 22 lbs. and is able to run faster and with more agility now at 4 years old than he ever has."
He is the light of his mommy and daddy's eye and "the best thing," Ritch and Cassie say, "that ever happened to us. Seriously."
Ritch has had a love for pets as long as he can remember walking. "Mainly dogs," he says. "I have always loved dogs of all shapes and sizes." He's always had a dog in and around his household. The first dog he remembers having was named Skipper. Skipper was a little rambunctious thing that mysteriously disappeared one day. "I found out years later that mom and dad just didn't think he was a good fit as my sister and I were growing up so they gave him away… but on my 6th birthday," he would, however, learn the true definition of man's best friend. "As a present, my parents and older sister gave me a pup (young brother) who I named Butch. Butch was a small, curly black haired humane society dog that instantly became my best friend and shadow. He lived a very fulfilling, loving life of 18 (almost 19 years) until his heart finally gave out," he says.
A few years later, Ritch adopted a baby min-pin that he named Lefty after country singer Lefty Frizzell. "I only had Lefty a few months before I transferred to Omaha for my radio job and didn't want to make him move. He went to join a family of farm dogs with my friend Ashley who lives outside of Lincoln. Lefty is still doing great and I get to see pictures of him from time to time."
Cassie, on the other hand, never had a dog growing up. "When we bought our first house together in 2010," Ritch says. "We really wanted to get a puppy, so I let her be in charge of finding the perfect pup. She stumbled across an ad for black lab puppies and Hickree Mo (as we would later name him) was the last of the litter that wasn't adopted yet."
His previous "family" said no one wanted to adopt him because he appeared that he was going to be too large. "Lucky for us, he was there when my wife went to visit. We have been madly in love with him ever since."
Hickree Mo's name came from Cassie's grandfather. He was from Hickory, Missouri. When Cassie was in college, her grandpa had the instant message screen name "HickoryMo." Once Ritch and Cassie adopted Hickree and were mulling over names, they thought it would be a cute, fun and unique name. "When we decided on his name, I told Cassie we should really make the spelling unique, so Hickree Mo was born."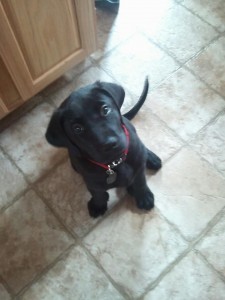 When Ritch isn't working, he tends to be all over the map when it comes to his free time. "Cassie and I love to attend concerts when our favorite country stars come to town," he says. Ritch loves to write as well. He's currently "slowly" writing his first book. He also blogs about "The Adventures of Hickree Mo" on Hickree Mo's own Facebook page. You can always find him listening to country music, occasionally strumming on his guitar with his buddy Chad Lee, reading through country music history books, drawing and mowing his lawn. "I absolutely love to mow the lawn," he says. "I have always thought it's a great opportunity to come up with new ideas, whether they are poems, song ideas or funny jokes I can try on friends." Who knew?
Hickree Mo is surely loved and we enjoy sharing these stories with our readers. Whether we're famous, prolific in our communities, or anything less, it seems we all have a shared love for animals and that helps us find a common bond- something that seems to be harder to find these days. Thanks to Ritch for giving us a look into the life of his family and introducing us to Hickree Mo.