Pet People: Kristen Renton of "Sons of Anarchy"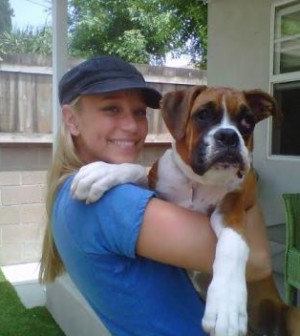 Kristen Renton is most widely-known as a result of her time on the FX series, "Sons of Anarchy," but her fans aren't only of the two-legged, television-drama-loving variety. In fact, though she has nearly 40,000 Twitter fans, she may have more four-legged fans than even that gigantic social media number. She's a wonderful actress with a growing and prolific resume, but we at Pets in Omaha love her because of her enormous heart and generous spirit she has for animals (and people, too!).
Our editorial team of Eric and Alli caught up with Kristen as she made a stop in Lincoln for Joba Chamberlain's 2014 Delivering Dreams Foundation fundraiser. Aubree Sweeney, another of our Pet People, connected Kristen and Eric. To read about Aubree and her web series "Dog Treats and Jingle Toys," which aims to adopt homeless animals, click here.
Kristen grew up a military brat. She was born in Aurora, CO, just outside Denver, while her dad was in the Air Force. Interestingly enough, Eric's sister was born in Aurora while his father was serving our country in Vietnam. Over 15 years, Kristen and her family moved 20 times. Her parents live in the Clearwater, FL, area now, but Kristen doesn't call anywhere her "real" home. She's spent more time in Los Angeles than anywhere else, so she says that's as close to a home as she's had. "L.A. is where I've been able to plant some roots and become who I am. I have taken pieces from everywhere I've lived with me, so my values have been shaped by my life's travels," she says.
Her core values are authentic and very noble. Whatever you think a Hollywood actress would be like, Kristen is pretty much the antithesis. "Be respectful to everyone you meet," she told us. "You never know the journey people have been on." She's open-minded. She embraces all living things.
"It's not important what wealth you've gained or what you can put on your resume," she says, "it's what you do for people as a result of your success."
Her film career, even at her tender age of 32, is lengthy. At age 16, she attended a "cattle call" in Tampa. Hollywood types were looking for "the next big thing" in terms of fashion, modeling and acting. Her parents encouraged her to take the chance and the L.A. folks took a chance on her. She drove cross-country with her family, stayed in a corporate apartment for months and eventually got her first gig- a national commercial for Nationwide Insurance.
Her career advanced as she appeared in an MTV series called "Now What." Worldwide, it was known as "Sausage Factory." Kristen cites this experience as the moment when she said to herself, "This is what I want to do with my life." Before and while becoming a recurring character on the FX hit series "Sons of Anarchy," Kristen appeared on "Days of Our Lives," "Anger Management" with Charlie Sheen," "CSI: Miami" and "CSI: New York," "The Haunting Of," "Celebrity Wife Swap," "Celebrity Ghost Stories," and a documentary about animals called "Gimme Shelter." Kristen is certainly on the rise.
In "Sons of Anarchy," and on other shows, Kristen has played the hooker with a heart, a porn star and other young sexy archetypes. Her vision for the future mirrors other actresses who were once in her position or "typecasted." "Anger Management got unfortunately cancelled, but I've got a movie being released soon called 'Battle Scars.' I want to move into more serious, dramatic roles as I go forward," she says.
"Sons of Anarchy" is probably her "big break," but the show has given her perspective. "I want to use my notoriety to enhance my charity work," she says. Kristen does her best to attend and promote one charity event each week. THIS is the Kristen you should know. Not the Hollywood glamour girl, not the sexy young thing on a variety of television and film productions, but the person who uses her fame to promote good in the world.
She is currently auditioning for more parts for more shows. This is how she gained her part as Ima Tyte in "Sons." She met with the show's creator, the director of certain episodes and a casting director. She got a call back and the rest is history. "I foresee positivity in my upcoming career," she says. "I've done a lot, but I'm looking to do much more."
Aside from her acting and philanthropy efforts, Kristen is a student at Penn State University. Through the college's "World Campus," she's studied psychology since 2011. Her parents met at Penn State, so the place is very special to her. "I'm motivated to keep learning. I want a degree. I'm doing it for myself. There's a definite connection between the human psyche and taking on roles on screen," she says. "These things combine to tell us the stories of all kinds of people." Philanthropy, hard work, education. That's Kristen in a nutshell.
We wouldn't be interviewing Kristen if she weren't truly a Pet Person at heart. In fact, she's the epitome of a Pet Person. She sort of the "unofficial face" for the Los Angeles Boxer Rescue. When she's in L.A., she and a friend (they call themselves Thelma and Louise) will volunteer at the local Boxer Rescue. In conversations about Kristen, Aubree Sweeney has told Eric that Kristen is not afraid to "get down and dirty" when it comes to helping the rescue. On Sundays, one can often find Kristen hand-washing water bowls, feeding dogs, spraying out kennels, cleaning up after pups and walking dogs. "It's so rewarding," she says." "I'm often too far away to do it as much as I'd like, but whenever I get to do it, I love it."
She's worked with the L.A. Boxer Rescue extensively, but has also worked with the Humane Society of the United States, the Society for Prevention of Cruelty to Animals and other animal organizations. Recently, she's worked with a shelter in Toronto, Canada. "They take in all the animals that nobody wants. Horses, goats, you name it." The Wishing Well Sanctuary in Toronto is her latest passion. If you'd like to learn more about them, click here. While you're at it, like them on Facebook and spread the message about the work they do.
The question is always asked of our Pet People, "When did your love for animals begin?" The answer is usually "always." Kristen, however, recalls the exact moment she fell in love with animals. In preschool, she cared for ducks. "That's when it started. I've loved them ever since." Her sister later adopted a cat and Kristen's love grew even fonder. She's fostered six dogs and four cats since she's been out on her own.
Roxy is her current loving pup. She's a Bull Mastiff/Boxer mix. Roxy is currently in training as part of the Tackett Service Dog Program. The organization is full of great people and is affiliated with the Patriotic Service Dogs Foundation. Together, Kristen and Roxy will continue to make an impact on their community. Roxy is her only pet at this time. In late May, Minnie the cat had to be put down. Kristen had Minnie for over 14 years. "She was a gangster cat," Kristen says. When people would visit Kristen, Roxy would love them up and down while Minnie went into "gangster mode." She was a tough cat, Kristen says. "Even when we euthanized her, she wouldn't leave. She fought it until she couldn't anymore."
Kristen has little free time. Between acting and working across the country at fundraising events, there's little time for real free time. When she does get the chance, she catches up on sleep and loves the outdoors. From hiking to just taking in nature, Kristen is definitely connected to our world and its beauty.
The 2014 Delivering Dreams Foundation event Kristen is helping with is on Thursday, Dec. 4. Each year, the Foundation collects donations and allocates money for community building programs. This year, a portion of the foundation's funds will be used to build a new baseball field for Lincoln's members of the Boy Scouts of America.  The event will include a pre-party for partner sponsors and their guests, followed by a plated dinner for all event ticket holders. Following dinner, there will be a fashion show for all ages. Silent, super silent and live auctions will also take place and will include some great items for bid. An after party will be held at Single Barrel in Lincoln. For more information about the event, click here. At this point, attendance is not a concern, but Kristen and the Foundation would love it if you would donate (even is it's just a couple bucks) to their efforts. To do so, click here.
All of our Pet People love animals. We would not highlight them if they didn't. Kristen is a bit different, however. All of our Pet People work tirelessly to care for their animals, spread awareness about shelters and rescues and encourage you to do the same. Kristen's livelihood lies in the film industry, but her heart is with the animals. Always. For that, we are thankful.
If you'd like to follow Kristen and her efforts to help the animals, check her out on Facebook, Twitter and other internet sites.
To follow Kristen on Facebook, click here.
To follow her on Twitter, click here.
You can also find her on Instagram, IMDB.com, and other places.
We are truly grateful for the opportunity to meet Kristen and to tell her story. She's one of a kind. A down-to-earth, pet-loving, committed and dedicated person without a doubt. If you love animals, learn to love Kristen Renton. We do.