Pet People: WOWT Daybreak's Jenna Jaynes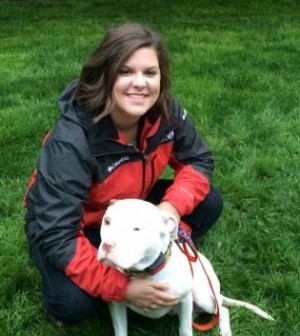 As our conversation bounced from life in Chicagoland to Jack Kerouac to Genghis Khan, I learned quickly that Jenna Jaynes, Daybreak reporter for WOWT 6 News in Omaha, is an authentic, talented, motivated (insert positive adjective) newswoman. What was also apparent, but not as easily identified or named, was a special something else. Of the tens or hundred people around us, speaking of bagels or weather or football, it occurred to me that Jenna would run circles around them all in every way. It's still difficult to say what this bewitching power is, but she has it. She's the omniscient narrator, the oracle, the one who can pick the right cup in that Indiana Jones movie about the holy grail. Something about her suggests she knows something no one else does. Whatever the game is, you want her on your team.
You've likely heard someone described as having "it." That special, almost indescribable quality held by few can be hard to articulate. Jenna has it. And I'm not the first person to realize that.
In most public schools around the country, there is some means to which educators identify students who are "gifted" or especially "talented." Those students are selected and exposed to a different curriculum- something more challenging, more diverse. New teachers, new experiences. In my short time of being considered gifted or talented, I was taken out of "normal" class at a certain time of day, when, for example, my peers were studying geography of the U.S. I'd be sent to some isolated, quiet area to study Mt. Vesuvius or examine chicken eggs or learn to count in German. In Jaynes's Illinois school system, she was sent somewhere altogether separate from the neighborhood peers she grew up learning with. The experience was formative and necessary as it put Jaynes on a path to exposition and future success.
The essayist Samuel Butler commented on "Knowing What Gives Us Pleasure" in a piece from nearly 150 years ago. A piece which explains why people like Jenna have found a path (one so certainly right for her) while most writhe around the majority of their teens and twenties, looking for purpose. Butler: "One reason why we find it so hard to know our likings is because we are so little accustomed to try; we have our likings found for us in respect of by far the greater number of the matters that concern us; thus we have grown all our limbs on the strength of the likings of our ancestors and adopt these without question."
This echoes the reason most public school kids are exposed to the normal "this" and "that." And "this" and "that" is a narrow scope relative to what the world has to offer. When Jenna was entering junior high school, she participated in a series of "academies" for the gifted and talented. "Schools within schools," as she calls them. These academic programs took her and her peers out of suburban Chicago and into diverse schools with specialized curriculum. Exposed to a variety of disciplines and cultures, Jenna participated in theatre, sports, the dance team, journalism and various other accelerated subjects. Those who placed her on this path noticed something special about Jenna, just as I had in my 45 minutes with her.
In 2010, Jenna left Elgin High School in Illinois to start her collegiate career at the University of Nebraska-Lincoln. As a result of a senior year project which asked her "What would you like to be?", her interest was in becoming either a neonatal nurse or a journalist. She wasn't eager to take on the science included in the nursing program, so broadcast journalism it was. Her experience at Elgin with audio/visual training, editing, camera operation and more helped develop her strength in visual storytelling, something she was excited to pursue further.
An International Relations course prior had also aided in choosing this direction. "It opened my eyes to the world," she says, "and sparked my interest in the news- especially global affairs." That, along with the experience of studying at those "schools within schools," made Jenna a more passionate observer and presented her with her first opportunity to catch the news bug.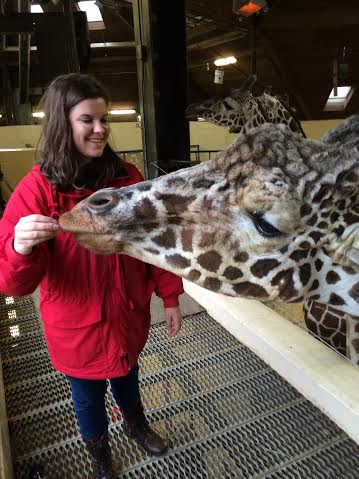 At Lincoln, Jenna was propelled by her award-winning work creating a documentary that detailed a Creek Indian family battling to keep its culture alive in the 21st Century. Fifteen times, Jenna traveled from Nebraska to Oklahoma to document her story and The Big Ten Network recognized her work with the LiveBIG Journalism Award. There's no doubt the award also aided Jenna in attaining internships in Chicago and Minneapolis before graduating from Nebraska and arriving in Omaha for work- at only 21 years old.
Jenna calls WOWT 6 News, Omaha's NBC affiliate, home today and is a full-time reporter for the Daybreak team. Jenna started as an overnight editor, but after only three weeks of working weekends, three weekdays and getting little airtime, a need for a reporter presented itself. Jenna filled in, later returned to weekend reporting and eventually landed back with the full-time weekday crew after showing she was up for the job.
Catch Jenna and the rest of the Daybreak crew from 4:30 to 7 a.m., Monday through Friday. Learn more about the team on WOWT.com. An especially interesting series of profiles on WOWT 6 News personalities aired recently called "My Home My Playground" in which Jenna and others showed viewers great places to "play" in Omaha. Jenna showed her trampoline skills during her segment which highlighted her time spent at Defy Gravity in Omaha. Watch her here.
When Jenna isn't bouncing around town for work or play, she's likely cooking one of her Italian grandmother's famous recipes, watching an old movie like Casablanca or Invasion of the Body Snatchers (she took a weird film class in Lincoln) or relaxing. Currently, she laments the fact that she's got no companion animal, but given the life of a young reporter, we understand.
Back home in Bartlett, Illinois, Jenna's family has two pups and seeing them "is always a treat," she says. Penny, a St. Bernard, and Riley, a Burmese Mountain Dog, live with her folks. In the past, the family had Nuggett and Cody (Labradors) and Mollie, another St. Bernard. The entire family loves dogs especially and Jenna's sister is studying to become a veterinarian. "With my schedule, I don't feel like I'd be able to care for a dog like I'd want to," Jenna says. "It's tough, but as soon as I feel ready, I'll surely adopt or rescue and provide my pet with a stable, forever home." Jenna has eclectic taste- she says she'd like both a lap dog (like a Pomeranian) and either a Giant Bull or Tibetan Mastiff (dogs who once were sentinels for Genghis Khan). Whenever she's ready, she'll be a great dog mom.
Follow Jenna on social media to stay up-to-date with her reporting and interests. She can be found on Facebook here and Twitter by following @JennaWOWT.