Pet People: WOWT's Matthew Smith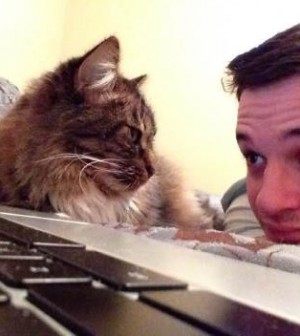 During preparation for my interview with WOWT Channel 6 News's Matthew Smith, I cocked my head to the side like a curious dog twice. After chatting with Matt at WOWT headquarters in Omaha, my animal instincts and behaviors were warranted and justified.
Matthew grew up in Davison, Michigan, a suburb of Flint. His WOWT Channel 6 bio indicates that he spent much time outdoors and grew to love nature as a result. This elicited my first 45 degree head-and-neck angle. One of America's greatest authors, Ernest Hemingway, grew to love the outdoors by vacationing in Michigan with his family. Huh.
His bio and a follow-up question indicated that he likes reading as well. I'm an English teacher and tutor when I'm not writing for Pets in Omaha, so a certain nugget of information made me tilt my head once more. "I have made an effort to read or re-read the classics lately," Matthew told me. "Like what?" I asked. " I recently read J.D. Salinger's Catcher in the Rye," he said. I'm quite familiar with Salinger, his narrator Holden and J.D.'s oeuvre as a lover of the classics myself.
Before Matthew decided to take the path of  newsman, he had dreams, like many young and naive American males, to become a professional athlete. Huh. Salinger's Catcher in the Rye has a little baseball connection (FYI) and I immediately thought of another former-sports-dreamer-turned-newsman, Ring Lardner. Matthew and I and J.D. and Ernest and Ring are a little bit connected in that we are literature, sports, news, fiction dudes. Anyway, I think Matt's and my interests might make us a little bit like kindred spirits. Just an observation. We're all here to learn about Matthew, his career and his love for pets- namely kitties- though.
Davison is Matthew's original home; it's "one of those areas where you're near a city, but not really," he says. "It was that typical, perfect, middle-class area. A place parents want to raise their kids. It was a bit like 'Leave it to Beaver.'" Sports was Matt's first love. "I was a baseball fanatic," he says. We talked of Cecil Fielder and Alan Trammel, old Tiger Stadium and how my wife and I caught a game at Comerica Park on our honeymoon last year. Baseball, however, wasn't his calling, though. Dang it.
"I didn't make one of the last cuts for my baseball team, so I quit." After baseball, Matthew took up lacrosse and turned out to be a fair player. He did break his collarbone playing the game on one occasion- an injury that never left his body quite the same. His identity as sporty kid was over. His next passion turned out to be a great choice.
He was always a news hound, but it was mostly a hobby until upper grades in school. He became a self-proclaimed "A.V. nerd," helping to broadcast a 5-day-per-week news schedule at school. "At some point, things just clicked," he says. He also says he got lucky to be where he was when he was. Randall W. Scott III, a prominent newsman and photographer, happened to be a teacher of his and became a mentor. Another teacher was an on-air anchor in the area. Smith appreciates his path to his current career and gives back to his mentors and their students. "I Skype with Randall's students fairly often," he says. "It's pretty cool that the kids think I'm important and also that I can say, 'Hey, I was right where you were once upon a time.'"
Matthew arrived in Omaha in early 2014 as an anchor/reporter for WOWT Channel 6 News. Most likely, you know him from the early morning newscasts that run from 4:30 a.m. to 5 which he anchors, his appearances out in the city as the WOWT Channel 6 "Speed Zapper" or his pop-up reports from 5 a.m. to 7 a.m. during the primetime broadcasts. Monday through Friday, he and his peers work hard to bring you the news you missed while sleeping, current headlines, breaking news and awareness to their morning broadcast's brand, "Up to the Minute."
Before coming to Omaha, Matthew worked in two very unique places- El Paso, TX, a border town in the southwest part of the state, and in West Virginia. Both places are cultured and diverse, so I wondered what Omaha has to offer, in his opinion, that's special. "This is the fastest paced place I've been so far," he says. "It's also the first place I've worked where I could see myself living. At the heart of Omaha, and every place, is its people. Everywhere has its quirks, but the special part of Omaha is its people and their stories. It's a great mix of white-and-blue collar, which is a big difference from other places I've worked. I love it here. Any chance I get, I talk to people. Whether it's the cashier at the store or a person on the street." Typically, young reporters and anchors work in a place until their contract is up, working hard to improve, make connections and move up the ladder. "I've always worked "to the contract," he says, "but this is truly the first time I've come somewhere and said, 'Wow. I'd like to live here.'"
We hope Matt hangs around well past his contract.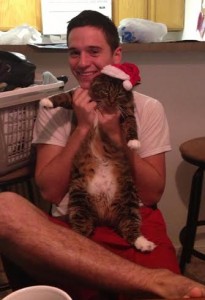 Matthew's story when it comes to animals is quite different than (I think) all of our other Pet People. Typically, upon being asked about when the love for animals started, the answer is a ubiquitous "always!" Not the case with Matt. His family didn't have pets growing up, though he sometimes wished he had a dog. Upon moving to West Virginia, Matthew planned on adopting a dog, but job circumstances changed, leaving him with no opportunity for a pup. He did, however, make a "random adoption" and settled for a cat.
"I despised cats," he says. "They freaked me out, but that all changed with Moo." Moo was his first kitty and, over time, he grew to appreciate the feline, becoming great buddies. "He was a friend. He was my entertainment. We were close," he says. Though he loved little Moo, he didn't want another cat. A second was offered to him and he reluctantly accepted. Enter "Paws." Moo made a cow-like meow; Paws had distinct white feet, giving her that name. "She had a mangled tail, she was skinny, anemic," he says. "I cared for it though the Humane Society told me it was best to put her down."
Matthew was going through a divorce at the time little Paws came around, and he says the keeter helped him through. "She was always there for me. She knew I needed her. Going through that time, it was really great to have Paws cuddle up in bed with me each night," he says.
Learning of his unconditional yet fairly new love for cats, I attempted to bring Matthew to agree with a philosophy I hold. One that says cats are superior to dogs and, really, most species that roam the earth. "It really is unfair to rank them like that," he told me. "I was always a dog guy, but now I've got cats. I love them both."
Agree to disagree…
Being a young and versatile reporter, Matt spends most of his time working on stories, going to the news-making sites around town and giving us the scoop. He does, however, love his free time. He runs. He reads. He sleeps. "I don't know where the time goes," he says. When he can, he watches Wes Anderson movies. "I love him. I'm a Wes freak, really." His guilty pleasure is a good (or not) investigative drama. "Criminal Minds," "Law and Order," and "Bones" are shows you can find him watching.
He's also a reader. Mostly a non-fiction and history guy, he's currently reading a book about General Sherman of Union glory. He's read Tom Brokaw's book among others recently, plus the classics previously mentioned. He also spends a bit of time each week working with "Big Brothers and Big Sisters." He's a "Big" to a teenage boy- a "Little" who also loves sports. "We play catch, grab a bite to eat, whatever he wants to do. He especially like Pizza Ranch because the two can shoot some hoops at the restaurant's indoor basketball court.
What a guy.
If you'd like to get to know Matthew Smith a bit better, find him on Facebook by clicking here. He's also pretty darn prolific on Twitter, so follow him there as well by clicking here. Matt's recently been "verified" on Twitter, so he's pretty stoked about that. You can also find him on the WOWT Channel 6 Web site and by tuning in to the Monday through Friday "Up to the Minute" newscasts.
Thanks to Matt for being our latest Pet Person and good on him for loving those kitties!