Pet stains or smells? Try this product!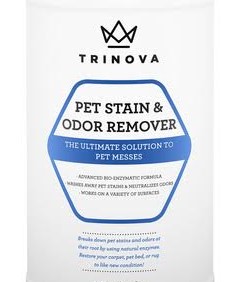 Four years ago, my then-girlfriend (now wife) and I adopted a 9-month-old cat from the Nebraska Humane Society, Keeter. After purchasing our first home, we had our first child. Our second cat from the NHS came home on Christmas Eve a year later. And with the extra bodies came more stains, more smells. Our cats are generally pretty tidy little things, but as soon as furniture moves or an office turns into a kids room, inevitable territorial marking commences. No fun.
We bought a steam cleaner, we tried the run-of-the-mill pet odor removers too. And when nothing seemed to get every last whiff of terrible cat pee gone, we were going fairly crazy. That is until an email came offering a free trial of Trinova's Pet Stain and Odor Remover. We took Trinova up on the offer.
And while we aren't necessarily wild about telling anyone what to try in their homes, Trinova's product is an exception.
Without sounding too much like an infomercial, the secret of the product is the blend of enzymes (the same ones used by professional carpet cleaning companies) that breaks down stains and smells, making them disappear. Quite simply, it's the only product we've used with 100 percent success, so if you've got a stubborn stain or aroma as a result of pets, try this stuff out. As an aside, I'd love to tell you I'm getting paid for promoting the product, but I'm not… I got a free bottle out of the deal which, honestly, is worth whatever check they'd send me. Give it a try and read about the product below.
Here are some details on the product:
Product Size: 32 fl. oz
Retail Price: $17.97
Where to Buy: Available to purchase online at the Trinova Website or Amazon (I got two bottles there for $32).
Product Info:
TriNova's Pet Stain and Odor Remover is a powerful compound that uses a blend of enzymes to destroy organic stains at their root and neutralize any odors left behind. Once this cleaning spray makes contact with stains, it begins
working immediately:
– Active enzymes break down stains
– Leaves surfaces renewed and smelling clean
– Fast-acting formula
With TriNova, rest assured you'll receive the best customer care and highest-quality Pet Stain and Odor Remover around.
– 32 fl. oz bottle for extended use and top value
– Made in USA
Directions:
Spray surface on any product that can be safely dampened with water. Pre-test in an inconspicuous area by using a clean cloth or sponge for application.
Quotes from TriNova team:
"Our customers love their pets, but they don't love the messes their pets can sometimes leave behind. That's why we couldn't be more excited to launch TriNova's Pet Stain & Odor Remover, which offers a fast and easy solution for
keeping our customers' homes looking and smelling clean."
– Steve Wimmer, Director of Brand Development at TriNova
"There are a multitude of odors and stains that can be left behind when a family brings a pet into their home. We know our customers will love our Pet Stain & Odor Remover because it allows them to have all of the joy of owning a pet
without any of the disruption or messiness."
– Marco Strzesynski, Promotions Manager