Pick a Pooch Wrap, success stories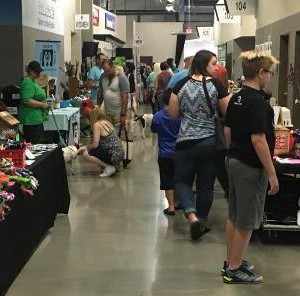 Every year, we track applications and adoptions that we can trace back to our Pick a Pooch event in order to measure our success in bringing the community and rescue together. Lee Legenhausen, our founder, was able to confirm, for example, that 166 animals found homes as a result of applications or interest from visitors of Pets in Omaha's 2017 Pick a Pooch event. Adoption advocacy is our top priority as an organization.
Though we're only a day out, we are confident that this year's Pick a Pooch event will bring many animals together with adopters and their forever homes. Rescues aren't in the business of doing "on-the-spot" adoptions as they are interested in finding permanent homes. That said, a number of rescue groups indicated Sunday that they saw big spikes in applications, especially for animals that attended the event. We look forward to hearing about adoptions in-progress in the coming weeks.
Hearts United for Animals was able to tell us that one dog, Amherst, received 25 applications for adoption on Saturday, the first day of the event. Amherst is a one-year-old, 8 pound Chihuahua that HUA rescued from San Angelo, TX. Amherst and his pal Tiny were "among the crowd favorites," one volunteer told us, so we're excited to learn where they will end up!
Shelters like the Nebraska Humane Society have adoption guidelines that include background checks on adoption and meetings with adoption counselors. That said, rather than the typical rescue-type number of animals taken in, the Humane Society has around 20,000 animals that cross its threshold annually. The shelter is also charged with animal control duties for Omaha and the surrounding area, making its intake numbers considerably higher. The Humane Society adopted out a couple of kitties over the weekend that appeared at the show, so we'll start the adoption tally with them!
Stay tuned for success stories that are relayed on to us from rescues and shelters that were in attendance.
Thanks to all sponsors, vendors, rescues and shelters, and community members who attended this year's event at Ralston Arena!