Paws, Pints, and Patio – a successful, celebratory event for dogs, owners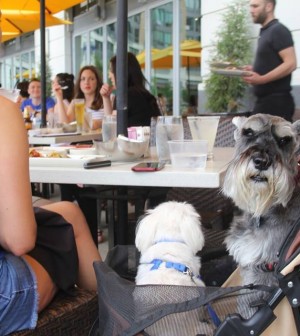 Black Oak Grill and Cantina Laredo are two Omaha restaurants that have complied with the new health department regulations for patios that want to allow patrons to bring their four-legged friends.
On Wednesday, May 25, the Nebraska Humane Society was able to partner with these two restaurants for a celebratory event on the last night of Omaha Gives! called "Paws, Pints, and Patio."
"We were excited that Black Oak Grill and Cantina Laredo were willing to partner with NHS," says Pam Wiese of the shelter. "There were around 50 dogs that attended with their people and everyone was well-behaved and happy to comply with the rules. We look forward to taking pets to those patios in the future!"
If you aren't familiar with the patio ordinance, stay tuned to Pets in Omaha. We'll have further explanation on the new variance soon. In the meantime, check out this article that previewed a public meeting that hosted discussion of the new rule and how excited pet parents are to bring their pups with them while out on the town.