Predictions: Top Pet Names for 2017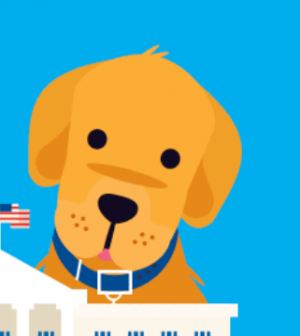 Ghergich and PetCo once again have provided us with some very cool information and informational graphics to share with our readers. This time around, the groups are using popular culture, politics, and more to predict the top pet names of 2017. Here's a sampling of what they've come up with. See the full article here.
Nationwide, the largest pet insurer in the country, recently released the most popular dog and cat names of 2016. The list was similar to recent years, with Bella, Max and Lucy as favorites in both categories. However, we predict pet parents will shake things up in 2017. They'll have plenty of inspiration from politics, sports and pop culture. Here are some of our top pet name predictions for the new year.
The president-elect is the biggest news of the year, and pet names are sure to reflect that. Bo and Sunny, the Obamas' Portuguese Water Dogs, will be moving out of the White House and the Trumps don't have pets (at least not yet). But that likely won't stop people from naming their pets Donald or Trump!
Related picks: Melania, Ivanka, Tiffany, Barron
Speaking of first families, what better way to say farewell to the Obamas than by naming pets after the former first family?
Related picks: Barack, Michelle, Sasha, Malia, Bo, Sunny, Hillary, Bernie

Here are a few more predictions from the team:
"Star Wars" will be back in a big way with the release of "Star Wars VIII" in December 2017. That means we'll see more pets named after this brave and mysterious heroine.
Related picks: Poe, Kylo, Luke, Leia, General Hux, Maz, Finn
The release of the much-anticipated "Transformers: The Last Knight" in June 2017 may motivate people to name pets after this single father and inventor turned Autobot ally.
Related picks: Izabella, Optimus Prime, Hound, Drift, Crosshairs
Scoot over Bella: Disney's live-action version of "Beauty and the Beast" in March 2017 will get people excited about the similar but one-less-syllable Belle.
Related picks: Beast, Lumiere, Cogsworth, Gaston, Maurice
It's been more than two decades since "The X-Files" first aired. But a revival in 2016 and internet rumors of another season in 2017 may inspire sci-fi fans to name pets after this paranormal investigator duo.
Related picks: Fox, Dana, Skinner, Doggett
It's too soon to know who will be the MVP of Superbowl 51, but football fans are still celebrating recently retired NFL star Peyton Manning, considered one of the best quarterbacks of all time.
Related picks: Cam (Cam Newton), Von (Von Miller), Brady or Tom (Tom Brady), Watt (J.J. Watt), Mack (Kahlil Mack), Brees (Drew Brees)
"The Legend of Zelda" has been around for 30 years. But with the release of Nintendo's "The Legend of Zelda: Breath of the Wild" (a live-action adventure game for Wii U and Nintendo Switch) we may see a lot more pets named after the line of princesses in the Royal Family of Hyrule.
Related picks: Link, Epona, Ganon, Ganondorf, Hylia
The release of "Pirates of the Caribbean: Dead Men Tell No Tales" in May 2017 is sure to rouse many lads and lassies to name their pets after trickster pirate Jack Sparrow.
Related picks: Carina, Jack, Captain Salazar, Barbossa
The powerful but arrogant God of Thunder from Asgard will be back on the big screen in the November 2017 release of "Thor: Ragnorak." What better name for stubborn and protective pets?
Related picks: Loki, Odin, Volstagg, Hogun, Fandral
According to a number of media outlets, 2015 was the Year of the Hipster. But hipsters are still around, and we're likely to see pets named after their rainy West Coast paradise and other hipster havens.
Related picks: Brooklyn, Williamsburg, Austin, Berkeley
You may not be able to find an albino direwolf, but you can name your pet after Jon Snow's beloved pup. With the seventh season of "Game of Thrones" coming in summer 2017, we predict many people will do just that.
Related picks: Grey Wind, Lady, Nymeria, Shaggydog, Summer
After "The Lego Ninjago Movie" hits theaters in September 2017, a lot of pet parents may be inspired to christen their new companions after the titanium Ninja of Ice from the island kingdom of Ninjago.
Related picks: Kai, Jay, Cole, Koko, Lloyd, Garmadon, Nya, Sensei Wu
Speaking of Ninjago, geographic pet names are always hot, and this year people may choose to move beyond Earth and name pets after their favorite fantastical realms.
Related picks: Asgard, Hyrule, Avalon, Oz, Gallifrey
The "Gilmore Girls" revival at the end of 2016 is likely to inspire the show's cult following to name pets after their favorite Stars Hollow residents.
Related picks: Lorelei, Rory, Sukie, Luke, Paris
The classic picture book by Chris Van Allsburg has inspired yet another movie, which debuts in December 2017. It's sure to enchant fans to name pets after the magical board game with the same name.
Related picks: Captain Underpants (from the "Captain Underpants" movie releasing in July 2017), Tris (from "Ascendant," the final Divergent movie, releasing in June 2017), Camanotz, Meg, Charles (from "A Wrinkle in Time" movie releasing in July 2017)
Superhero fans may opt for names from Marvel's May 2017 release, "Guardians of the Galaxy Vol. 2."
Related picks: Peter, Nebula, Gamora
Cocktails are king, at least where pet names are concerned. We've noticed a lot of people naming pets after their favorite adult beverages.
Related picks: Belvedere, Bourbon, Burgundy, Cognac, Jameson, Mimosa, Stout, Whiskey
Most pets can't croon along to "Uptown Funk," but that won't stop pet parents from naming their companions after Bruno Mars.
Related picks: Rihanna, Adele, Beyonce, Drake, Taylor
Pet parents may get creative in 2017, but we'll still see plenty of cats and dogs named Lucy, Bella and Max.
And to recap 2016, here are the most popular names from last year: