Puppy Mill burns on Memorial Day, back to normal one day later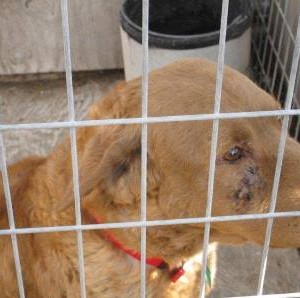 On May 28, 2018, authorities responded to a fire in Wood River, NE, at Prairie Chesapeakes, a dog breeding facility. The puppy mill is operated by Mark Greisman, a name that appears on the Humane Society of the United States' (HSUS) 2018 "Horrible Hundred" list, an annual report that highlights the top 100 worst puppy mills in the country according to HSUS.
Animal advocates hoped that an investigation (which happened today) from the Department of Agriculture would find conditions unsafe for dogs to remain on site. The investigation's results we're not what advocates hoped for.
Here's the copy from a Facebook post from Bailing Out Benji whose Nebraska team was closely monitoring the happenings at the mill:
Dana our Nebraska BoB representative from Puppy Mill Free Nebraska has been on the phone all morning with the NE Department of Ag, as well as other agencies. Here is the latest, as we know it from the local inspector: "Today was just checking for injuries and looking at the current situation…28 dogs on site, dogs are in good shape, no singeing of fur or wheezing, barking so good lung capacity, none need vetting. Each pen has high quality manufacturers 'hound hotels,' insulated, weather proof. On the top of all the pens he has sheets of tin wired down to protect from weather. He's good to go right now. No threat to the animals was observed – This was not an inspection because they haven't rec'd a written complaint, they are expecting a complaint to be filed at which point he will be back out for a formal inspection. Today nothing was observed that will lead the state to say dogs need to be relinquished. After the Greismans evaluate where they are after this set-back, they may be interested in releasing some dogs and downsizing."
The breeder, the Department of Ag and the local authorities all know the dogs have a safe place to go- we are just waiting on the word and we will keep putting pressure on the NE Dept of Ag to act. This breeder has had many violations over the years, including an official warning from the state; this should be the last straw. If you can help us by keeping pressure on the NE Dept of Ag, please contact them POLITELY at: Nebraska Dept of Ag: 402-471-6832. DOA inspector: doug.zarek@nebraska.gov
Among other humane organization, Bailing Out Benji was paying close attention to the developments and would have helped get all animals to rescue if they had been relinquished. Breeders who get an unfavorable inspection, as in the case of German Shepherds last month that Hearts United was able to take out of a mill, sometimes relinquish dogs instead of having criminal charges against them. No charges here meant no relinquishing of dogs. Greisman is no stranger to animal advocates. Both local and national groups have been following him after poor inspections and reports of animal abuse.
The Humane Society of the United States – Puppy Mills Campaign Facebook page posted this about the operator of the mill, Mark Griesman and the photo above is from a Mark Griesman inspection, Nov. 6, 2017 (dog with puncture wound):
"Mark Griesman operates a dog breeding facility between two locations in Nebraska. State inspectors conducted several inspections in 2017 between the two properties and found numerous issues. In November 2017, when inspectors visited the Wood River location, additional violations were noted, including a dog named Victor that suffered from "a puncture wound under [the] right eye" that had occurred two days earlier and had not been seen by a vet (NE Dept of Ag/2017)."
And here's what is included in the 2018 Horrible Hundred report from the Humane Society of the United States on Mark Griesman and Prairie Chesapeakes:
Grand Island / Wood River, Nebraska: Mark Griesman, Prairie Chesapeakes–Received warning from the state; dog with wound hadn't been taken to a vet two days later; insufficient food, water and shade; unacceptable veterinary care; dangerously decrepit housing.
On May 17, 2017, the Nebraska Department of Agriculture found Mark Griesman to be operating without a license at two different locations, one in Grand Island (identified as his residence) and one in Wood River. The inspector wrote, "two adult dogs were observed to be thin and had watery eye discharge." The department sent Griesman an official warning stating that one of the sites "must be ready for inspection by June 2, 2017."
On June 19, 2017, inspectors arrived at Griesman's residence in Grand Island where they found eight violations, including an outdated/incomplete vet care plan with no records of wellness exams ever performed; no records of purchased dogs, puppy sales or puppy deaths; a shelter that was not structurally sound, with "walls bowing away from frame, rot in wood," and "points from broken wires and uncovered bolts [that] have potential to injure dogs."
Around the same time in June 2017, state inspectors examined Griesman's new facility in Wood River to determine if it qualified to operate as a breeding facility. Again, inspectors found no records of a vet care plan for the new facility.
On July 10, 2017, Griesman's residence in Grand Island was re-inspected. The state cited Griesman for the same non-compliant issues that he was cited for a month before, such as lack of complete acquisition and disposition records, and no records of wellness exams or vaccinations. A few weeks later, the state re-inspected Griesman's new facility in Wood River, found it to be "acceptable" and approved its use as a breeding facility. With the approval of his Wood River facility, Griesman now holds two separate state licenses, one for each facility. But on Aug. 28, 2017, about a month after the state inspector marked it "acceptable," a routine inspection at Griesman's Wood River facility turned up three direct violations and two indirect violations, and it was rated "unacceptable."
Violations included: • Lack of sufficient food, "one pen of a younger dog (Jubee) was observed reaching through fence to pull back feces from other pen and eating it. Lack of feces in Jubee's pen when others have feces indicates that Jubee may not be receiving enough food." 41 © The Humane Society of the United States, 2018 • Water bowls with "algae growth." • "Strong odors [of] urine and feces." • Inadequate protection from direct sun. The inspector commented that, despite the fact that it passed inspection in July, "In less than one full month conditions at KN1342 [the Wood River facility] have fallen to a failing inspection," and recommended a compliance hearing with Griesman and the department.
Two weeks later in September 2017, the Wood River facility was found to be "unacceptable" at yet another inspection, and received a warning from the state. Violations included: dogs only given water once a day, by Griesman's own admission; dog shelters "covered with mud, visible tracking of mud and feces;" inadequate protection from the weather; and a failure to treat "for internal/external parasites."
In October 2017, Griesman met with the department of agriculture and agreed to certain "recommendations" involving reducing the amount of adult dogs, ensuring adequate shelter, maintaining sanitation and keeping individual health records.
On Nov. 6, 2017, the state re-inspected Griesman's residence and found one direct and two indirect violations, including shelters with no wind or rain break, two dogs unaccounted for in the records, and fencing with points that could cause injury to the dogs. On the same day, the Wood River facility was re-inspected and found to be "unacceptable." The inspector discovered that a dog named Victor suffered from, "a puncture wound under [the] right eye," two days earlier and had not yet been seen by a veterinarian, writing, "Dried blood was around and under the wound." In addition, dogs in some of the shelters had no protection from the wind or rain. State Facility License# KN1342 and KN967.
Bailing Out Benji and others like the Central Nebraska Humane Society were set to help any dogs displaced by the fire and relinquishment, but the dogs will stay under Griesman's care for now.
There will be other events like this in the future where mill dogs come into the care of rescue and animal advocates like Bailing Out Benji. If you'd like to donate to Bailing Out Benji as it prepares for the next mill event, click here.
Donate to Central Nebraska Humane Society by clicking here as they care for animals like these, day in and day out.