Do You Know How Many Puppy Mills are in Nebraska?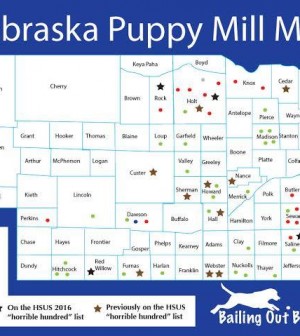 Bailing Out Benji, a non-profit group from Ames, IA, will be one of the educational groups in attendance at our Pick a Pooch Adoption Days (July 16/17, 2016 – 11 am – 4 pm).
And while Mindi Callison, founder of the group, works primarily in Iowa, she's often in Nebraska. There's much to learn about commercial breeding facilities by many, and you'll find no better opportunity to learn than this weekend from Mindi.
To start, do you know how many puppy mills are in Nebraska? How about pet stores that sell puppies born in mills?
Take a look at this map created by Bailing Out Benji: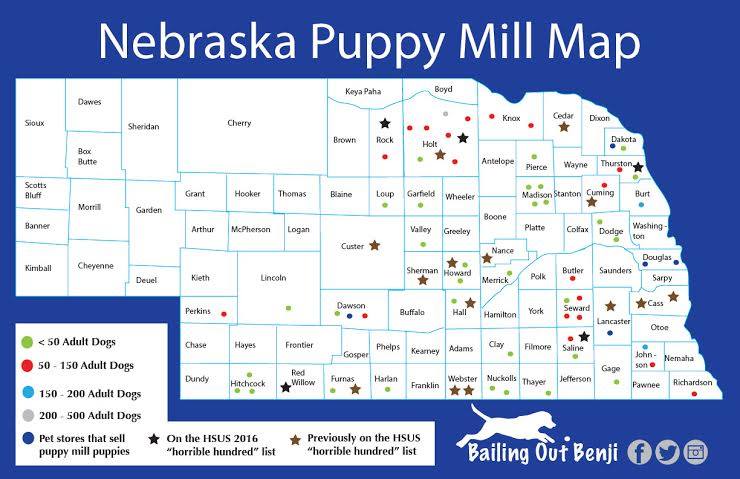 For more about the group, including much more startling and necessary information like the above photo, come see Mindi this weekend at Ralston Arena and Pets in Omaha's Pick a Pooch Adoption Days. Also, visit bailingoutbenji.com and follow on Facebook.
AND, thanks in part to Mindi and BoB, you'll be able to see an independent documentary film, Dog by Dog, which examines the prevalence of commercial breeding facilities in the U.S. and how they're funded, at 7 p.m. at Ralston Arena.
To purchase tickets for the show, visit this link or get them Saturday, July 16 during the Adoption Days event.
To see a movie trailer about the film, click here.