Ralston Mayor Don Groesser hits the lottery with shelter dog Zoey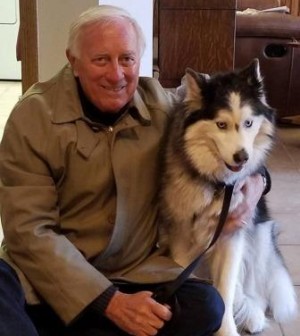 Given his tenure, citizens of Ralston and surrounding communities surely know the name Don Groesser- he's been Ralston's mayor for 21 years. Community relations, things Mayor Groesser has encouraged and implemented, and his love for his town are apparent to most, but what's likely less apparent is something very important to us here at Pets in Omaha… he's a dog lover. We're proud he cares for four-legged friends on top of his concern for his two-legged constituents. We're also happy to let readers know a bit about the Mayor, his family, and its current adopted pup in our latest Pet People feature.
Groesser grew up on a farm in Weeping Water, NE, and is a graduate of that town's high school. After his secondary education, Groesser studied computers and was in that field during the initial portion of his working career. In his mid-40s, Groesser, along with his brother,  started an Auctioneer firm called Groesser Brothers Auctioneers in Cass County, NE. Real estate sales have also been a part of his varied work life. After serving eight years on Weeping Water's School Board, Groesser ran for and was elected Mayor of Ralston.
An invested and representative couple in Ralston's community, Don and his wife Debra Joy Groesser, a professional artist who works out of her Ralston studio/gallery, are quite the artsy tandem. She's represented by galleries in Kansas, Utah, California, Colorado and Ralston, plus she's the CEO of the American Impressionist Society, a national nonprofit arts organization. Don's the Treasurer. "That keeps us both very busy," Don says.
But even before any of that history, Don loved animals.
On the farm growing up, Groesser and family had Collies. Deb grew up with cats and the couple had a little Pomeranian for 14 years. "Pico the Pomeranian was so special," Don says. He passed away about six-and-a-half years ago and, "After that," he says, "we just couldn't convince ourselves that we were ready to open our hearts to another dog."
Mayor Groesser recently had a mild heart attack and his family doctor suggested that it would be healthy for him to have a dog. "A few days later, we were walking out at Walnut Creek one afternoon and saw all the people walking their dogs there. We really began thinking having a dog would give us both a great chance to get some much needed exercise and companionship," Don says.
"Once we decided to begin looking for a dog, we thought about checking shelters and rescue groups. We even talked to a breeder about purchasing a puppy. Our son, Jeremy, started looking around to find us a new dog, too," Don says. Jeremy spotted a promising option on the Nebraska Humane Society's (NHS) website and texted his folks immediately saying, "I found your dog."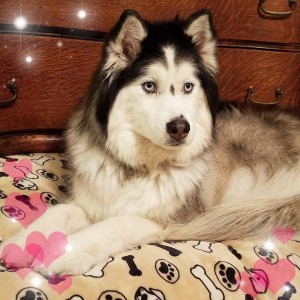 Enter Zoey.
After checking out a link to Zoey's page on the NHS website,  Deb and Jeremy visited NHS on December 31. The trio went together just after the New Year. "We fell in love with her and brought her home."  Zoey is half Malamute and half miniature Siberian Husky (they think).  Zoey was given up by an older gentlemen who was ill and could no longer care for her.  She had been well-trained, loves to play, loves the snow (rolls and makes snow angels or "snow doggies" as his family calls them), never jumps on the furniture, and likes to sing (a Malamute tradition). What's not to love there? The first in-preparation-for-the-heat shedding period starts in a couple of months, but Zoey will have (we're sure) put in enough time to convince the Groessers she's worth it!
The family's long history of pets, Don thinks, stems from the companionship they bring.  "It's always fun to come home and see Zoey waiting at the door to greet us. Her unconditional love, the joy she brings to the grandchildren (and us!), the fun we have playing with her, and the exercise we get together walking," he says, is priceless.
As far as pets go, the Groessers feel as if they've hit the lottery. "We never imagined finding such a beautiful, well-mannered companion at the Nebraska Humane Society," he says. "We would encourage everyone to check out the animals there if you are looking to add a furry family member to your home."
It's true- many aren't thinking they'll find that perfect dog at a shelter, but there are enough families out there who've found it to make this thinking mythical. Support your local shelters and rescues!
When Don isn't representing Ralston or spending time with the family,  he has the hobby of wood working.  "I love working on the lathe and turning segmented bowls," he says. Deb's free time is spent with grandchildren, gardening, cooking and painting.
For what Don and your other elected officials are up to, make sure to check out www.cityofralston.com. If you're interested in learning more about Mrs. Mayor and her incredible artistic ability, Deb can be followed on Facebook here , on Twitter at @DebraJGroesser and on Instagram, @debrajoygroesser.