What's a Reputable Breeder?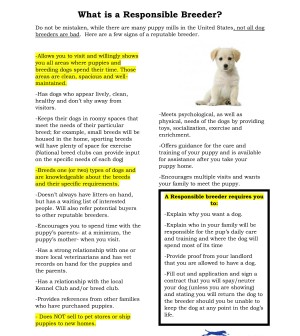 Sometimes the words "puppy mill" and "breeders" are used simultaneously, but the two are not necessarily the same. Puppy mill generally has a negative connotation, and for good reason. But how can you tell the difference between a puppy mill, commercial breeding, and a reputable breeder?
The difference between a puppy mill and a reputable breeder is simple; one does it for money while the other does it for the love of the breed, with responsibility and care.
Love of the breed means the breeder has a sincere liking for the breed and wishes to improve it. Unlike puppy mills, reputable breeders aren't in it for the money; they are in it for the right reasons.
Lots of these breeders have dogs that they have shown in conformation shows or competitive shows to assess the qualities that they possess. They are proud of their animals, and they should show it!
Finding a reputable breeder to purchase a dog from is important for several reasons.
Ensures that you get the dog that you want
Ensures that you are getting a dog that has been well-cared up until the point you buy the dog.
Ensures that your dog will not have any genetic defects
If you have questions or concerns about the dog, they will be able to give advice.
Here's a couple of ways that Mindi Callison of Breaking out Benji suggests for finding a reputable breeder.
When you are looking for a reputable breeder, it is always a good idea to check with breed organizations that have connections with the American Kennel Club (AKC) or the United Kennel Club (UKC). These are both reputable organizations.
Pay attention to whether the breeder has a screening process.  A reputable breeder will want to ensure that their litter goes to a good family.
Pay attention to what age they are selling them at or at what age they will allow you to see them. Respectable breeders will not show you the puppies on the first visit to avoid hasty purchases or quick attachments. They will also not show the pup if they are five-weeks-old or younger to avoid upsetting the mother or illnesses. They will also not sell them until they are eight-weeks-old to ensure socialization of pup.
When you see the pups make sure to observe the area in which they are kept. Make sure that it is clean and big enough for the breed of dog as well as the amount of pups.
Ask to see proof of claims, such as genetic testing or test results. Tests could be from Orthopedic Foundation for Animals (OFA)- for their hips; Canine Eye Registration Foundation (CERF)- for their eyes; PennHIP- for their hips; or Brainstem Auditory Evoked Response (BAER)- for their hearing.
Also, make sure to ask questions about the breed. A reputable breeder who is in it for the love of the dog will have the knowledge and experience to answer those questions.
Finally, see if they offer you a contract. A contract will typically state that if there are any genetic defects, or if you will have to alter the dog, you will be reimbursed.
Remember that as a buyer, you have the right to ask any questions. A reputable breeder will not hesitate to answer them and if they can't help you they will likely give you the contact of another reputable breeder. This is an animal that is going to be with you for 10-13 years, so it is important to be sure of your choice. If the breeder doesn't meet any of the standards listed above, walk away. There are plenty of breeders who are more respectable and can sell you a good dog.