Restaurants, stores that welcome your pets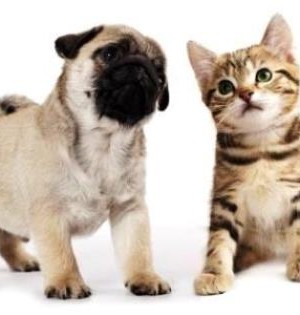 It's not a secret anymore that people love their animals and wish to take them everywhere they go. While that presents some problems (animals around food, strangers), our society is becoming more welcoming and open to animals perusing aisles alongside their humans.
Whether you're shopping locally, out to eat while travelling, or just wondering, we've found a cool list of places (that includes a number of surprises) that welcome you and your pets.
Click here to find the complete article, but take a peek at a little preview below. Note: there's some good advice in the post linked to above about behavior and making sure animals are really welcomed. Though there's an Olive Garden in one part of town doesn't mean the other location also allows your animals on their patio… calling ahead is a great idea.
#1 – Dairy Queen
Many Dairy Queen locations allow dogs to sit with their owners in their outdoor seating area. Some even offer a free ice cream for dogs.
#2 – Starbucks
Most Starbucks locations will allow dogs in their outdoor seating areas, and the "puppuccino" – a small cup of whipped cream – is a tasty off-menu item for your dog to enjoy while you sip your favorite drink.
#3 – Panera Bread
Most Panera Bread locations that have an outdoor seating area allow dogs.
#4 – In-N-Out Burger
While dogs aren't technically allowed at In-N-Out – they have to stay in the car while you go through the drive through – they do offer several dog-friendly foods such as unseasoned burgers so that you and your pup can fuel up while you're out and about town.
#5 – Applebee's
While not every Applebee's location has a patio, many of those that do allow dogs. Some locations even do the occasional "yappy hour."
#6 – Shake Shack
Dogs are welcome on the patio of most Shake Shacks, and they all offer a special dog menu including items such as a "Pooch-ini" (a tasty concoction of dog biscuits, peanut butter sauce, and vanilla custard) or a simple bag of biscuits.
#7 – Johnny Rockets
Johnny Rockets has many dog-friendly locations and items on their menu that dogs love such as "Pupcakes."
#8 – Sonic Drive-In
While you may or may not be able to allow your dog out of your car, you can still enjoy a dog-appropriate treat from Sonic while sitting in your car.
#9 – Lazy Dog Restaurant and Bar
While there aren't a ton of locations yet, every location of Lazy Dog allows dogs on their patio and has a special dog menu with items like chicken breasts and brown rice.
#10 – Olive Garden
Some locations that have patios allow dogs. The policy definitely varies from location to location, so be sure to call ahead first.
Stores
Most stores that do allow dogs ask that they be well-mannered and potty trained. There are a few more general guidelines you should follow when bringing your dog to a store.
Bring a towel or blanket if you plan on putting them in a cart. You wouldn't want a human putting their dirty shoes or feet into a cart where you were planning on putting your purchases, and others don't want to put their purchases in a cart where dirty dog feet have touched.
Be mindful of allowing your dog to interact with others. While you might have brought your dog for the purpose of helping them get socialized, service dogs are there to work and should not be distracted from their jobs. Service dogs aren't required to wear a vest or any other identification, so you should always ask the owner before allowing your dog to approach another.
Clean up after them. Ideally, you should have your dog do their business before bringing them indoors, but accidents happen. Cleaning up after your dog is ALWAYS your responsibility, whether it's your own backyard, a dog park, a popular walking trail, or a place of business. Leaving your dog's poop to collect in a dog park to sour other people's experiences or leaving a mess for a minimum-wage employee to clean up are equally reprehensible.
Keep in mind…Some stores may have areas – like a Starbucks – inside where dogs aren't allowed due to health regulations. Be respectful of the rules.
#11 – Home Depot
#12 – Hobby Lobby
#13 – Pottery Barn
#14 – Macy's
#15 – Sephora
#16 – Bass Pro Shops
#17 – Barnes and Noble
#18 – Michaels
#19 – LUSH Cosmetics
#20 – TJ Maxx/Marshall's
#21 – Restoration Hardware
#22 – Gap
#23 – The Apple Store
#24 – Bloomingdale's
#25 – Urban Outfitters
#26 – Anthropologie
#27 – Hallmark
#28 – Foot Locker
#29 – Bebe
#30 – Abercrombie and Fitch
#31 – Nordstrom
#32 – Bath & Body Works
#33 – Old Navy
#34 – Saks Fifth Avenue
#35 – Ross
#36 – Tractor Supply Co.
#37 – Gander Mountain
Be sure to click the link above to read the entire article and get details not listed here and enjoy more places together!