Rockbrook's Pets R Us to have protesters as company today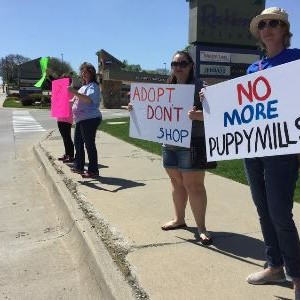 On April 23, 2017, Nebraska's chapter of Bailing Out Benji was joined by a number of rescues and dozens of people to protest Tully's Kennels and Pets R Us in Omaha. These two stores are the only pet stores in Omaha that sell puppies and purport to get them (for hundreds, if not over a thousand dollars) from "small family breeders." Protesters maintain that the small family breeders are actually commercial dog breeding facilities where the sale of a dog is more important than the care given to it. These are what we all call puppy mills.
Click here to read coverage of the April 23 protests. 
Going on today, Sunday, June 25 from noon until 3 p.m., another peaceful protest is happening at Pets R Us.
Mindi Callison, founder an president of Bailing Out Benji, Dana Thelander, Nebraska's chapter leader, and others have recently rounded up a number of documents and invoices connecting the store to puppy mills in and around Iowa. Store employees deny that they are connected with anything other than the aforementioned small family breeders. Tully's manager was also seen on KMTV, Omaha's CBS affiliate, on April 23 saying he hates puppy mills as much as protesters do. Given the information we have from a recent inspection of the kennels, this doesn't seem to be true.
Click here to read about Tully's and the inspection.
If you'd like to become a volunteer for Bailing Out Benji, check out the group's website here. While you're there, read up on what puppy mills are, how many are in your state, and how you can become a better consumer and pet owner. Another great educational tool is the documentary film, Dog by Dog, which is available on many streaming services now.
Bailing Out Benji will soon publish all its evidence that Pets R Us buys and sells puppies from breeders listed in the Humane Society of the United States' Horrible 100 list. Evidence is there and it's hard to argue with. Stay tuned.