Scott and Lisa Taylor – Pet People and Partners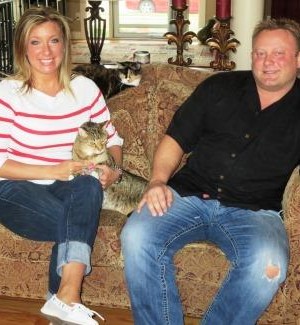 Many of our sponsors operate strictly pet-related business, but not all. Scott Taylor, third generation owner of Taylor's Flowers, and his wife Lisa are not only our pet partners, but are definite pet people, too. Cats have found their way into their lives, home and business over the years and have eventually become their furry kids.
Scott was born and raised in Omaha and runs his family's business just like his parents and grandparents did. Taylor's Flower Shop is currently in the L Street Marketplace, just north of L Street between 120th and 132nd in Omaha, and has been in that location since 2010. The shop's original location was just south of 36th and Q Streets in South Omaha and was there over the span of six decades.
Also an associate broker for NP Dodge in Omaha, Scott spends most of his time working in real estate. "At this point, I probably spend 75 percent of the time doing that," he says. Scott manages finances at the shop along with other things that owners do, but his sister handles much of the "day-to-day." The former location in South Omaha was repurposed when the shop moved west- it's now a multi-use campus with office space, apartments and parking that Scott manages.
Scott grew up with dogs and has loved pets as long as he can remember. "We always had at least one dog- big ones. We had labs and chows." Scott had a chow when he met Lisa, but had to choose his pup or Lisa. Needless to say, he chose Lisa and the couple was married in 2009. It was then that Scott became a cat person.
Lisa comes from a military family and calls herself a "true military brat." She and her family spent time between the U.S. and Japan and always had a number of animals. "We had two dogs and two cats- my mother is still very much involved with pets and even breeds Australian Shepherds back home."
Lisa, a San Antonio native, came to Omaha to attend Creighton University where she attained a bachelors degree and then completed her graduate work to become a doctor of physical therapy (DPT). Dr. Taylor, as Scott like to call her, is a therapist and director at Omaha's Eclipse Healthcare.
If you see Taylor's banner on our homepage, you won't miss the flowers or something else very close to Scott and Lisa's hearts- cats. In the past, the couple has rescued five cats either for themselves or for family members from the Nebraska and Iowa Humane Societies. Among them, Midnight, a black domestic shorthair, wasn't just rescued, but his life was truly saved by Lisa. Upon venturing out to adopt a Maine coon cat, someone suggested that Lisa take Midnight instead. The cat, because it was black and because being a black cat has some mysterious meanings in Western culture, was taken from a woman who (avert your eyes if you are faint of heart) adopted the cat so she and he occult group could sacrifice it. Midnight was taken from the witch lady, but not before her neglect left the cat with herpes of the eye and other ailments. Midnight developed cancer, but is still going strong. He's a little heavy, but after what he's been through, we'll allow it…
Fasi, short for Mufasa, was another previously rescued cat. She was a dainty little thing who eventually grew to be the queen of her household. "The princess" was adopted when the couple planned on a male cat, so Mufasa didn't work, but "Fasi" is pretty cute.
Simba, and you may notice by now that all the cats are named for Disney characters, was the wildest kitty the couple had ever adopted. It could be that he, an orange tabby, feels entitled to be a little raucous because he got a second chance at life. After being found all alone in a box next to some railroad tracks, he was lucky to be saved. "When they found him, we was clawing all over the place and just going crazy," Lisa says. That'll make a kitty crazy for sure. He's still around and has earned the nickname, "the red-headed stepchild" because of his constant trouble making.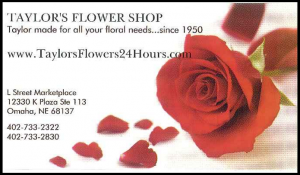 The couple's current kitties are Mogley, a brown tabby, and Nala, a green-eyed calico. Rescuing cats from both the Nebraska and Iowa Humane Societies in the past is a wonderful act and story, but the best story about the couple's cats stems from an event at the shop's former location.
A number of years ago, while Taylor's was still at its original location, two cats started to frequent the greenhouse and flower shop. Employees started to get familiar with the cats, eventually feeding them and showing affection. The cats hung around, left, but always returned. When the shop was relocated, something had to be done with the kitties. "We couldn't just leave them there," Scott says, "so they moved with us." Eventually, Scott and Lisa took the cats home, gave them their names and have loved them since.
Mogley is the elder cat of about 15 years old. He's quite chatty and isn't quite as spry as he once was. Lisa says he's getting skinnier with age. Nala, the green-eyed calico, is, according the Lisa, a bit of a meanie. "Mogley is a little afraid of her, but that's probably because Nala was the last to have her claws removed. When she had them, she'd sometimes pop you in the face and you'd feel it," Scott says. Though she doesn't have the claws anymore, she still holds Mogley in check- he doesn't know she's been disarmed. She really is a sweet cat and about the prettiest calico you can imagine.
The two get into a little trouble from time to time. Like when Scott and Lisa found a crow in their basement. "The previous owners of our house had a pet door in the basement with a latch. The cats somehow found out how to undo the latch and they would sneak outside," Scott says. After hunting one crow and bringing their "trophy" inside, the cats captured another, doing the same. The couple says Mogley used to be a bit of a jungle cat, too. "He'd climb trees and get into trouble," Lisa says. "He's got a little piercing in one ear from getting into some kind of mischief." Cats will be cats, we suppose. Mogley, according to Scott, was a pirate in a previous life. He routinely sits at the couple's kitchen bar and howls for a drink (of milk) until he's satisfied. The pair of cats can sometimes be seen enjoying a treat of soft cat food at the same bar and Lisa says that's a sight to see. The couple really does love their pets and are adamant on adoption and rescue as a means of finding new pets.
In their free time, the couple loves to travel. They frequent the Caribbean, other tropical places and the mountains of Colorado. They've been called something that was previously unfamiliar to us- "Dinks." That is, people with double income and no kids (not counting the kitties). Scott has played hockey since the age of 5, played formerly for the MCHL and still skates in leagues and with buddies. He's also an avid deep sea fisherman. "I really developed a love for fishing after reading The Old Man and the Sea," he says. The book is a Pulitzer Prize winner written by Ernest Hemingway. He's also a fan of A River Runs Through It and Islands in the Stream. When the two aren't traveling for leisure, they're visiting Lisa's family in Texas. Also, being a Creighton alum, Lisa likes attending Bluejay basketball games. She says Scott would watch sports every night of the week if he could, so this is an activity they enjoy together.
Scott also has an affinity for classic cars. In his garage, you'll find a red, '34 Ford and a pretty sweet trophy it won in the 2014 Omaha World of Wheels classic car show. His father, being retired, also takes the car out for frequent spins and shares a love for old cars. Together, Scott and Lisa are very happy, have many shared interests and, most importantly to us, love their animals.
Taylor's Flowers is not only a pet-friendly sponsor, but is owned by a wonderful pet lover with a pet-loving wife. We're glad to have them as friends and feel great about recommending the shop for all your floral needs. You can visit the shop's Web site by clicking here. You can also find them on Facebook by clicking here. It's a family-owned business with a love for pets and a long history with the city of Omaha, so why wouldn't you want to shop with them? Check out their banner on our front page along with our other Pet Partners under the More tab or in our Directory for all your pet-friendly business needs.