Sept. 13- One Sunday, four pet events!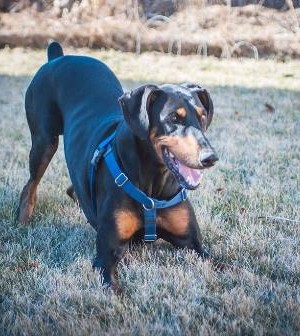 As you know, our second-ever Pick-a-Pooch Adoption Day is being held this Sunday, Sept. 13, at Ralston Arena (7300 Q St.) from 11 a.m. to 4 p.m. We'll have 14 shelter and rescue organizations with adoptable animals, tons of pet professionals and many business representatives from the area who love animals! Oh- and raffle prizes!
There are a handful of other events happening this weekend– many on the same day as our event.
Also on that Sunday, Paws To Angels Pet Loss Center & Services and Midlands Humane Society will celebrate National Pet Memorial Day on Sunday, September 13, 2015 at Roberts Park in Council Bluffs, IA. Celebration of Life Services: 1:00pm
National Pet Memorial Day was originally created in 1972 by the International Association of Pet Cemeteries in recognition of the importance of remembering beloved lost pets.
"It's incredibly important for people to grieve whatever loss they may experience in their lives," said Cherie Fry, Owner/Founder of Paws To Angels. "Pets are a part of the modern family and are sometimes the only 'children' a 'pet parent' may have in their lives. We want to assist them in expressing their love, accepting their grief and remembering these family members in a meaningful way."
For more info, visit this Facebook Event page.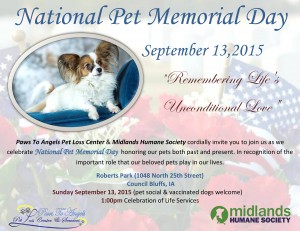 Also on that Sunday, the second annual Save-a-Weenie Motorcycle Fun Run will be held by the Nebraska Dachshund Rescue. For more info, visit and register at www.saveaweenie.com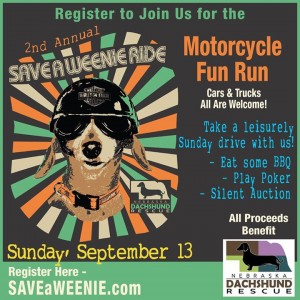 Yet another large event is being held at a Papio Bay Water Park for Hands, Hearts and Paws Rescue. The event goes from 1 pm until 4 pm.
We've taken the liberty of setting up an itinerary for you for Sept. 13. You're welcome.
At 11 am, arrive at Ralston Arena for Pets in Omaha's Pick-a-Pooch Adoption Day. You'll want to arrive early to get a free gift bag from The Green Spot.
At noon, head over to Bayliss Park in Council Bluffs for the Memorial event.
At 1230, ride your hog out to Dillon Brothers Harley on West Maple for the Save-a-Weenie fun ride.
At 3 pm, head down to Papio Bay for a quick dip with the dogs at the Hands, Hearts and Paws event.
Enjoy the weekend! And check back with us tomorrow for details about Pets in Omaha's Pick-a-Pooch raffle prizes, plus a list of vendors, shelters and rescues you can expect to see!