C.A.R.E.S.- Providing A World Of Assistance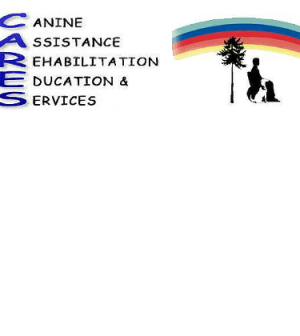 Service dogs have changed many lives. We hear heartwarming stories of service dogs quite often and they are widely accepted as part of today's society. We love that. Recently, we became aware of a wonderful program called C.A.R.E.S. and are happy to share its story here.
Have you ever wondered about fostering a service dog? Maybe you know of someone that may be in need of a service dog? You would be surprised at how many things service dogs are trained for- from helping people with an physical impairment to children with diabetes, all the way to PTSD in veterans.
CARES: Canine Assistance Rehabilitation Education and Services
CARES offers quality service for people with disabilities. The largest specialty service CARES offers is canine assistants. CARES has been around since 1994 and is located in Concordia, Kansas.
One kind of service animal CARES provides is the professional therapy dog. These social dogs are used in schools, mental health facilities, hospitals and nursing homes.
Ms. Stucky, a principal at a Kansas elementary school, has two therapy dogs placed in her school. According to the CARES website, she has documented a 90% decrease in out-of- classroom time in a school for children who are severally emotionally disturbed. There has also been a significant increase in the ability of the children to recognize the need for de-escalation in their own behavior, which is a beginning to a future of their own self-control. CARES' professional therapy dogs are tasked trained so that they meet the legal requirements of the Kansas assistance dog state statutes. Tasks that the professional therapy dogs are trained to do include bracing, retrieving, "go to" or "go find", etc.
Other therapy dogs aid in hearing assistance and other assistance needs. These dogs are trained to help with:
Lending balance support
Picking up dropped objects
Pulling wheel chairs
Avoiding medical crisis due to diabetes or seizures
CARES has provided dogs for clients with juvenile diabetes and autism as well as military veterans who have PTSD or a traumatic brain injury (TBI) and/or physical disabilities due to a combat injury.
Sarah Holbert from CARES told us that these types of dogs are quite popular right now.
"The most common requests right now are for service dogs for veterans with PTSD, traumatic brain injury, etc. The other kind is for diabetic alert/response.
While we have placed service dogs for PTSD in the past, it was for survivors of rape, domestic violence, a traumatic event, etc, of course, mostly women. We are hoping to offer support for veterans as the suicide rate has increased to approximately 28 veterans a day.
The diabetic alert/response service dogs have been mostly for children. We are now getting applications for children as young as 2 years old with diabetes. In the beginning, the majority of our graduates were adults."
Search and rescue and law enforcement dogs also are a part of the CARES team. These dogs are trained by an Oklahoma canine patrol officer trainer. These dogs:
Track lost or fleeing individuals
Track drowning victims
Search for cadavers
Detect narcotics
Detect bombs
CARES trains the dogs and places them in a foster home until their service is needed. CARES also places foster puppies in homes where they learn basic obedience, become socialized to all aspects of public and private life, as well as live in these foster homes until they have reached maturity.
The application will reveal to CARES people living in the home, other pets, involvement in other dog related activities, any experience with showing dogs or attending obedience classes, why you wish to be a puppy raiser, if you have a fenced in yard and how the puppy will be supervised, among other things.
Sarah gave us a note about fostering.
"A big factor in foster raising is that the dogs are being trained for a purpose. So, making sure that you have the time to do the extra things like taking them out to the bathroom on a leash rather than just letting them out in the backyard to run, taking them to public places with the idea that you are exposing them to different environments, situations, people, etc. Also, they cannot develop some habits that a pet dog may have such as eating things off of the floor, begging a the dinner table, chewing, barking, etc.
People who are caring and willing to give of their time, but also aware of the need for structure make great foster puppy raisers."
If you are interested in fostering here is the application.
If you are in need of a service dog you must apply for one.
CARES want two letters of reference, an interview and wants to make sure that you understand terms of their assistance dog agreement.
To contact CARES, see the links above or use the contact information below.
P.O. Box 314
Concordia, KS 66901
Voice or TDD: 785-243-1077 * 800-498-1077
Fax: 785-243-1079
E-Mail: cares.ks@sbcglobal.net
Learning of this wonderful organization was enlightening and we are glad to share it with our readers. Coming later this week, we'll hear the story of one foster and her pup, Ninja, who came from CARES.