Stay Safe this Halloween with tips from PetCO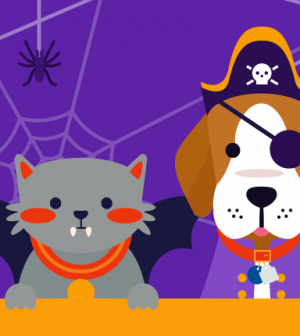 Ghergich and PetCO have teamed up to provide Pets in Omaha with some great information and graphics you can use to keep your pets safe this Halloween!
Below, you'll find some great tips and easy-to-follow graphics that will help you stay informed and safe this holiday!
Costumes! Decorations! Lights! Candy! Parties! These are the things that make Halloween a favorite holiday for many people. But the same things that make Halloween fun for humans can make the holiday downright scary for pets. With some planning, you can make sure Halloween is fun for the entire family—pets included.
Here are some ways to help keep your pets safe and calm this Halloween.
Keep Pets Inside
During the week of Halloween, it's best to keep your pets under a watchful eye. If you can't supervise them outside, keep pets inside for their own safety and your peace of mind. Even outdoor cats should be secured.
Practice Decoration Safety
Decorations are a fun part of Halloween, but they have some dangers specific to pets. When planning your décor, consider safety for your furry companions. Make sure to secure and cover electrical cords so dogs and cats can't chew on them. One wrong chomp, and your pet could be seriously injured.
Decorations with dangling cords and strings as well as fake cobwebs and streamers are irresistible to some pets, and curious cats and dogs can get tangled in them easily.
Open flames in decorative candles can cause whisker singeing or burns, and a wagging tail can easily knock over a candle and start a fire. Consider using battery-operated candles in your pumpkins and decorations to put everyone's mind at ease.
Finally, glow sticks and necklaces are tons of fun for people, but dangerous for pets. If your pet punctures the plastic, the glowing liquid inside can lead to stomach upset.

Remember: Candy and Pets Don't Mix
The American Animal Hospital Association (AAHA) reminds us that we should never give Halloween candy to our pets. Ingredients such as raisins and chocolate can be toxic to animals. Xylitol, a sugar substitute commonly found in sugar-free candy and gum, can be particularly dangerous to pets. These treats for humans can cause alarming symptoms in pets, including vomiting, rapid heart rate and sometimes, even death. And it's not just the candy we need to look out for—candy wrappers can be dangerous to pets when ingested, causing irritation or blockage. If you suspect your pet has ingested something they shouldn't have, call your veterinarian immediately.
Pets and Costumes
Some pet parents can't resist dressing up their pets on Halloween. While some pets get into the spirit of the holiday (or at least don't seem to mind the costumes), other pets strongly dislike costumes. Know your pet and never force them to get gussied up for your amusement.

ID Your Pet
Proper ID for a pet is a must year-round, but on days like Halloween, it's especially important says theAVMA. Your pet should wear ID tags and a collar, and they should be microchipped with up-to-date contact information registered so neighbors and veterinarians can easily contact you should your pet slip away amidst the festivities. With so much going on during the holiday, it's easy for pets to panic and break loose or quietly slip out the door when no one's looking.
Keep Pets Secure
Even if you have a fenced yard, it's a good idea to bring pets inside while kids trick-or-treat. Your dog or cat may become anxious or scared of the activity and people on your property.
For their own safety and that of others, keep pets in a secure room inside during Halloween festivities. This includes during Halloween parties as well as trick-or-treat night. Pets can be easily spooked by humans in costumes who don't look or smell like the people they know. Be on guard when you or anyone else approaches your pet while wearing a Halloween costume. Keep track of pets at all times—they can get out of the house undetected during the chaos of a party or trick-or-treating.
Use Smart Trick-or-Treat Strategies
As a pet parent, you should know your pet well enough to decide if they'll be okay traipsing around the neighborhood with so much stimulation. From crazy costumes to lots of screaming kids and swinging bags full of tasty-smelling treats, your pet may feel overwhelmed or scared. But, if you have a good canine trick-or-treater on your hands, don't forget to put them on a leash to prevent them from running in front of a car, getting lost or eating dangerous candy dropped on the ground. If you choose to dress up your pet, put reflective tape on the costume for added visibility for motorists and pedestrians.
Treat Your Pet
Want to make some special treats for your pup? Get in the Halloween spirit with a pumpkin-based recipe your pet can enjoy. Of course, every dog is different, so check with your veterinarian to be sure these treats are suitable for your pet.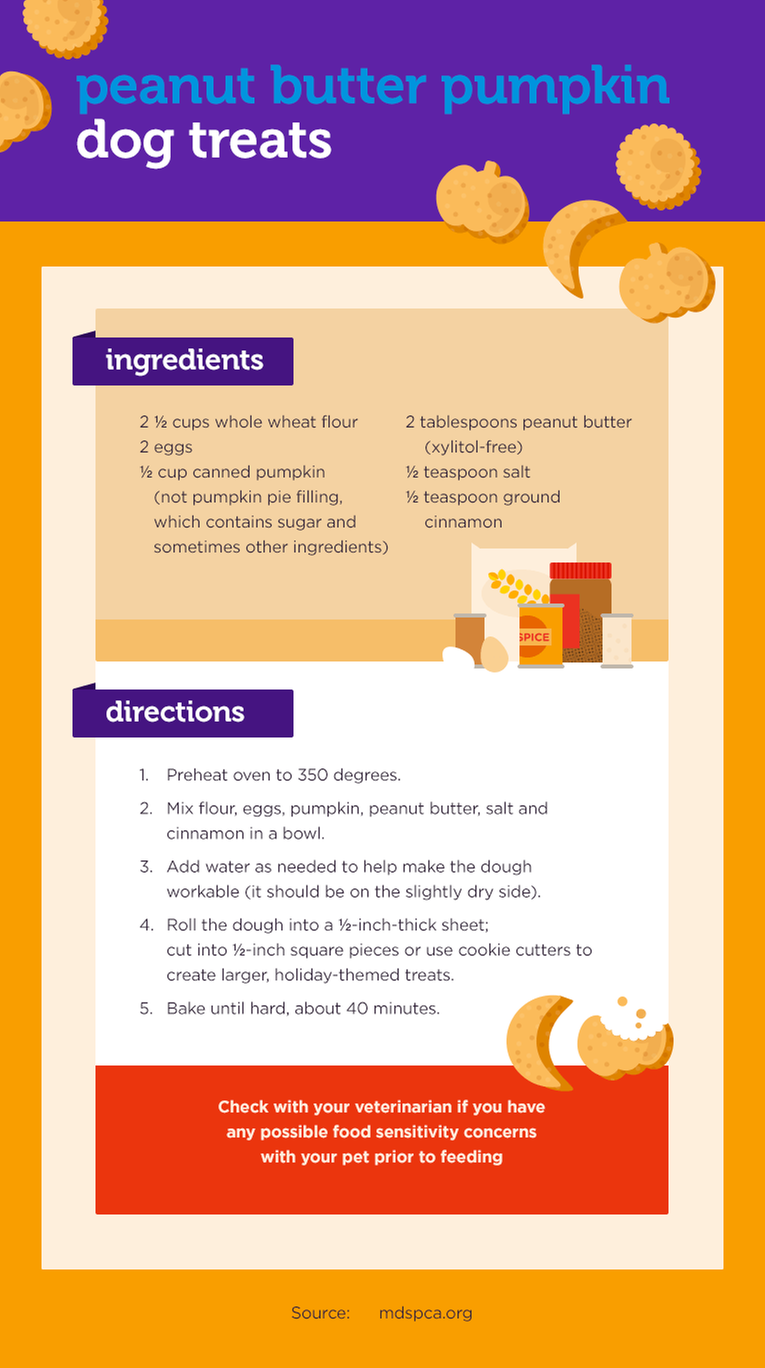 Conclusion
With some careful planning, Halloween can be a fun holiday for everyone. Consider pet safety and think of your pet's perspective while making your Halloween preparations.
Check out our Halloween Bootique for scary savings on pet Halloween costumes!