Support the 2015 Omaha Puppy Up! Cancer Walk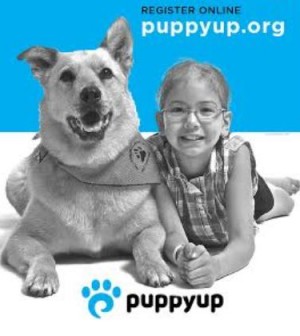 On October 11, 2015, community members and animal advocates have an opportunity to come together in the name of cancer research (and fun!) at the 2015 Omaha Puppy Up! Walk. From 10 am to 1 pm at Chalco Hills Recreation Area, enjoy a number of activities with your pup including demonstrations, a pet blessing, the Walk itself and a host of area vendors who share your love of animals. Puppy Up! is a great event held each year and this year's two-mile walk will help promote awareness of canine cancer and raise funds for cancer research.
From Karen Clemente, 2015 Puppy Up! Omaha organizer:
It began with a promise to raise awareness about canine cancer one mile, one city, and one person at a time. Luke Robinson with his two dogs walked 2,000 miles from Austin to Boston to fulfill the promise he made to his Great Pyrenees Malcolm who died from this horrible disease. 2 Million Dogs was formed with the belief that if 2 dogs can walk 2,000 miles to raise awareness, surely 2 million dogs can walk 2 miles. The Puppy Up Foundation, previously the 2 Million Dogs Foundation is based out of Memphis, TN.
The Puppy Up Foundation is committed to discovering the links between canine and human cancers through comparative oncology research. The foundation will accomplish that mission with education/awareness, empowerment/mobilization and investment in research.
The PuppyUp! Omaha walk is just one of 25 walks around the country this year. Since 2013, there have been 127 walks from coast to coast. The inaugural PuppyUp! Omaha walk was in October 2014 and the event raised $7,500.
The immediate goal of The Puppy Up Foundation is to educate dog owners and the community about the early warning signs of canine cancer through seminars, speaking engagements, social media and events such as the walks. The field of comparative oncology is relatively new. Some comparative oncology research study grants that have been funded include a comparative study of mammary tumors at Princeton University in collaboration with the University of Pennsylvania. The project treats shelter dogs with mammary tumors and the studies tissues to understand how breast cancer metastasizes in women. The long-term goals of the foundation include building the largest pet and people cancer community in the world; a partnership forged with the singular purpose of ridding the world of one of its deadliest diseases.
The main event is a 2-mile walk along Lake Wehrspann at Chalco Hills Recreation Area. Other activities include a vendor village with over 30 sponsor/vendor booths, a flyball demonstration team by the Ball Driven Bandits, a memorial wall, professional photography by Donna Kalista Images, a yoga demonstration, local rescue animals groups, a food vendor (B&B Classic Dogs) and a large silent auction and raffle. We are expecting between 250-300 participants enjoying the crisp October air.
Hope is a feeling that one will come away with after a PuppyUp walk. It is amazing to see a community coming together to raise money to help fund research to rid the world of canine cancer. Cancer touches everyone. We also hope that our participants will walk away knowing the early warning signs of canine cancer and be empowered to talk to their veterinarian about any concerns they may have.
Event Info:
When: October 11, 2015, 10 am to 1 pm
Where: Chalco Hills Recreation Area at Wehrspann Lake
8901 S. 154th Steet
Omaha, NE 68138
Event Information:
Registration opens                                      10:00 am
Vendor Fair & Entertainment begins       10:00 am
Blessing of the Animals                             10:50 am
Puppy Up! Walk                                                          11:00 am
Demonstrations (weather dependent)  12:00 pm
Vendor Fair closes                                      1:00 pm
Event Fees:
Pre-Register online by 10/9:                       $ 20.00
Registration on 10/10 & day of walk:       $ 30.00
Youth Registration (under 14)                    Free
Fundraiser                                                    No Fees
(Begin your fundraising now and donate your registration fee later. Raise $100.00 and receive an event T-shirt)
Vendor Booth   $ 50
Vendor Booth (non-profit)          $ 25*
For more information on how to register, become a vendor or provide other support, please visit the Puppy Up! Omaha website here.
Also, if you can't attend but would like to support the cause, a goal of $20,000 in funds raised has been set for the event. You can donate to Puppy Up! by clicking here.