Local, indie retailers fight for your business vs. Amazon, Chewy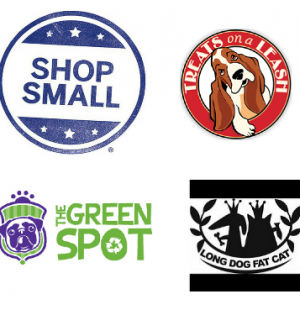 It was a little scary for independent business owners when CostCo and other "big box" stores purported to have everything one would ever need in one convenient location. Now, not only do big box stores like Walmart carry much of what's needed under one roof, they have websites to peruse, research, and purchase from. Online shopping is ubiquitous.
For consumers, this is a great deal. Nearly every product is available to view and order online, prices can be easily compared, and all the information anyone would ever want is archived somewhere on Google. What we don't think about, maybe, is the impact this ease of buying from home is doing to local economies and business owners.
The pet industry is not exempt from these issues, though a largely-niche sector like pet goods and services may have an easier time staying afloat that, for example, a mom-and-pop hardware store. A recent report (which is detailed here) indicates that while 30 percent of shoppers get the majority of their goods from online platforms, less than 10 percent of shoppers of pet-related items skip the brick-and-mortar stores in lieu of Amazon, department store websites, Chewy, and other online stores.
So, what are local and independent retailers who sell pet stuffs doing to protect their sales and livelihoods? We've got some details here and hope you'll do what you can as a consumer to shop locally when possible.
One thing that helps local shops is the decision by certain brands to keep their products in independent retail shops. Chewy, which was recently purchase by Petsmart, has seen some resistance from pet product companies;  many premium brands have decided to end their business relationship with Chewy in an attempt to support independently-owned stores.  "We applaud this decision made by Champion Petfoods (makers of Orijen and Acana), Fromm Family Foods, and Tuffy's (makers of Nutrisource, Pure Vita and Natural Planet) to protect their pledge to independent retailers," says sister owners of The Green Spot in Omaha, Jessica Ellis and Whitney Kamish.
"Corporations like Chewy and Petsmart have continued to make it extremely difficult for stores like us to keep our doors open, so we applaud these brands for making the decision to continue to build their relationships with independent stores like The Green Spot. Stores like ours lay the foundation of introducing brands like these to customers and build brand recognition, so we are happy these brands recognize the importance of the independent retailer."
The idea of shopping locally is not only one supported by businesses, but consumers abroad. Spending local dollars in local places helps local economies grow. When local economies remain competitive, they attract better workers, businesses, and prices. The Green Spot understands this, saying that consumers who choose to shop locally are "helping provide a paycheck for 17 local Omahans while also contributing money into your local economy, which helps keep roads paved, public school teachers paid, libraries open and more."
Small businesses like The Green Spot and Ames, Iowa's Treats On A Leash pay a lot of local taxes, unlike online retailers.
Barb and Michael Morris, owners of the Ames specialty shop, say they think about these issues all the time. How do we survive? What makes us special to our community? Why should people shop locally? These questions get a lot of attention and the Morrises have good answers.
On shopping local:  "We promote the idea whenever we can.  We love the campaign by American Express for Small Business Saturday to 'Shop Small & Shop Local' but wish it was year-round.  We have a lot of loyal customers and are always encouraged when customers tell us 'I'd rather support your store than Petco' or something similar."
Treats On A Leash incentivizes customers to keep loyalty recipricol. For example, for every $100 customers spend, they will get $5 back on their next visit. The Morrises say most customers have signed up for that program.  There's also bolstering the feeling of community as Treats On A Leash supports the economy through taxes and supports local humane organizations, something The Green Spot also does all the time. "We raise money for local rescues and shelters and donate to them when they have a special need.  This month, for example, we are taking donations for the Houston SPCA and will match those donations up to $200," says the Morris team.
Customers also come back when they feel welcome and important. Online shopping can be quite impersonal. "We call everyone by their first name when possible and usually know their pet's names as well," says Treats On A Leash. "Customer service is key to our success and it sets us apart from the big box stores." Jessica and Whitney of The Green Spot echo the Treats sentiment on expertise as well. Using a contact page or a frequently asked questions article online just isn't quite as comforting as walking into a store and speaking with a knowledgeable staff member who can look you in the eye.
Free delivery on some sales, discounts, and super sales also keep customers coming back to local stores. But will they always come back?
"We think the future looks good for our store," says the Treats team. "We have found a niche in this community and are building on that. Online retailers will always be a challenge for us, but we think you have to constantly set yourselves apart from your competition and offer your customers that extra something whether it's free delivery or fun experiences for the dogs and their owners or just a friendly helpful face every time they come in."
With perks and earned customers, the local sentiment and the fact that these pet supply stores are less impacted by online shopping trends, the future looks promising. Being part of a vibrant city and having Chambers of Commerce that promote local shops are also helpful things.
Next time you are in the market for pet food, toys, supplies, or other items that can be found in a big box retailer's online store, be sure to check out your local and independent stores as well. You'll find a more personal experience and gain the benefits listed above on top of contributing to your community and economy!
Click here to find The Green Spot online. The store is also on Facebook.
Treats On A Leash has a website here and loves connecting with you on social media! Find the store on Facebook here.