Support Rescue with Pets Earth at the Omaha Home Show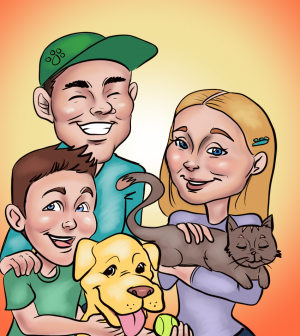 One of our Pet Partners, Pets Earth, is eagerly awaiting the start of the 2018 Omaha Home Show at the CenturyLink Center this week. In the news "Pet Lovers Row" of the event, Pets Earth will be joined by other animal-centric groups and businesses. Multiple area rescue organizations will be alongside with adoptable animals, so in addition to all the great exposition, you'll want to attend to meet sweet animals looking for homes.
Omaha Home Show Dates/Times:
Friday, April 6 – 11 am-8 pm
Saturday, April 7 – 10 am-6 pm
Sunday, April 8 – 10 am-4 pm
Happening at the Pets Earth Booth:
We'll be handing out promotional material, reselling some items, and look forward to interacting with the community!
Tayler Armstrong (Omaha Caricature Artist) will be there the entire show (see the feature image above for an example of her work).
Rescue Schedule:
Friday from 4 pm-8 pm, meet Basset and Beagle Rescue!
Saturday from 10 am – 2 pm, meet MidAmerican Boston Terrier Rescue, then Big Red Rescue from 10 am to 6 pm.
Sunday from noon to 4 pm, Bassets and Beagles will be hanging out once again.
For more on the Home Show, click here. And to get caught up on Pets Earth's new location in Elkhorn, click here.