That's not a kitty! Folks are confusing wild animals for pets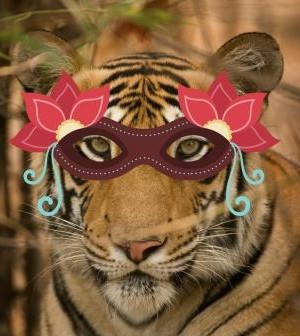 I used to have a neighbor with a number of outdoor/indoor cats. That's a no-no in Omaha, by the way, but that's neither here nor there. I'd often be mowing the yard and a kitty would trot over to say hello. Also an oft occurrence was working in the garden and suddenly smelling cat doo-doo. Garden, litter box… what's the difference?
On one occasion, I went to grab the mail and saw a couple of eyes flashing in the dark beneath the box. I reached down with a "Hi, kitty," expecting to get a nuzzle from one of the neighbor cats but, instead, got another flash- this time of gnarly opossum teeth. "YOU'RE NOT A KITTY!" I shrieked.
So, it's happened to me, too, albeit in a little different way. Yes, I confused a cat with something that was not a cat.
There have been a number of folks who have experienced confusion in separating pet from wild animal in the news lately. These stories seem a little hard to believe, but remember that you're one walk to the mailbox away from joining the confusion club.
Among the latest tales of mistaken identity:
A Daily Herald article (Illinois) recently reported that a concerned citizen turned in a "stray puppy" only to find out the pup was a coyote.
Another strange case involved a Chinese woman whose "Japanese Spitz" was actually a domesticated fox. She was shocked upon learning this.
And when a Texas family stumbled upon a litter of "kittens" who eventually bit all the family members, the good Samaritan story turned into a more embarrassing tale: the litter of kittens was a group of young bobcats.
If there's anything but fun to be had here, it's a little advice that isn't all that profound, I guess: be careful when snatching up a cute "puppy" or "kitten" you feel is in need of your assistance. In the cases listed above that provided photos, it's fairly easy to see that the beast-of-a-puppy looks more like a coyote or that the "Japanese Spitz" is obviously something other that a dog. Sometimes, it may be more difficult. Just be careful. And watch out for possums posing by your mailbox, pretending to be kittens.