These "Fido Bags" just might save your pet's life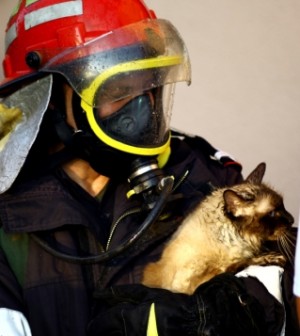 Hundreds of thousands of animals are impacted by house fires every year in the United States. Unfortunately, tens of thousands of those die.
Soon, however, pets in the Omaha area will have a better chance of escaping their home's fire. As a result of a partnership between Omaha's Animal Medical Group and the Fetch Foundation, all Omaha Fire Department engines and all battalion chief vehicles will have "Fido Bags," kits that contain life-saving tools meant just for animals.
Among the items in these bags: protective gloves for humans, oxygen masks for animals, a bowl and leash, materials to treat animal injuries, and life-saving tools. The goal is to have anything one might need to keep an animal alive until it can get veterinary care. The Fido Bags will allow Omaha's pets a better shot at avoiding death resulting from an emergency at home.
The Fetch Foundation is, according to its Web site, "dedicated to saving lives in the animal and human communities through innovative strategies and unique programs that supports, equips, and trains first responders. We accomplish this mission by providing the life saving tools in "The FIDO BAG®" that is used by first responders to provide life saving intervention to family pets that are caught in a fire or other emergency situations. We want to see every fire truck and emergency vehicle in our nation equipped with a FIDO BAG®. We also work closely with other rescue organizations and shelters to identify dogs that have the potential to be trained to become Search and Service dogs or a therapy dog for veterans or people with disabilities." Learn more about the Foundation here.
Other area fire departments have access to oxygen masks and other essential life-saving tools for animals, but these new bags will equip Omaha's first responders with the best kit available.