Thinking about travel with your pup? Consider these destinations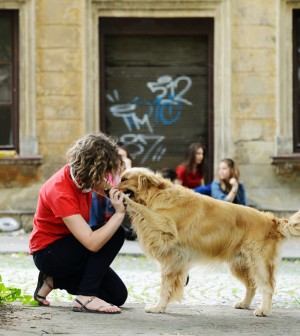 According to a Wallethub.com survey we drew from late last year, Omaha is the nation's 30th most dog-friendly city in the country. Read that story here. 
We also followed that story up with a list of ways we can all contribute to making Omaha number 29, then 28, then… you get the point.
And knowing that it is springtime and many of us are planning vacations, I've compiled a list of five places I'd love to go with my dog and why. Your list will surely be different for differing reasons, but these five places are definitely worth reading up on.
AND, before you get started, read this little nugget (like you need a reason to take your pup with you when you travel!):
Studies from the American Veterinary Medical Foundation (AVMF) find that 20%- 40% of dogs' experience separation anxiety on a normal basis.
The AVMF says that regardless of the time spent away from the dog, the dog probably is in a constant state of panic. That's why the dogs turn to chewing shoes, defecating in the house or barking.
Imagine how dogs feel when their owners go on vacation…without them. Whether you have someone dog sit them or you take them to the kennel, nothing compares to the relationship your dog has with you. So, why not bring them along on vacation?
On to the list…
#1 San Francisco, California
San Francisco Travel reports that there are more dogs in the city than residents under 18-years-old. With that many pet-lovers it is no surprise the city is home to three rankings from Wallethub.com's 2016's Most Pet Friendly Cities including:
#1- Most Dog Parks. There are over 30 dog-friendly parks, 25 of which are off-the-leash parks.
#2- Most Pet-Friendly Restaurants- 40+ restaurants and café's and 24 bars
#10- Outdoor Friendliness
While in San Francisco take a stroll through the Golden Gate National Recreation Area with your pooch. The park has designated off-leash areas, like Crissy Field and Fort Funtson.
The city is also home to three doggie festivals: Berkeley- East Bay Humane Society's Annual Dog Walk and Festival Fundraiser, SF Giants Dog Days of Summer AT&T and the Bark and Wine Ball.
#2 Colorado Springs, Colorado
Colorado Springs takes second place for a couple of different reasons. Colorado Springs comes in #2 in Outdoor Friendliness from Wallethub.com because it has 11 dog-friendly parks, six of which are off-leash parks. Check out these parks:
Bear Creek Dog Park
Garden of the Gods
Red Rock Canyon dog-loop
Seven Falls
Leashed dogs are also welcome at Pike's Peak Park, which is just minutes from the city. If you've got some free time you can take a drive on the Pikes Peak Toll Road, which takes you 14,000 feet to the top. When you get to the top make sure you keep your dog on a leash. The altitude can make it hard for both you and your dog to breathe.
If that isn't enough there is also:
11 pet-friendly attractions, including the Cripple Creek District Museum and the Peterson Air and Space Museum.
12 pet-friendly restaurants
20+ hotels that welcome dogs. A few, like Cheyenne's Bed & Biscuit Club and the Radisson Hotel, offer doggie treats, food and water bowls and information packets.
If that isn't enough they also host the Pawtoberfest 5K and Bark at Briargate, two dog-centered events.
#3- Las Vegas, Nevada
The Las Vegas Sun boasts that the city plays home for 40-million visitors every year, which isn't surprising.
What is surprising is that they have the most pet-friendly businesses per capita, according to Wallethub.com. Las Vegas has over 40 friendly businesses, restaurants and café's and over 30 dog-friendly hotels.
It also holds the #3 for the Most Dog Parks in Wallethub's ratings and #15 in Outdoor Friendliness. With 17 off-leash dog parks and 6 dog-friendly parks there is one for every dog. Try out these parks:
Children's Memorial Park
Barkin' Basin Park
Lake Mead National Recreation Area (leashed-area)
Floyd Lamb State Park (leashed-area)
Red Rock Canyon National Area (leashed-area)
Spring Mountain National Recreation Area (leashed-area)
If you're an early riser check out the Las Vegas Strip Walking Tour, which during the hours of 5am- 12pm is dog-friendly. Dogs are otherwise not allowed on the strip.
If you're in Las Vegas in November try attending the Strut Your Mutt event where you and your dog can enter contests, games, grooming and demonstrations.
#4 New York, New York
In March of last year, the city of New York passed the Dining with Dogs bill that allows restaurants to choose to allow dogs in their outdoor seating.
There are now over 30 restaurants that allow dogs in their outdoor seating areas. Your dogs do have to be leashed or in a carrier and up-to-date on their shots but are otherwise welcome. The New York Post recommends these eateries:
A.G. Kitchen- has a Cuban-inspired dog diet menu with no GMO's, soy or gluten.
Lavo- Italian classics for humans
Good Enough to Eat- offers free organic bacon treats for pups
Bedford & Co. – serves organic veggie dog treats for dogs
The city has even more dog-friendly hotels, over 40 actually, and about the same number of dog-friendly parks (27 off-leash and 5 leashed).
If you want to explore the city with your pup there are also multiple dog-friendly guided tours including:
Brooklyn Bridge self-guided tour
NYC Dog Walking Tour
Time Square Walking Tour
The Federal Hall National Monument, General Grant National Monument, Statue of Liberty Monument and the Theodore Roosevelt Birthplace are all dog-friendly as well.
AND if you're a fan of the New York Mets Baseball Team throws a Dog Day Event to benefit the North Shore Animal League, the world's largest no-kill shelter. It involves a dog parade before the game and the dogs can stay for the game as well.
#5 Tucson, Arizona
Tucson is home to not only the world's largest cacti, the Saguaro Cacti, but is also rated the 8th friendliest outdoor destination for dogs.
Dogs can visit the Saguaro National Park as well as the Rillito River trail and Canada del Oro Riverfront Park.
It also has over 30 pet-friendly businesses and over 60 pet-friendly restaurants. Most restaurants will offer you and your pup a seat on their patios and a bowl of water for the pup. Some go the extra mile like:
Baja Café- Supports Pima Animal Care Center, No Kill Pima County and the Humane Society of Southern Arizona
Café Botanica- Hidden inside the Tucson Botanical Garderns, the café offers a dog biscuit, water and splendid view
Dakota Bar & Grill- Will give your pup a biscuit and water
Delectables- Offers a full dog menu
Stray Dogs- Not only allows dogs but has an enclosed dog park too! If you take a picture of you and your dog at the restaurant you could enter a chance to win a gift card.
The city also has 10 off-leash dog parks if you need to work off your meal.
So when you're planning your next vacation, take a closer look at these places in addition to your own wished-upon destinations. Also, take note of how those places seem more dog-friendly and see if you can bring a little of that back to The Big O!