Thoughts on National Puppy Mill Awareness Month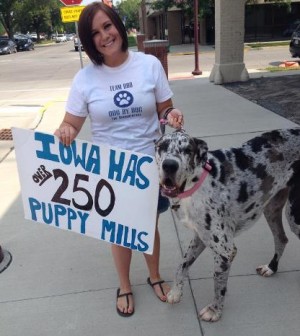 It seems like every month is National-something month, doesn't it? And each month of the year has many different titles, identities. Some are important, some are not. September, for animal advocates, is especially important as it's National Puppy Mill Awareness month. As an attempt at raising awareness for the month and the things we can do to work for the mill animals, one of our area's puppy mill fighting leaders has contributed this story.  Enjoy.
"National Puppy Mill Awareness Month"
from Mindi Callison, Bailing Out Benji
September is my FAVORITE month of the entire year. It's not because of the cooler weather, it's not because of the beautiful colors or pumpkin spice lattes. It is because September is "Puppy Mill Awareness Month." A whole month dedicated to educating about puppy mills, their connection to pet stores/websites/newspapers and how YOU can help them. This is HUGE for the dogs because puppy mills have existed since World War II and those poor dogs have been invisible victims of the industry.
Thanks to dedicated animal lovers across the country, and the amazing effects of social media, the world is finally opening its eyes to the puppy mill issue. Please note: this won't be a ho-hum article about puppy mills. I will be talking about different ways that you can help the dogs, while helping us celebrate Puppy Mill Awareness Month! If you would like additional information on what a puppy mill is, please click here.
While it all started as just "Puppy Mill Awareness Day" (which is recognized on September 27 this year), we are thrilled to be making this a month-long event. Puppy Mill Awareness Month makes for a fun and easy way to help spread awareness about a serious issue. If there is one thing I want you to take away from this article, it is that there is something that everyone can do to help.
As you all know, adoption is the best way to avoid supporting the very cruel puppy mill industry. With millions of amazing animals needing your home, it is the smartest option. Petfinder.com makes your search very easy, by allowing you to look for the specific breed/age/location of the animal you want and you can "window adopt" through all of their photos! Have a full home? You can always foster, donate, transport or volunteer! And please don't underestimate the importance of social media. Choose one animal a day and share him/her with your social media friends. You never know who is looking to add a new best friend to their family!
Are you a good writer? There are many ways you can spread awareness about puppy mills this month. Writing a letter to the editor is a fantastic way to reach members of your local community. Writing a few sentences about the industry,  red flags to look for and how local citizens can help! There are fantastic resources on awarenessday.org as well. This month would also be a fantastic opportunity for you to reach out to your local legislators (state senators, U.S. senators and congressmen), city council members, mayor and other local leaders. Talk with them about how important this issue is to you and how you would love to have a meeting regarding puppy mills. You never who you will influence.
If you follow our "Bailing Out Benji"  Facebook page, you will see that we have been recognized internationally for our dedicated protest efforts. We stand in front of pet stores that sell puppies from puppy mills each weekend and we bring awareness to the pet store/puppy mill connection. For the month of September, we are hosting our #ThirtyDaysThirtyProtests campaign again. Where we are making an effort to stand in front of Dyvig's Pet Shope in Ames, Iowa, (who admittedly sells puppies from mills) every single day to raise social consciousness about the issue. While not everyone can protest every single day for a month, it helps if you can protest a pet store that sells puppies even once. You would be amazed at how many people you can reach in a short amount of time. If you are interested in finding out about protests in your area, or starting one up, please feel free to private message me through Bailing Out Benji's Facebook page or email me at bailingoutbenji@gmail.com
And the last but most important way you can help the puppy mill dogs: TALK ABOUT THEM. Don't let them be invisible anymore. Share information on social media, email your contacts, hang flyers, anything. Getting people to learn the phrase "puppy mill" is half the battle. When using social media, consider using hashtags like #NoMorePuppyMills , #StopPuppyMills , #ShowMeTheMommy and #PuppyMillAwarenessMonth to spread the word even further.
Thank you so much for celebrating Puppy Mill Awareness Month with us! Please feel free to share your efforts, photos or questions with us at Bailing Out Benji! And don't forget: #AdoptDontShop for your next pet!
Get to know Mindi and Bailing Out Benji by following on Facebook, Twitter, Instagram and on her website. You may also enjoy a feature we wrote about her in the summer of 2014. Find it here and don't forget to do your part this month.