Thousands attend Pets in Omaha's Pick-a-Pooch Adoption Days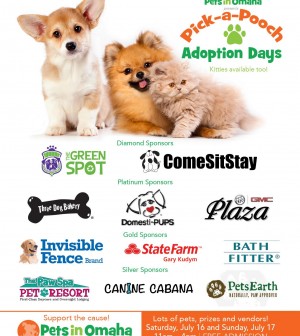 On Saturday, July 16, an estimated 3,500 people attended the Pets in Omaha Pick-a-Pooch Adoption Days at Ralston Arena. Another 2,500 enjoyed the festivities on Sunday, July 17. Admission this year was free for the first time.
We're very pleased at the turnout and the 100+ vendors/shelters/rescue groups in attendance shared in that sentiment.
After two Pick-a-Pooch events in the exhibition hall of the Ralston Arena, we moved the event onto the concourse and floor of the arena section  of the facility. More space to roam, better visibility for booths, and many more choices were just a few of the perks of moving inside the arena.
"When I walked in before the event," Debbie Newhouse of Urgent Pet Care said, "I was shocked at how much was here and the number of people." The two day attendance for this year's event doubled the number of last year's events in April and September. Thirty vendors and 10 humane groups (on average) attended 2015 Pooch events. This year, over 80 vendors from many disciplines and over 20 shelter or rescue groups took over the Ralston Arena. "This year's event and setup is much better than before," said a representative from Lincoln's Revolution Rescue.
Saturday night, Pets in Omaha presented "Dog by Dog," a documentary film about puppy mills aimed at educating the public and calling for it to act, in the arena. Over 50 tickets to the show were sold beforehand; another 25-or-so animal advocates bought tickets at showtime. Mindi Callison, who appears in the film and who hosted its showing in Ames, IA, led a question and answer session following the film. Pets in Omaha and its new non-profit, "Kirby's Hope," plans to bring more educational opportunities like the presentation of "Dog by Dog" to the public in the future.
Though rescue groups only started adoption applications and were not able to adopt animals out during the event, the shelters in attendance, The Nebraska Humane Society, SOLAS of Council Bluffs, and Town & Country Humane Society of Papillion combined to adopt about 20 cats during the event. Last year, 84 animals that came to the event found homes in the following weeks. We hope our involvement aided the humane groups in these and other adoptions.
Five dollar and one dollar raffle tickets were sold during the event and the winners can be found below for the top prizes. We'll be in touch. The $1 raffle prizes will be announced later this week, as will winners of the silent auction items.
-$400 gift card from Ticket Express, donated from Gary Kudym State Farm Insurance, goes to Steve Gustafson.
-Two tickets to see Jimmy Buffett live at the Century Link Center is September, donated by Pets in Omaha, goes to Debby Murray.
-The guitar, signed by the Eagles, goes to Randy Ewing.
Congrats to all! And thanks to everyone who participated in our Pick-a-Pooch Adoption Days, helping Pets in Omaha's new nonprofit organization Kirby's Hope. kirbyshope.org