Like Tofu? Resilient pup would love a helping hand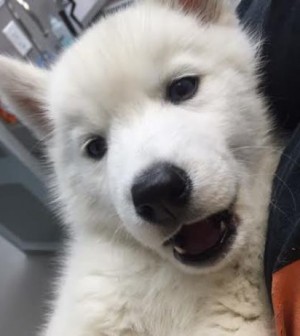 Many of our readers are avid dog lovers, stay up to date with the dog community and may have heard this rescue tale. For those who haven't heard of Tofu, the baby husky and his sweet story, it first appeared in his amazing vet's blog. Here's a rundown:
Tofu's owner bought him off of Craigslist, saw that he was sick and relinquished him to Taysia Blue Siberian Husky Rescue.
Jackie Roach of Taysia Blue rushed to retrieve Tofu and feared that he would die before she could get him to the Gentle Doctor team. Tofu came to the vet incredibly dirty, unable to use his front legs, could not eat and drink on his own, was emaciated and dehydrated.
The Gentle Doctor team was determined to nurse this seven-week-old puppy back to health. From that moment on, Tofu would not go unnoticed or be ignored for a second longer.
They found out that Tofu had Neospora, a parasite that causes abortion in cattle and neurological disease in dogs. The team began treatment right away. Acupuncture and laser therapy helped Tofu's progress, slowly but surely.
Tofu is currently being fostered by Gentle Doctor veterinary technician Becky. He's no longer in pain, but is still recovering and is a bit wobbly on his feet. As you can imagine, he has a number of adoption requests, but is not quite ready. That's where we hope our pet community will help.
Tofu's vet expenses were expensive. Taysia Blue is asking for donations and offering matching funds through May 20. Not only for Tofu, but for all of their dogs that are currently in rescue awaiting their forever homes.  To donate please click here.
Visit Taysia Blue's website to learn more about them as well as they are always looking for volunteers and families that can foster. If you can't donate, volunteer or foster, please share this story so Taysia Blue can gain more fans and supporters. The more they have, the more pups they can help!