Town & Country Humane Society needs help recovering from storms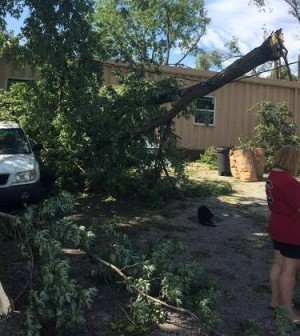 At Pets in Omaha, we've called on readers to help in all kinds of situations rescues and shelters have been put in. Broken A/C in Clinton, IA. A tornado in Beaver Crossing, NE. A shortage in food pantries, volunteers, and resources. Here's your latest chance to help the people and animals at one of our local shelters, Town and Country Humane Society in Papillion.
Many woke today to find things washed out or thrown about; some even had trees and other things tearing away at structures and vehicles. Town and Country is located in a woodsy area of Papillion and found much wood displaced on its grounds this morning. Fences are destroyed, limbs have fallen on structures, and normal operations are impossible because of the damage and debris strewn across the property.
Luckily, all animals under the shelter's care are fine today. The shelter, however, has been out of electricity and water, making it difficult to carry on with adoptions and typical day-to-day stuff. Fences will need to be replaced. It will be apparent, once the limbs are all cleaned up, that other structural things need fixing or replacement. The shelter currently needs water and muscle from volunteers who can help with cleanup.
Town and Country is asking anyone with a chainsaw to help cut and organize trees that need to go. Water is also needed for people and animals. In the coming days, financial strain will be high as unexpected costs are always difficult to manage.
Visit Town and Country's Facebook page here for updates about what is and will be needed. If you happen to be free this weekend and want to help with cleanup, stop on by. If you'd like to make a donation to help offset the cost of cleanup and restoration, click here. Town and Country takes PayPal donations, checks, gift cards for expenses, and money for vet care. The website will detail all of the options.
Thanks in advance! We know our pet community well enough to know help is either there or on the way!