Train your puppy! Tips from Dharma Dog Training, dogID, NHS and more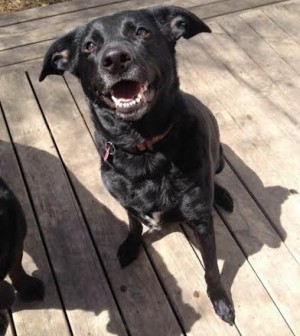 Puppies: little crazy balls of fur. We love puppies. We love how cute they are. We love how playful they are. We love how cuddly they are. But, not all of us understand the importance and difficulty of training them. Because they're so cute and playful and cuddly, it's okay for puppies to be unruly. It's when they're grown up and unruly when trouble begins.
Nobody wants pee on the expensive rug, chewed up shoes, fearful cats, or other dogs having to live with unruly dogs. It's important that your dog learns to get along with your children, knows where they can and can not go in your home, making sure they don't run away when a window opens for them, and being chummy with your friends and their furry friends.
Holy smokes. It can be stressful. But training is necessary.
Where do you even start? Do you hire someone? Do you enroll them in training classes? Where do you take them to play?
Luckily, we know of some great local trainers, like Kelley at Dharma Dog Training here in Omaha, who provide amazing tips for training a puppy or new dog. You may need some training, too.  "Just like children need rules and behave better when they know what is expected of them, so do puppies and dogs," Kelley told Pets in Omaha.
Read about Kelley and what she's contributed to Pets in Omaha by reading these posts:
"Preventing the Rising Numbers of Dog Surrenders"
Kelley's "Top Ten Training Tips"
Take part in one of Kelley's "New Adopter Training" Workshops
Meet Kelley in this introductory article
Kelley asks, "If your dog doesn't know what the rules and boundaries are in your house, how are they supposed to live peacefully with you?" Kelley says that all the humans in your house need to have a clear understanding of the rules for the dog. Which really, is the first place to begin.
Sit down with everyone in your household before you even get the puppy or new dog and establish rules. Be sure that everyone is clear about the rules for the new pup and knows how to properly enforce them. That way, the dog doesn't get confused and is coming into a well organized home. This will make the training so much easier.
Next, you should make a list of everything you want your dog to be comfortable around like people, kids, cats, etc. That way you can slowly start to acclimate your new dog to these things right away.
The next bit of advice we have for you before you even bring your new furry friend home is to establish what commands your dog needs to learn right away. Sit, stay, outside and drop are some command initial commands. You don't want to overwhelm your new dog with too much right away and you should only work on one command at a time. Never speak in a negative tone when giving your dog a command. When yelling, or speaking in a negative tone, your dog will freeze up and will be too scared to carry out the command. Be patient, be kind and be loving. This will make the training go so much smoother.
It is also recommended by several trainers to sign up your puppy for a puppy kindergarten class at your local humane society. The Nebraska Humane Society has great training classes. Check them out here. A class will teach your puppy great socializing skills that it needs like learning how to play and be around other dogs. A benefit for you is that your dog will be pooped out when it gets home and will probably take a long nap for you! Check out some of the options and get a good idea of which class you will want to sign your puppy or dog up for.
As far as training tips for when you actually have your new pup in the house, our friends at dogIDs have compiled a free downloadable eBook that has training tips from experts all over the U.S. including tips from Kelley at Dharma Dog Training. You can download the eBook here. Hopefully this gives you a starting point and provides you with everything you need to be successful in your training efforts!
Good luck!